Yuki Nagato is a major character featured in the Haruhi Suzumiya series of light novels, adapted into anime by Kyoto Animation. Yuki is a member of the "SOS Brigade" who is frequently seen reading books. In reality, she is actually the alien described by Kyon, and is one of the three people sent to investigate the titular character.
Yuki was a fairly powerful player in the three major saimoe tournaments owing to the series' landmark influence in otaku culture, especially on the concept of moe. She is classified as a dandere, an archetype characterized by poor social skills and quiet personality. Yuki enjoyed the most success in the International Saimoe League, more than Haruhi herself, having won three necklaces and finishing as a runner-up in the very first edition of the tournament. In 2channel's saimoe tournament her best result was an elite eight appearance in 2006, while in the Korean Anizone counterpart she produced two quarter-finals finishes.

Icons
ISML Profile Flavor Text (May contain spoilers)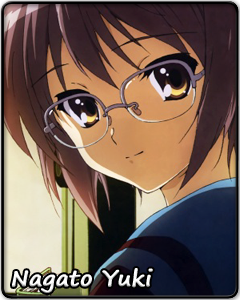 A first year student and sole member of the Literature club, Nagato Yuki appears to be a victim of circumstances when her clubroom is raided and taken over by a group of students with no intention of reading books. Sitting quietly in the corner with a thick tome in her hands, the petite girl raises no objections to the intrusion.
As it turns out, it is not out of apprehension that she keeps silent. Yuki is a bad case of the stereotypical obsessive bookworm - mere ruckus in the 'outside world' is not enough to disturb her reading, and she is not particularly interested in communicating with others. Such is her desire to read that she has to be forcibly dragged away from the public library if given the chance to pick up a book.
But things only get crazier when Yuki finally explains some of her motives, switching from her favored one-word answers to exhausting and long-winded speeches. A good dictionary comes in handy when deciphering the meaning of her monologues. But merely knowing the meaning of the words she uses might not be enough to comprehend how a high-school girl can be tied to the evolutionary dead-end of an all-powerful alien species.
Time will show that not only are Yuki's outlandish declarations more than simple delusions, but also that the quiet girl has her own distinctive personality hidden under the disguise of her robot-like behavior. Yuki is competitive, has her own desires, and can pick up new hobbies. The key to reading her emotions is to be sensitive to her head moving mere millimeters and to sense the distinct 'flavor' of her stares. The task, while not easy, is certainly rewarding.
ISML record

[

]
Main Tournament
[
]
ISML Main Tournament Record
Regular season, playoffs, and consolation 1v1 matches only.
Preliminaries, gems, exhibitions, and approval / range voting rounds are NOT included.
Edition
Eliminated in
Final pos.
W
L
RS Record
ISML 2008
Runner-up
2nd
63
7
58-5
ISML 2009
Lower Bracket SF
4th
56
12
53-10
ISML 2010
Lower Bracket R3
7th
47
7
44-5
ISML 2011
Quarter-finals
7th
50
4
47-2
ISML 2012
Quarter-finals
8th
35
8
31-4
ISML 2013
Division Playoffs
Ste. 13th
23
13
23-12
ISML 2014
Regular season
Ste. 21st
14
21
14-21
ISML 2015
Regular season
Ste. 35th
4
31
4-31
ISML 2016
Top 32 Groups (Ruby)
17th-32nd
2
4
2-4
ISML 2017
Emerald Groups (Top 48)
41st-48th
?
?
???
ISML 2018
Ruby Wildcards (Top 36)
???
?
?
???
ISML 2019
Did not qualify (Nomination: 83 votes, 60th / 58)
ISML 2020
Split 1 Wildcards (Top 96)
78th
1
4
1-4
ISML 2021
Did not qualify (Preliminary Rank: 99th / 72)
ISML 2022

ISML 2023

ISML 2024

Total W-L: ???
Postseason: ???
RS Record: ???
Opponents played: ???

Match History:
6th (58-1-5)
2009
[
]
7th (53-0-0-10)
2010
[
]
7th (44-0-5)
2011
[
]
3rd (47-0-2) 
More
Average VF: 4383
Average VD: 2650
Average VF%: 62.81%
Average VD%: 37.19%
2012
[
]
Stella 5th (31-0-4) 
More
Average VF: 4269
Average VA: 2807
Average VF%: 60.57%
Average VA%: 39.43%
Postseason Phase 1 Stella Division
Postseason Phase 2 Final League
2013
[
]
Stella 13th (23-0-12)
More
Average VF: 4210
Average VA: 3840
Average VF%: 52.73%
Average VA%: 47.27%
Postseason Phase 1 Stella Division
2014
[
]
Stella 21st (14-0-21)
Other Tournaments
[
]
2006
[
]
2009
[
]
Yuki Nagato > Satoko Houjou >

Najimi Tenkuuji

> Nanami Nishijou (443-352-127-86)
Yuki Nagato > Evangeline A.K. McDowell > Henrietta de Tristain (464-249-246)
Eruruu > Yuki Nagato > Haruhi Suzumiya (534-397-149)
2010
[
]
2006
[
]
2009
[
]
2010
[
]
Honours
[
]
International Saimoe League
Chronological list
[
]
Total Wins = 3 + 1 = 4
Baidu Harem Moe 2011
Baidu Tieba M78 Moe 2009
Ronggongzhong Xihuan Magical Girl Contest 2012/2013 (lkong.net)
ISML

Necklace

Winners
First year of necklace win only. Circlets from 2012-2015 included (if applicable).

2008

Shana • Setsuna S. • Kagami • Kyou • Haruhi

2009

Tomoyo S. • Yuki N. • Suigintou • Suiseiseki • Hinagiku • Shinku

2010

Mio • Taiga • Mikoto

2011

Kanade • Ruri • Hellscythe

2012

No new winners.

2013

Mashiro • Rikka • Asuna

2014

Kuroyukihime

2015

Yukino • Kosaki • Chitoge • Chiyo • Ayase

2016

Nao • Tohsaka • Saber • Kurisu

2017

Rem • Emilia • Katou

2018

Chtholly • Azunyan • Kanna

2019

Violet • Sagiri • Kurumi • Mai-san

2020

Kaguya