Jurassic World: Dominion Dominates Fandom Wikis - The Loop
Play Sound
Violet Evergarden is the titular protagonist of Kana Akatsuki's light novel of the same name and its TV adaptation by Kyoto Animation. She is a former child soldier who was treated as a "weapon" by her officers, except Major Gilbert Bougainvillea, who treated her like a human. Due to her military upbringing, she is extremely deadly in combat, but has trouble expressing and understanding emotions. She lost both of her arms during battle, and her missing limbs were replaced by mechanical prostheses after the war ended.
At the start of the series, Violet enlists in the CH postal company to become an "Auto Memory Doll" with the goal of understanding the meaning of Gilbert's last words spoken to her during the war's last stages. Her primary responsibilities as a Doll involve traveling to different places where she fulfills her clients' requests by ghostwriting letters. Through these letters, Violet interprets their thoughts, emotions, and intended messages through her own words. Her mechanical hands proved to be extremely useful because of her job's heavy focus on typing.
First appearing in the Winter 2018 anime season, Violet's most notable achievement in the context of this wiki happened in 2019 where she won the International Saimoe League on her first eligible appearance, becoming the fourth female champion to do so following Nanoha's Fate (2008) K-On's Mio (2010), and DAL's Kotori (2014).
Icons
Contest profile
[
]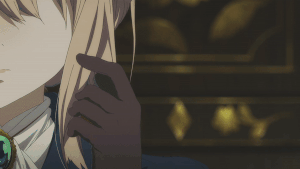 Both the show and the title character garnered positive reception from critics and audiences alike. The KyoAni anime adaptation is responsible for much of Violet's strengths, as it was praised for its signature highly detailed visuals, anime-original scenes, and the emotional impact of several episodes. [note 1] As a result, Violet came to be known as an well-rounded and successful player in character popularity contests, garnering many supporters from all around the world due to its wide-reaching appeal. She also bears strong resemblances to the Fate heroine Saber, such as blonde hair, blue and white dress, and emotionless demeanour; this has led her to be given nicknames such as "Sabergarden" and "Fullmetal Saber" [note 2] in the online anime fandom.
Violet's first major tournament happened in China, where she was pegged as one of the most likely contestants to win Bilibili Moe 2018. Her tournament run ended after losing to Fate/Extra's Saber in the semi-finals by two thousand votes despite significantly leading in true-love tickets, which are worth 2 votes each and can only be used once. She was defeated by top seed Rin Tohsaka in the following round, finishing the tournament in fourth place.
in ISML
[
]
ISML Profile Flavor Text
("written by Guoba")


"I want to know what love is." with this line, Violet's journey as an auto-memories doll has started.

Her written history as a soldier was legendary. After the war ends, she ignored her broken, scarred memories behind it. She is now an auto-memories doll who doesn't talk much, but she has potential power to restore clients.

Of course, Violet's lack of emotions can be a turn off for clients. She is somewhat difficult to empathize with at the start. But no worries. Violet learns by listening to the client's problem. She began to understand a feeling precisely after knowing what problems hers client was experiencing. 

Violet faces the fact that the world is filled with bitter words. Not only happy ones but that doesn't discourage her despite bringing back sorrow memories. So after knowing the meaning of losing someone, she cried out loud because of the major's last words.

Overcoming that heavy nirvana, Violet comes to accept those words as part of her and grows stronger. Now she has changed from a heartless weapon into a human who understands the sense of farewell.
Road to Tiara

[

]
It wouldn't take long for Violet to win a major title howver, as she had shown signs of promise to win the International Saimoe League by winning the 2018 winter seasonal contest and blowing out Fall champion Mai Sakurajima in the final inter-seasonal match. In the 2019 main tournament, news of the KyoAni arson attack and the ISML website putting a donation page for the victims on its front page may have played an important part on her status as a tournament favourite, as Violet immediately won the first necklace round and finished 20-1 in the regular season, only losing to Emilia in the Ruby period.
In the playoffs, the #3 seeded Doll dispatched Shouko in the last 16 before undertaking perhaps the most dangerous championship run in ISML history, as her matches from quarter-finals and beyond were decided by increasingly tighter margins. She defeated Kurumi by 426 votes, Mai-san by 168 votes, and finally Tohsaka by 173 votes, to claim this year's heavenly tiara and becoming the fourth female debutante to win the award. Furthermore, Violet becomes the third Kyoto Animation girl to win ISML after Mio Akiyama (2010) and Eru Chitanda (2015), putting the studio on par with J.C. Staff in terms of Tiaras won. [note 3]
Tournament of Champions

[

]
Evergarden competed in the following year's hall of fame tournament as a favourite to win (as is tradition for newly introduced champions). However, she stumbled to a 3-way tie for second with Katou and Angel (in her last ToC), sending all of them into the final round. Violet ended up placing second behind group-topper Eru Chitanda.
Violet remained as a contender in the 2021 ToC, finishing 2nd with 6 wins and 1 loss in the group stage, including a crucial win against Chitanda in round 6 which essentially eliminated her opponent. She then overcame the undefeated newcomer Yukino Yukinoshita in the final round to claim her first ToC title in just her second appearance.
in r/anime
[
]
During her Seasonal Salt days, the Auto Memory Doll dwelt under the shadow of Franxx's Zero Two, losing to the horned girl in the semi-finals on both 2018 Winter and the yearly contest. Despite these losses, the former soldier matured into a fairly strong and better-seeded contestant in the subreddit's major brackets. Violet was the most successful newcomer on Best Girl 6, securing the highest seed (#15) and best finish (a last-16 loss to Aqua). The following year, she was eliminated by Yui Yuigahama in the fifth round of Best Girl 7. Violet returned to the round of 16 as an #11 seed in Best Girl 8, managing to give #6 Megumin a scare, but she ultimately fell with a 143* votes difference.
In Best Character 5, Violet notably defeated Guts in round 4 before barely losing to Subaru in the next match.
ISML record

[

]
Seasonal & Exhibition
[
]
Group stage: 1st, 2W; CVP: 5.014 (seed 1)
(4) Takagi-san 10,365 - 5885 (Topaz 3)
(2) Ichigo (DitF) 8729 - 3212 (Topaz 4)
Inter-seasonal:
Main Tournament
[
]
ISML 2019

Directly qualified (2018 winter winner)
Rd
Opponent
Score
W-L?
Aqua 1
Ginko Sora
7035 - 3140
W
Aqua 2
Eriri Spencer Sawamura
6179 - 4760
W
Aqua 3
Origami Tobiichi
6031 - 5389
W
Tpz 1
Kei Karuizawa
6472 - 4256
W
Tpz 2
Umaru Doma
6557 - 5500
W
Tpz 3
Sora Kasugano
9136 - 6139
W
Amet 1
Shouko Makinohara
6238 - 4232
W
Amet 2
Mirai Kuriyama
6578 - 3726
W
Amet 3
Zero Two
6160 - 5117
W
Sapp 1
Megumin
7738 - 6624
W
Sapp 2
Index
7415 - 6105
W
Sapp 3
Yoshino
9031 - 6452
W
Eme 1
Isla
6830 - 5335
W
Eme 2
Chino Kafuu
7004 - 5500
W
Eme 3
Tohru (Dragon Maid)
7967 - 5145
W
Ruby 1
Azusa Nakano
6438 - 6045
W
Ruby 2
Mio Akiyama
6530 - 6319
W
Ruby 3
Emilia
6100 - 7049
L
Dia 1
Iroha Isshiki
10,294 - 9282
W
Dia 2
Kanna Kamui
9976 - 8256
W
Dia 3
Asuna Yuuki
12,249 - 9932
W
Playoffs: seed 3 (Dia 1st, 4W)

RS CVP: 25.6250

Ro16
(14) Shouko Nishimiya
11,748 - 10,052
W
QF
(6) Kurumi Tokisaki
11,946 - 11,520
W
SF
(2) Mai Sakurajima
10,410 - 10,242
W
Final
(4) Rin Tohsaka
13,329 - 13,156
W
Final position: CHAMPION
Tournament of Champions
[
]
ISML Tournament of Champions history
Rd
Opponent
Score
Period

ISML 2020

Groups
2nd
(tied w/ Kanade & Megumi)
5W 2L
Kanade Tachibana
3523 - 1858
Aqua 3
Ruri Gokou
4052 - 2119
Aqua 4
Kotori Itsuka
2725 - 2057
Aqua 7
Eru Chitanda
2591 - 3551
Aqua 8
Shana
2676 - 1290
Topaz 2
Megumi Katou
2192 - 2347
Topaz 3
Rem
3212 - 2527
Topaz 5
Final (range)
Chitanda
50,257.3
Topaz Gem
(You)
42,266.1
Katou
37,998.8
Angel
29,920.5

ISML 2021

Groups
TBD
TBD
Kotori Itsuka
Ruri Gokou
Shana
Eru Chitanda
Rem
Megumi Katou
Yukino Yukinoshita

ISML 2022
Poster Gallery
[
]
Awards = 4
Seasonal Salt

[

]
Seasonal Salt - 2018 Winter - seed 4
Best Girl of 2018 - seed 6
Best Girl 6 - seed 15
Best Girl 7 - seed 14
Best Girl 8 - seed 11
Best Character Contest

[

]
Best Character 5 - seed 23
Other contests
[
]
Bilibili Moe

history

Bilibili Moe 2018

Qualifying: 1st (Advanced)
Rd
Opponent
Score
Series
TLV
Ro128
Group F4
(You)
121,247
Violet Evergarden
2221

Francis Drake (Rider)

35,887
Fate/Extra
42
Momo Yaoyorozu
24,161
My Hero Academia
52

Kaho Hinata

13,179
Blend S
24
Bracket stage
Ro32

Narberal Gamma

142,091 - 39,486
Overlord
1132 - 100
Ro16
Kurisu Makise
132,190 - 94,572
Steins;Gate
1599 - 4672
QF
Umaru Doma
138,273 - 110,530
Himouto! Umaru-chan
2482 - 2415
SF
Nero (Saber)
173,627 - 175,459
Fate/Extra
16,254 - 7522
3rd-4th
Rin Tohsaka
163,195 - 209,331
Fate/stay night
6936 - 5600
Honours
[
]
Contest wins
[
]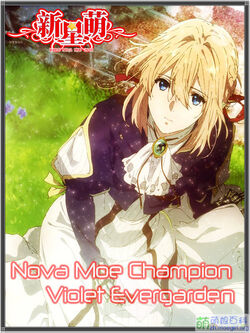 ISML 2018 Winter Diadem (seasonal)
Baidu Nova Moe 2018 (Baike Baidu, China)
ISML 2019 Heavenly Tiara ★
Anime-We are Family Vote Best Waifu 2019 [1]
Facebook Anime for Weebs Waifu War 2020 [2]
ISML 2021 Tournament of Champions ☆
Otra Pagina de Otakus: Torneo Waifus versus Husbandos 2021 [3]
Trung Thanh Chung Ket Waifu 2022 [4]
Facebook Anime - Magic Land @Ánh Nhật vote waifu 2022 [5]
Runner-up finishes
[
]
In the Chinese-language ISML Tieba forum, a certain infamous user (mobile link) who posts Facebook waifu tournament results lists Violet as one of the "Kings of Runner-up" due to her many 2nd place finishes in these contests.
List of runner-up finishes = 23 + 1 = 24
ISML 2020 Tournament of Champions
Tiangshidongman Moe 2018/19
Pekin University Yuanhuo Moe 2020 [6]
Torneo de Beleza 2021 [7]
Facebook Vote Anime Girl 2021 [8]
Facebook Favorite Waifu Hoc Vien Anime 2021 [9]
ACGN Miss Anime Tournament 2019/2020
Facebook Queen Cup Anime Vuong Quoc Anime 2020 [10]
Facebook Queen Cup Nuoc Mam Senpai 2020 [11]
Facebook Torneo Waifus Rubias 2020 [12]
Facebook Mary Sempai 3 [13]
Facebook Waifu War Nghien Anime 2020 [14]
Anime Pirates Best waifu tourney 2020 [15]
Cre: Thao My UwU 2021 [16]
Anime New World 2021 [17]
Anime Manga Empire 2021 [18]
Facebook Khanh An Moe 2021 [19]
Facebook Vote Anime 2021 [20]
Facebook Vote Anime - ne:33 cmt waifu 2021 [21]
1ra Campona Torneo de waifu Anime en casa 2021 [22]
Torneo de waifus @evy.edits 2021 [23]
El inframundo de el animé TdW 2022 [24]
Tu Mentira en Abril Torneo la besto waifu 2022 [25]
[

]
Notes
[
]
↑

in Youtube and Reddit, the most commonly cited episode that made audiences cry is Episode 10, which involves a terminally ill mother and her young daughter.

↑ a reference to Fullmetal Alchemist character Edward Elric, who has an arm and a leg replaced by metal prostheses.
External links
[
]
Beware of spoilers and pop-ups.
Kyoto Animation Characters
Air
Kanon
Clannad
Tomoya Okazaki • Nagisa Furukawa • Kyou Fujibayashi • Tomoyo Sakagami
Haruhi
Kyon • Haruhi Suzumiya • Yuki Nagato • Mikuru Asahina
Lucky Star
Kagami Hiiragi • Konata Izumi • Tsukasa Hiiragi
K-ON!
Mio Akiyama • Yui Hirasawa • Azusa Nakano • Ritsu Tainaka • Tsumugi Kotobuki
Chuunibyou
Yuuta Togashi • Rikka Takanashi • Shinka Nibutani • Sanae Dekomori
Hyouka
Houtarou Oreki • Eru Chitanda
Free!
Amagi
Isuzu Sento
Kyoukai no Kanata

AKihito Kanbara

•

Hiroomi Nase

• Mirai Kuriyama • Mitsuki Nase
Phantom World

Mai Kawakami

Euphonium
Kumiko Oumae • Reina Kousaka
Dragon Maid

Kobayashi

• Tohru • Kanna Kamui
Koe no Katachi
Shouya Ishida • Shouko Nishimiya
VE
Violet Evergarden
International Saimoe League

Champions
Heavenly Tiara

Fate Testarossa •

Hinagiku Katsura •

Mio Akiyama •

Mikoto Misaka •

Kanade Tachibana •
Ruri Gokou •

Kotori Itsuka •

Eru Chitanda •
Shana •

Megumi Katou •

Rem •

Violet Evergarden •

Yukino Yukinoshita •
Elaina • 2022
Lapis Scepter

Lelouch LamperougeEx •
Kazuto KirigayaEx •

Houtarou OrekiEx •

Hideyoshi KinoshitaEx •

Accelerator •

Sora •

Koro-sensei •

Hachiman Hikigaya •

Rimuru Tempest •

Miyuki Shirogane •

Sakuta Azusagawa • 2022
Ex - Exhibition tournament: Counted as official winners, but not recognized on the ISML website's main page
ISML

Necklace

Winners
First year of necklace win only. Circlets from 2012-2015 included (if applicable).

2008

Shana • Setsuna S. • Kagami • Kyou • Haruhi

2009

Tomoyo S. • Yuki N. • Suigintou • Suiseiseki • Hinagiku • Shinku

2010

Mio • Taiga • Mikoto

2011

Kanade • Ruri • Hellscythe

2012

No new winners.

2013

Mashiro • Rikka • Asuna

2014

Kuroyukihime

2015

Yukino • Kosaki • Chitoge • Chiyo • Ayase

2016

Nao • Tohsaka • Saber • Kurisu

2017

Rem • Emilia • Katou

2018

Chtholly • Azunyan • Kanna

2019

Violet • Sagiri • Kurumi • Mai-san

2020

Kaguya

2021

Elaina
ISML Seasonal Diadem Winners

2012

Ririchiyo • Kuroyukihime • Asuna • Rikka

2013

Black Rabbit • Kurumi • Kirigiri • Mirai

2014

Chitoge • Shiro • Chiyo • Isuzu

2015

Megumi K. • Isla • Nao • MitsukiND, SEQ

2016

Megumin • Rem • Aoba •

Chitose

2017

Kanna • Chtholly • Suzune •

Nayuta

2018

Violet • UrarakaND, SEQ • Platelet • Mai-san

2019

Kaguya • Fumino •

Gray

•

Ishtar

2020

Kotoko

• Kei S.SEQ • Chizuru • Elaina

2021

Female
MikuND, SEQ • IinoND, SEQ • Keke DC • RanND, SEQ
Male
TanjiroSEQ, DC • NatsumeSEQ •

Kimihiko

•

Lugh

2022

Female
Male
ND - NOT a DEBUTANT; appeared in a seasonal contest beforehand
SEQ - Appeared in a SEQUEL installment
DC - Won inter-seasonal playoffs (Divine Circlet / Crown)
DCX - Won inter-seasonal playoffs but not a seasonal (listed last)