Jurassic World: Dominion Dominates Fandom Wikis - The Loop
Play Sound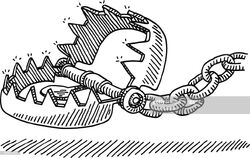 Trap is a slang term used in English-language online anime communities to describe a biologically male character with an attractive andrognynous or feminine appearance, and is often performed by voice actresses. In Japan, a term called otokonoko (literally meaning "male daughter") is used to refer to a real-life or fictional man who expresses himself in a culturally feminine manner and appearance. Note that in order to be called a "trap", the character must be explicitly described as biologically male; characters whose gender is officially unconfirmed or have no biological sex do not count.
The word trap carries unfortunate implications however, as it implies that their femininity is used to "trap" (i.e. deceive) men into becoming an object of their desires, only to find out that the "girl" they want is a man all along, which makes them "gay" - and therefore undesirable. It doesn't help that many of the archetype's examples are highly sexualized by both creators and fans. The term gained some controversy in Reddit when the moderators of a highly-upvoted subreddit called /r/Animemes banned the usage of the word "trap", essentially treating the word as a slur. Naturally, the decision was met with near-universal derision from its users.
In the context of this wiki, traps have historically performed well in the International Saimoe League tournament because of their highly moe characteristics that are normally attributed to females. In fact, the 2014 male exhibiton was exclusively contested by traps in a 32-man single-elimination bracket, which was won by Hideyoshi Kinoshita, an iconic example of the archetype and a 2-time runner-up prior to the 2014 edition.
Characters
[
]
ISML 2014 Male Tournament Participants

[

]
ISML 2014 Trap Exhibition Participants
Name
Series
Image
Remarks
Hideyoshi Kinoshita 
Baka and Test
2014 Scepter Winner.
Shidou Itsuka
Date A Live

2014 Runner-up. Entered because of his alter-ego Shiori Itsuka.
Ruka Urushibara
Steins;Gate

Arguably his most defining trait. At some point in the story, his biological sex actually changes into a woman for plot reasons.

Mitsuka Souji

Gotta be the Twin-Tail
Transforms into a female Twin-Tail form, but clearly appears as a male otherwise.
Ryuunosuke Akasaka
Sakurasou

Keima Katsuragi

The World God Only Knows

Entered because of his maid cafe outfit and androgynous appearance

Kamito Kazehaya

Blade Dance
Has an alter ego named Ren Ashbell.

Hayate Ayasaki

Hayate the Combat Butler
"Feminine face" and youthful art style
Syaoran Li
Cardcaptor Sakura
"Feminine face" and youthful art style
Other
[
]
Other Characters
Name
Series
Image
Remarks

Felix Argyle

Re:Zero
Reached Ruby period in ISML 2017.

Hideri Kanzaki

Blend S
Should be obvious what the "Surprise" actually is
Nagisa Shiota
Assassination Classroom

2-time pendant winner and ISML 2018 quarter-finalist. His most famous outfit is a black off-shoulder dress, a red plaid miniskirt, and black thigh-high stockings, which when combined with his slim physique makes for an effective "female" disguise.
Rider of Black aka Asstolfo
Fate/Apocrypha
currently the poster boy of the archetype. Reached the playoffs in ISML 2018.
Saika Totsuka 
Oregairu
Had a successful run in ISML 2020 when he won the amethyst exhibition gem and reached the playoffs.