Saber is one of the main heroines featured in Type-Moon's 2004 visual novel Fate/stay night. First appearing in the Winter 2006 anime adaptation, Saber is one of the oldest active competitors in the saimoe contests, with her longevity being attributed to her status as the face of the Fate franchise. She is the only contestant to have appeared in all International Saimoe League main tournaments since its inception in 2008; she once shared this distinction with Haruhi Suzumiya until the latter failed to qualify for the 2021 regular season.
Saber's power arguably reached its peak in the mid-2010's, a period where the Unlimited Blade Works adaptation was aired. In 2015, she finished runner-up in r/anime's Best Girl 2 after losing to Yukino Yukinoshita by 78 votes. Later that year, she won her first major championship in the inaugural edition of China's Bilibili Moe contest, blowing out same-series rival Rin Tohsaka in the final match. Saber's best finish in ISML happened in 2016; securing third place through the consolation matches despite getting knocked out by Prisma Illya in the quarter-finals.
Background & history
[
]
Character profile
[
]
Icons
The premise of Fate/stay night revolves around a free-for-all battle royale called the "Holy Grail War", which is contested by seven "Masters" and their "Servants", which represent various mythological and historical figures, in order to obtain the eponymous Holy Grail that is said to grant any wish to the winner. In the beginning of the story, Saber appears in front of protagonist Shirou Emiya during the fifth Holy Grail War and becomes his Servant. As one of the main characters, Saber is prominently featured in all three routes of the visual novel, but she serves as the main heroine and love interest of its first route titled simply as Fate.
Saber also appears in the prequel light novel and 2011-2012 anime Fate/Zero as an ally of Shirou's foster father Kiritsugu Emiya and his wife Irisviel von Einzbern during the fourth Grail War. Much of the story involves Saber fighting other Servants while Kiritsugu seeks to kill other Masters using military weapons.
Saber has proved to become so popular that her likeness is used for the design of many other Servants in later installments of the Fate franchise; these characters were dubbed Saberfaces. Examples include Nero, Mordred, Joan of Arc, Okita Souji, and Miyamoto Musashi.
F/SN Spoilers for all three routes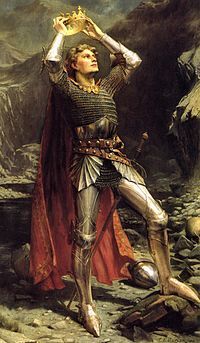 Saber's true identity is Artoria Pendragon, better known as the legendary English literary figure King Arthur. Her "Noble Phantasm" --- basically an ultimate ability which also gives away a servant's true identity --- is her sword Excalibur, which is invisible whenever she fights, and can be activated to unleash a powerful and damaging beam of light.
ISML record

[

]
Main Tournament
[
]
ISML Main Tournament Record
Regular season, playoffs, and consolation 1v1 matches only.
Preliminaries, gems, exhibitions, and approval / range voting rounds are NOT included.
Edition
Eliminated in
Final pos.
W
L
RS Record
ISML 2008
Regular season
20th
43
20
43-20
ISML 2009
Regular season
21st
45
18
45-18
ISML 2010
Lower Bracket R2
12th
42
12
41-8
ISML 2011
Regular season
18th
32
17
32-17
ISML 2012
Round of 16
12th
33
10
30-5
ISML 2013
Division Playoffs
Ste. 14th
22
14
22-13
ISML 2014
Division Playoffs
Ste. 13th
21
18
20-15
ISML 2015
Round of 16
ISML 2016
Quarter-finals
3rd
14
1
9-0
ISML 2017
Diamond Groups
ISML 2018
Round of 16
ISML 2019
Sapphire WC
ISML 2020
Split 3 Groups (Top 32)
ISML 2021
TBD (Qualified)
ISML 2022

ISML 2023

ISML 2024

Total W-L: ???
Postseason: ???
RS Record: ???
Opponents played:

 ???
2009
[
]
2010
[
]
2011
[
]
2012
[
]
2013
[
]
2014
[
]
Other Tournaments
[
]
Honours
[
]
International Saimoe League
Others
Chronological list
[
]
Total Wins : 11 (

)
DM123 AnimeFans Saimoe 2012 [1]
Baidu Harem Moe 2012
Facebook @Jishuzhai (lit. TechnologyHouse) Saimoe 2012 [2]
Xinzhi Moe 2012 [3]
Facebook Kuwanjia(@cool-gamer) Moe 2013 [4]
Tiangshidongman Moe 2015/16
Facebook Waifu Awards 2020 [5]
Facebook Battle of the Moe 2020 [6]
FACEBOOK El Rincón De Las Waifus 2021 [7]
1ra Campona Torneo de waifu Anime en casa 2021 [8]
External links
[
]
Beware of spoilers and pop-ups.
Female Major Champions
ISML ★
2008: Fate Testarossa · 2009: Hinagiku Katsura · 2010: Mio Akiyama · 2011: Mikoto Misaka · 2012: Kanade Tachibana · 2013: Ruri Gokou · 2014: Kotori Itsuka · 2015: Eru Chitanda · 2016: Shana · 2017: Megumi Katou · 2018: Rem · 2019: Violet Evergarden · 2020: Yukino Yukinoshita · 2021: ???
AnimeBracket
Best Girl ★
BG1: Kurisu Makise · BG2: Yukino Yukinoshita · BG3: Mikoto Misaka · BG4: Rin Tohsaka · BG5: Rem · BG6: Asuna Yuuki · BG7: Kaguya Shinomiya · BG8: Mai Sakurajima · BG9: ??
Best Char. ☆
BCh2: Hitagi Senjougahara · BCh3: Shinobu Oshino
Bilibili Moe †
Japan ★
2015: Saber · 2016: Rem · 2017: Mash Kyrielight · 2018: Sakura Kinomoto
China ★
2016:

Tushan Susu

· 2017:

Su Mucheng

· 2018:

Kagura (Onmyoji)

Anime Saimoe ☆ †
2002: Sakura Kinomoto · 2003: Riku Harada · 2004: Rosemary Applefield · 2005: Nanoha Takamachi · 2006: Suiseiseki · 2007: Rika Furude · 2008: Kagami Hiiragi · 2009: Taiga Aisaka · 2010: Azusa Nakano · 2011: Mami Tomoe · 2012: Toki Onjouji · 2013: Madoka Kaname · 2014: Nodoka Haramura + Saki Miyanaga (co-winners)
Korea Best Moe ☆ †
2006: Suiseiseki · 2007: Hinagiku Katsura · 2008: Holo · 2009: Taiga Aisaka · 2010: Mio Akiyama · 2011: Homura Akemi · 2012: Hitagi Senjougahara
Legend: † Defunct, ‡ Hiatus / Unknown fate
ISML

Necklace

Winners
First year of necklace win only. Circlets from 2012-2015 included (if applicable).

2008

Shana • Setsuna S. • Kagami • Kyou • Haruhi

2009

Tomoyo S. • Yuki N. • Suigintou • Suiseiseki • Hinagiku • Shinku

2010

Mio • Taiga • Mikoto

2011

Kanade • Ruri • Hellscythe

2012

No new winners.

2013

Mashiro • Rikka • Asuna

2014

Kuroyukihime

2015

Yukino • Kosaki • Chitoge • Chiyo • Ayase

2016

Nao • Tohsaka • Saber • Kurisu

2017

Rem • Emilia • Katou

2018

Chtholly • Azunyan • Kanna

2019

Violet • Sagiri • Kurumi • Mai-san

2020

Kaguya