Queen /v/ 2020 was the second edition of the annual Queen of /v/ tournament held in the imageboard 4chan, specifically in the /v/idya games board. It ran from November 10 to 29 and featured 405 nominees who will fight for spots in the 128-player single-elimination bracket.
The tournament was won by Touhou Project protagonist Reimu Hakurei in dominant fashion, beating Final Fantasy VII's Tifa Lockhart 854-535 in the final match. In the third place playoff, Ōkami's Amaterasu capped off a major underdog performance by defeating NieR:Automata protagonist and first seed 2B.
Nominations:
To nominate a character, you must post their name, image, AND series. Nominations must garner at least 10 replies within a single thread in order to enter the qualifying poll.
All characters must either originate from a vidya property or be a member of a vidya's universe.

Example 1: Saxton Hale and Miss Pauling (Team Fortress 2) are eligible even though they appeared in the comics first.
Example 2: Android 21 is eligible because she debuted in the game Dragon Ball FighterZ, which is a part of the Dragon Ball anime/manga franchise.

No depictions or caricatures of real-life politicians. (E.g. JFK from Call of Duty Zombies)
FOTM Rule: All characters must be at least one month old. This means that a character is ineligible if they debuted in a game whose release date is October 10 or later.
Characters who reached the Elite Eight of the previous tournament are temporarily ineligible this year; they will be eligible for nomination next contest. Tournament champions, on the other hand, are permanently retired and will be banned for future editions.
Qualifying results: https://pastebin.com/DPub5sDj
Responses List: https://docs.google.com/spreadsheets/d/1CAGkq3JcHGRYME9oZGvdAnpPa0MPdxfvO2YjjotllNk/edit#gid=1910124621
All nominees will be subject into a single qualifying poll, where voters select any number of nominees that they want to advance into the main bracket. 128 contestants with the highest votes (excluding those over the series limit) will qualify.
If multiple contestants are tied in votes, they will be broken through alphabetical order of series name. Only the names from the host's nominee list will be considered.
Series Limit: Only four (4) characters from a given series / franchise can enter the main bracket. If 5 or more qualify, only four with the highest votes will be entered and the rest will be disqualified.

Spin-offs and crossovers are treated as separate series for this rule. (E.g. Shin Megami Tensei -- Persona, Drakengard -- Nier, Kingdom Hearts)
A total of 405 girls were successfully nominated. The qualifying poll generated 708 respondents.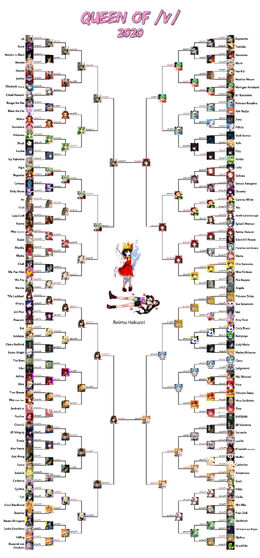 Single-elimination format. Seedings are determined by their rank in the qualifying poll.
Which means that in the first round, top seed plays the lowest seed, second-highest seed plays the second-lowest seed, and so on. The bracket is designed so that the top 2 seeds will only meet in the final, top 4 in semi-final, etc.
If a match is tied in votes at the end of the round, the higher-seeded contestant advances.
All characters advancing to the quarter-finals will become this year's Elite Eight, making them temporarily ineligible for the next contest. Those eliminated in the quarter-finals will be subject to a four-way consolation match where voters will rank them from 5th-8th. Semi-final losers will play against each other for third place. Lastly, the winner of the final match will become this year's Queen of /v/, and will permanently retire from the competition.
For the consolation match, voters ranked the quarter-final losers from 5th-8th. Final rankings were determined using the rank with the highest votes from each girl.
5th-8th Match Result
Contestant
5th
6th
7th
8th
Total
Cirno
386
166
172
361
1085
(100.0%)
Chun-Li
280
334
274
197
Morrigan Aensland
182
311
355
237
Aigis
237
274
284
290
Arch.b4k.co
Archived thread links:
Community content is available under
CC-BY-SA
unless otherwise noted.