Miyuki Shirogane is the lead male protagonist of Aka Akasaka's manga and anime series Kaguya-sama: Love is War.
Shirogane benefits from being the main character of a massively popular manga and anime series in the early 2020's, so it's not surprising that he gets the highest seeds and most favorites in anime character popularity contests. In the r/anime contests held in AnimeBracket, he finished as a quarter-finalist in his first entries on Best Guy and Best Character. Shirogane's partnership with Kaguya went as expected too, placing runner-up in the subreddit's sixth Couples/Ships contest behind the Aobuta main couple Sakuta x Mai. Despite these late-round losses, he is still expected to win an r/anime contest in the near future.
In the International Saimoe League, he and Kaguya won the 2019 Couples/Ships exhibition contest, beating the much-fancied Hyouka pair Oreki x Chitanda in the final. The president is currently one of the favorites to win the main tournament in 2020, and is looking to follow the Slime's trail of winning it all as a debutant.
Background
[
]
Miyuki Shirogane serves as the student council president of Shuchiin Academy alongside vice-president and love interest Kaguya Shinomiya. His defining trait is his academic intellect, no doubt a fruit of his hardwork and determination to stand on equal footing to Kaguya, who is also considered one of the best students in the school. The series' premise concerns Shirogane trying to get Kaguya confess his love for him, and make her lose the "war of love and brains". The relationship of the two leads is an important facet of the series, and its in-depth exploration of their love story (compared to other rom-com mangas) has won the hearts of many audiences.
More detailed information can be found on the Kaguya-sama Fandom wiki page. Spoilers on the link.
ISML Profile Flavor Text
[
]
Moe Traits
[
]
Appearance
[
]
Blond hair, blue eyes. Although one afterword claims hat the Shirogane family actually has black hair, due to being ethnically Japanese; the blond / white hair is only for aesthetic reasons.
Eyebags - A prominent feature of Shirogane's face caused by his sleeping habits; he only rests a few hours every night because he dedicates much of his time into studying. Without the eyebags, Miyuki shows a stereotypical bishounen face straight out of a shoujo manga.
Spoiler Traits
[
]
Contest History
[
]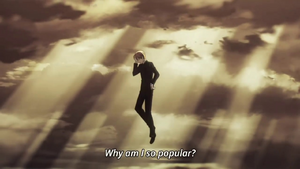 When it comes to popularity within the Kaguya-sama fandom, Miyuki pales in comparison to main waifu Kaguya, memelord cute girl Chika, relatable /ourguy/ Ishigami, and Hayasaka simps. This is just speculation as there is no official popularity poll held yet.
In the "saimoe" contests however, the monster virgin is, well, monstrously popular for obvious reasons, and popularity begets success in these contests. Even though some of Shirogane's traits have in common with your typical "nice guy" anime protagonist, he is a safe and easy bet to vote for. He also possesses the "protagonist buff" ---- a tendency for main characters to perform better than the supporting cast ---- which is shared with Ishigami, the only other relevant male character in the series.
AnimeBracket
[
]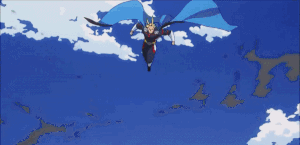 Miyuki made his first major tournament appearance in r/anime's Best Guy 6 held during the Winter 2020 season where he secured the sixth seed. This placed him in the second half of Group D together with Ishigami, who was seeded eleventh; their rivalry match in the round of 16 was hotly anticipated by the users. However, this match-up was spoiled by Sakuta (#22) kicking the treasurer out of the round of 32. In an apparent act of revenge, Shirogane defeated the rascal to reach the Elite Eight for the first time. In the quarter-finals, he lost to a My Hero Academia season 4 reawakened All Might (#3) who would eventually finish fourth place in the contest.
ISML
[
]
GOLDEN ROOOOOOAD

[

]
After winning the Couples/Ships contest in 2019, Shirogane set his eyes on another major tournament: the 2020 edition of ISML. And boy, did he dominate that tourney from the very beginning. Supported by the massive Shinomiya conglomerate Kaguya-sama voting block and the recent airing of the anime's second season, Miyuki attained the most nomination votes and the highest pot seeding in Aquamarine, thereby making him the outright favorite to win the Scepter. Only Ishigami, Sakuta, and Riku can rival him in terms of strength.
Envisioned as the "Golden Road", Shirogane laid the path's foundations through winning ALL 35 regular season matches undefeated and untied. Moreover, he became the first male to break several vote milestones, having earned more than 4000 and 5000 votes in two separate matches. Although he only placed third in the Aquamarine pendant round (won by Riku), he immediately struck back by winning the Topaz pendant, the gem that best matches his hair color.
As the Kaguya-sama males appear to become unassailable coming into the playoffs, the president will attempt to earn the distinction of becoming the first-ever male deubtant to complete a perfect season; his closest rival Ishigami will also attempt to achieve this feat. If all goes well for the both of them, they will face each other in the extremely high-stakes final match.
ISML Record

[

]
Main Tournament
[
]
ISML 2020

--- Playoffs
Period
Round
Opponent
Score
Result
Nominations
N/A
N/A
203
Rank 1
Preliminaries
Seedings Rd 1
23 opponents (Range voting)
33,522.4
1st (seed 1)
Aquamarine
Split 1 Group A
(1st, Adcanced)

Rentarou Satomi

2793 - 897
Win

Taihei Doma

3650 - 1097
Win

Masamune Izumi

3301 - 1820
Win
Eren Yeager
4785 - 1385
Win
Kusuo Saiki
2922 - 1375
Win
Pendant
7 opponents (IRV)
3127 (total)
3rd
Topaz
Split 2 Group A
(1st, Advanced)
Shidou Itsuka
2321 - 1237
Win

Merlin (F/GO)

2591 - 1045
Win
Kusuo Saiki (rematch)
2952 - 1627
Win

Zenitsu Agatsuma

3303 - 1214
Win
Tanjirou Kamado
3286 - 1935
Win
Pendant
7 opponents (IRV)
3858 (total; Rd 6)
1st (Winner)
Amethyst
Split 2 Group A
(1st, Advanced)

Naruto Uzumaki

3273 - 988
Win

Kiritsugu Emiya

2343 - 1189
Win
Yuzuru Otonashi
3798 - 1632
Win
Yato
3087 - 1408
Win
Subaru Natsuki
3799 - 2411
Win
Sapphire

Giyuu Tomioka

4243 - 2344
Win

Shirou Emiya

3160 - 2599
Win
Ainz Ooal Gown
4610 - 2104
Win
Joseph Joestar
4702 - 2321
Win
Kiyotaka Ayanokouji
3238 - 2186
Win
Emerald
Split 3 Group A
(1st / 2nd, Advanced)

Yuu Otosaka

4833 - 3312
Win
Saitama
3400 - 1913
Win
Rintarou Okabe
3706 - 2954
Win
Edward Elric
4134 - 2049
Win
Levi Ackerman
4237 - 2811
Win
Ruby
Shirou Emiya (rematch)
3923 - 2767
Win

Sorata Kanda

3874 - 2293
Win
Kiritsugu Emiya (rematch)
4261 - 2503
Win
Shidou Itsuka (rematch)
4904 - 2130
Win
Touma Kamijou
4837 - 2729
Win
Diamond

Kazuma Satou

4080 - 2847
Win
Subaru Natsuki (rematch)
4276 - 2694
Win
Takashi Natsume
4321 - 2063
Win
Yato (rematch)
5077 - 2630
Win
Riku Dola
????
Win
Playoffs
(seed 1)
Round of 16
Taki Tachibana
Win
Quarter-finals

Kazuma Satou

Win
Semi-finals
Yuu Ishigami
Win
Final
Sakuta Azusagawa
Win
Pendant Record
[
]
2020 Topaz Pendant --- (Winner!)
Contestant
Rd 1
Rd 2
Rd 3
Rd 4
Rd 5
Rd 6
--X--
Miyuki Shirogane
2617
2769
2875
3053
3492
3858
Touma Kamijou
1077
1147
1232
1345
1401
1671
Kiyotaka Ayanokouji
860
903
988
1117
1266
1543
Tomoya Okazaki
769
838
897
1000
1135
Yuu Ishigami
683
732
822
947
Gilgamesh
663
706
799
Levi Ackerman
626
695
Taki Tachibana
625
Other Tournaments
[
]
Gallery
[
]
Icons

Posters
External links
[
]
Beware of spoilers.
ISML

Pendant

Winners
First year of pendant win only. Crowns from 2015 are included.

2015

8man • Otonashi • Archer • Koyomi • Sora • Accelerator • Lelouch

2016

Koro-sensei •

Kiritsugu

2017

Nagisa S.

• Levi • Soma • Touma

2018

Okabe • Taki • Willem

2019

Slime • Riku • Sakuta • Kiyotaka • Tomoya • Yuuta

2020

Shirogane • Ishigami • Gilgamesh