Mikoto Misaka is a character from the light novel series A Certain Magical Index, and the eponymous protagonist of its spin-off manga A Certain Scientific Railgun. In the story, Mikoto is a student of the prestigious all-girls Tokiwadai Middle School, and is ranked 3rd among the seven Level 5 espers, the most powerful in Acedemy City. She serves as the main heroine of the universe's "Science" side and one of Touma Kamijou's love interests.
Mikoto's superpower is control over electromagnetic forces. Her signature ability is the Railgun, a technique where she tosses a metal coin and uses lightning to shoot it at extreme speeds. She is also known by her nickname "Biribiri" - the Japanese sound of crackling electricity - which is given to her by Touma. The student was subjected under a cloning program as a template for the "Sister Clones" (notable members include MISAKA 10032 and Last Order), whose original purpose was to serve as targets for Accelerator so he can ascend into Level 6.
Misaka is one of the most successful waifus in saimoe history, having previously held the record for the largest number of tournament wins, until she got usurped by Rem from Re:Zero in the late 2010's. Her strengths lie in her numerous appealing traits, particularly her tomboyish personality, tsundere attitude towards Touma, and characterization in the anime adaptation of Railgun.
While Mikoto has fans from all over the world, her success is mainly powered by her extremely vocal and competitive Chinese fanbase, which has been heavily involved in several notable tournaments since her first appearance. Mikoto's influence in the Chinese fandom outside of saimoe is apparent in several ACGN-related things. For example, Bilibili[1], one of China's biggest video-sharing websites, is named after her nickname, and Hangzhou Spark[2], a China-based esports team for the video game Overwatch, is themed after the character herself, to the point that she became an honorary member for the team[3].
Misaka is also one of the most popular light novel heroines, which is shown in her dynastic reign as the queen of the Japanese Konorano light novel rankings, where she placed first in the "Female Characters" list for 9 editions.

Icons
ISML Profile Flavor Text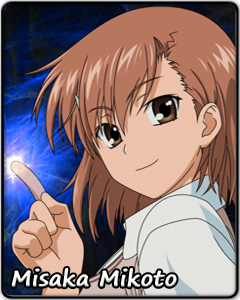 "There was a time when Misaka Mikoto believed that her developing gift of electromancy, the ability to generate and freely control the flow of electricity, could change the lives of thousands of paralyzed patients worldwide. Now, she has already come to understand that the people surrounding her had always cared more for power than anyone's well-being.
However, she is not the type to let disappointment get her down. If the world she lives in is filled with betrayal and hardship, she must simply overcome them and become stronger in the process. Mikoto moves forward, proudly, and eventually becomes one of the world's most powerful ability users, receiving the name 'Railgun'.
Fame is not what Mikoto seeks, though. She sees others as her equals, regardless of their strength or social position. What she wants is a way for her to fight against the cruelty around her. She walks the streets alone at night, luring out thugs hoping for easy prey. Although the troublemakers are sure to remember their encounter with this particular 'defenseless girl', Mikoto herself realizes it will be almost impossible for her to make a difference this way.
Nevertheless, even her struggle with the shadows of Academy City can do nothing to stain her innocent heart. While Mikoto readily risks her own safety and life for the sake of others, she feels most at ease in more mundane situations: playing with children or having fun with her friends. No matter how hard she tries to hide it, she has a childish and carefree side at odds with how dependable she wants to appear.
Mikoto's life is a story of a young girl faced with tough choices which could affect the lives of many. But if it is her we have to rely on, it will all turn out all right in the end."

Mikoto is the leading candidate for International Saimoe League's "Greatest of All Time" because of her numerous awards and consistently strong performances, not to mention she's also the most succesful former champion as of this time of writing due to her extremely active fanbase and recent new anime releases. She is ISML's most decorated contestant with 10 awards to date - having won ISML 2011's tiara, 7 necklaces, and two Tournament of Champions victories in 2017 and 2018.
History
[
]
Debut and Championship Win

[

]
While Mikoto is nowadays known for her tremendous success, she did not get into championship form immediately. Her tournament debut in ISML 2009, which came from her appearance in Index season 1, was a fairly unremarkable one as she finished in 42nd place.
Then, things changed when the anime adaptation of Railgun, where she starred as the main character, was broadcasted in 2010. As a result, Mikoto shot up from being a middling competitor to a championship contender in ISML 2010 - placing 4th in the regular season and eventually reaching the grand finals of the playoffs. However, she could not overcome Mio Akiyama, who sent her into the loser's bracket beforehand.
The Railgun remained undaunted as she placed 2nd in ISML 2011's regular season, behind the upstart Kanade "Angel" Tachibana, and thus the 2nd seed in the single-elimination playoffs, therefore avoiding her until the finals. She proceeded to beat Charlotte, Taiga, and Kuroneko on the other side of the bracket, then defeated 2009 runner-up Shana - who previously upset Angel in a prior round - in the final match to claim the year's Tiara award.
Stella Division Era

[

]
Misaka continued her dominant league performances during ISML's division split era, making her one of the period's "four horsemen" alongside Angel, Kuroneko, and Eucliwood Hellscythe. She was permanently assigned to the Stella division, a 35-man league for veterans. As one of the strongest characters in the league, Mikoto only needed to worry about the other "horsemen" and potential upstagers from the Nova (newcomers) division. However, due to winning the Tiara in 2011, her chances of a repeat championship were naturally diminished because of the "Moe King Debuff" - the tendency for former winners to be voted out because of sentiments against voting for repeat champions.
The Railgun's title defense in 2012 started strong as she placed 1st in the regular season, then won the Stella division playoffs (diamond circlet), her only division title during the era. Her season ended at the hands of Hellscythe in the quarter-finals. Then, in 2013, all "four horsemen" were transferred to Stella. Mikoto placed 3rd in the regular season (behind Angel and Kuroneko) and eventually advanced to the semi-finals, where she lost against Angel in their only significant postseason meeting in ISML, and finished in 4th place overall. Mikoto then came back with a vengeance in 2014 as she swept the regular season; but she lost the division final to Angel and was later sniped in the first round of the tiara playoffs by Yoshino from Date A Live.
Following ISML 2014, Mikoto was banned from the Main Tournament from 2015 until 2019, and was re-assigned for the Tournament of Champions instead. During her tenure as a ToC contestant, Mikoto won two editions in 2017 and 2018, making her the most successful female in the event.
Return to Main Tornament

[

]
The Railgun finally returned to the Main Tournament in 2020 and proved to be just as strong as she had left it 6 years ago, unlike most former champions which have become "washed up" upon their return. Her arrival was celebrated by the Toaru faction as it coincided with the broadcast of the Railgun anime's season 3. Taking advantage of these blessings, Mikoto proceeded to win her 6th necklace (emerald) and later placed 3rd in Split 3's Group A, only losing to new-generation powerhouses Kaguya and Mai. Mikoto then defeated Chika, Rin, and Kaguya in the playoffs, but fell short in the final against a determined, Oregairu season 3-boosted Yukino Yukinoshita.
In spite of this loss, Misaka continued her serious challenge in 2021, winning her 7th necklace (sapphire), finishing 34-1 in the three-splits regular season, and securing the #2 seed in the playoffs. Her only loss came against Kaguya, which she avenged in the semi-finals like last year. Unfortunately, she still could not overcome the "Moe King Debuff" hurdle when she fell against the undefeated rookie Elaina in the final match. In the wake of Misaka's narrow defeat, some Chinese fans blamed the result on Korean voters, as ISML's vote distribution map indicated that almost all of Koreans voted for the wandering witch.[4] This may be attributed to the fact that Elaina won a notable Korean saimoe tournament last year (implying that their voters participate in ISML as well).
Following her 2 straight finals losses, some members of the Toaru faction expressed concerns in ISML Tieba about Mikoto's championship hopes in the future, as they feel that her best chances to win another Tiara are over, and that she might be downgraded to being just another playoff regular that is passed up in favor of revitalized contenders (e.g. Kaguya, Mashiro) or popular newcomers (e.g. Keke, Marin, Makima, Mahiru).[5][6][7][8][9]
Main Tournament
[
]
Overall record (as of ISML 2021)
ISML Main Tournament Record
Regular season, playoffs, and consolation matches only.
Preliminaries, gem rounds, and wildcard rounds are NOT included.
Edition
Eliminated in
Final pos.
W
L
RS Record
ISML 2009
Regular season
42nd
23
40
23-40 42nd
ISML 2010
Runner-up
2nd
50
5
46-3 4th
ISML 2011
Champion
1st
52
1
48-1 2nd
ISML 2012
Quarter-finals
6th Conso (S-1st)
41
3
34-1 S-1st
ISML 2013
Semi-finals
4th (S-3rd)
37
5
33-2 S-3rd
ISML 2014
Round of 16
13th Conso (S-2nd)
40
3
35-0 S-1st
2015-2019: Banned due to Champions rule (8 years)
ISML 2020
Runner-up
2nd
36
3
33-2
ISML 2021
Runner-up
2nd
37
2
34-1
ISML 2022
Qualified
TBD
TBD
TBD
TBD

ISML 2023

TBD
TBD
TBD
TBD
TBD
Total W-L: 316-62 (83.60%)
Postseason: 30-12 (71.43%)
RS Record: 286-50 (82.18%)
2009
42nd (23-0-0-40)
2010
(You) > Saber (2890-2520)
4th (46-0-3)
2011
2nd (48-0-1)
2012
Postseason Phase 1 Stella Division
Postseason Phase 2 Final League

2013
Stella 3rd (33-0-2)
More
Eucliwood Hellscythe > Misaka Mikoto (5410-4933) - (52.31%-47.69%) / Aquamarine Round 1
Misaka Mikoto > Illyasviel von Einzbern (6693-2880) - (69.92%-30.08%) / Aquamarine Round 2
Misaka Mikoto > Iwasawa Masami (6106-2414) - (71.67%-28.33%) / Aquamarine Round 3
Misaka Mikoto > Nagato Yuki (4874-3280) - (59.77%-40.23%) / Aquamarine Round 4
Misaka Mikoto > Aragaki Ayase (4576-3072) - (59.83%-40.17%) / Aquamarine Round 5
Misaka Mikoto > Yui-nyan (4557-3235) - (58.48%-41.52%) / Aquamarine Round 6
Misaka Mikoto > Sengoku Nadeko (5541-3178) - (63.55%-36.45%) / Aquamarine Round 7

Gokou Ruri (Kuroneko

) > Misaka Mikoto (4677-4480) - (51.08%-48.92%) / Amethyst Round 1
Misaka Mikoto > Furukawa Nagisa (5531-2401) - (69.73%-30.27%) / Amethyst Round 2
Misaka Mikoto > Louise Vallière (4813-2318) - (67.49%-32.51%) / Amethyst Round 3
Misaka Mikoto > Senjougahara Hitagi (5385-2938) - (64.70%-35.30%) / Amethyst Round 4
Misaka Mikoto > Izumi Konata (5846-2575) - (69.42%-30.58%) / Amethyst Round 5
Misaka Mikoto > Kousaka Kirino (4603-3070) - (59.99%-40.01%) / Amethyst Round 6
Misaka Mikoto > Suzumiya Haruhi (4790-3241) - (59.64%-40.36%) / Amethyst Round 7
Misaka Mikoto > Aisaka Taiga (4608-3979) - (53.66%-46.34%) / Ruby Round 1
Misaka Mikoto > Fujibayashi Kyou (5046-2184) - (69.79%-30.21%) / Ruby Round 2
Misaka Mikoto > Victorique de Blois (4835-2476) - (66.13%-33.87%) / Ruby Round 3
Misaka Mikoto > Katsura Hinagiku (4591-2552) - (64.27%-35.73%) / Ruby Round 4
Misaka Mikoto > Holo (4582-2339) - (66.20%-33.80%) / Ruby Round 5
Misaka Mikoto > Shana (4029-3061) - (56.83%-43.17%) / Ruby Round 6
Misaka Mikoto > Hirasawa Yui (4969-2860) - (63.47%-36.53%) / Ruby Round 7
Misaka Mikoto > Nakano Azusa (4596-3758) - (55.02%-44.98%) / Emerald Round 1
Misaka Mikoto > C.C. (6451-3283) - (66.27%-33.73%) / Emerald Round 2
Misaka Mikoto > Tousaka Rin (5051-2322) - (68.51%-31.49%) / Emerald Round 3
Misaka Mikoto > Sakagami Tomoyo (5613-2623) - (68.15%-31.85%) / Emerald Round 4
Misaka Mikoto > Nymph (4996-2356) - (67.95%-32.05%) / Emerald Round 5
Misaka Mikoto > Akiyama Mio (4485-3397) - (56.90%-43.10%) / Emerald Round 6
Misaka Mikoto > Saber (4784-2783) - (63.22%-36.78%) / Emerald Round 7
Misaka Mikoto > Tachibana Kanade (8758-8079) - (52.02%-47.98%) / Topaz Round 1
Misaka Mikoto > Last Order (6132-2152) - (74.02%-25.98%) / Topaz Round 2
Misaka Mikoto > Charlotte Dunois (5732-3072) - (65.11%-34.89%) / Topaz Round 3
Misaka Mikoto > Kuroi Mato (5349-2925) - (64.65%-35.35%) / Topaz Round 4
Misaka Mikoto > Hirasawa Ui (6567-2659) - (71.18%-28.82%) / Topaz Round 5
Misaka Mikoto > Nakamura Yuri (4756-3823) - (55.44%-44.56%) / Topaz Round 6
Misaka Mikoto > Konjiki no Yami (5406-3889) - (58.16%-41.84%) / Topaz Round 7
Average VF: 5259
Average VA: 3179
Average VF%: 62.79%
Average VA%: 37.21%
Postseason Phase 1 Stella Division
Postseason Phase 2 Final League
2014=
Stella 1st (35-0-0)
Postseason Phase 1 Stella Division
Final League
ISML 2020

Nominations: 428 (1st)
Seedings Rd 1: 46,487.2 (1st)
Stage
Rd
Opponent
Score
W-L?
Split 1
Group A
1st
Aqua 1
Kokoa Hoto
3535 - 1044
W
Aqua 2
Kaede Azusagawa
3770 - 1682
W
Aqua 3
Kanna Kamui
4249 - 2422
W
Aqua 4
Nagisa Furukawa
3454 - 2711
W
Aqua 5
Tamako Kitashirakawa
2919 - 1939
W
Split 2
Group D
1st
Tpz 1
Yui Hirasawa
2588 - 1329
W
Tpz 2
Ruiko Saten
2946 - 880
W
Tpz 3
Saber
3131 - 1609
W
Tpz 4
Sinon
3079 - 1522
W
Tpz 5
Rikka Takanashi
3372 - 2203
W
Amet 1
Mitsuha Miyamizu
3607 - 1294
W
Amet 2
Kurisu Makise
2691 - 1017
W
Amet 3
Illyasviel von Einzbern
4162 - 1508
W
Amet 4
Meiko Honma
3716 - 1277
W
Amet 5
Shiro
4459 - 2043
W
Sapp 1
Chino Kafuu
4255 - 2488
W
Sapp 2
Kuroko Shirai
4540 - 1827
W
Sapp 3

Gray

5422 - 1893
W
Sapp 4
Shouko Makinohara
5110 - 2358
W
Sapp 5
Chika Fujiwara
4197 - 2536
W
Split 3
Group A
2nd
Eme 1
Saber (x2)
5751 - 2867
W
Eme 2
Kurisu Makise (x2)
4045 - 1886
W
Eme 3
Iroha Isshiki
4725 - 2434
W
Eme 4
Shiro (x2)
4359 - 2786
W
Eme 5
Asuna Yuuki
4421 - 3731
W
Ruby 1
Chino Kafuu (x2)
4736 - 2878
W
Ruby 2
Mio Akiyama
3996 - 2935
W
Ruby 3
Sagiri Izumi
4391 - 3042
W
Ruby 4
Rin Tohsaka
4567 - 2988
W
Ruby 5
Mai Sakurajima
3968 - 4089
L
Dia 1
Ruiko Saten (x2)
5318 - 1865
W
Dia 2
Schwi Dola
4601 - 2800
W
Dia 3
Kuroko Shirai (x2)
4894 - 1774
W
Dia 4
Ai Hayasaka
5815 - 2922
W
Dia 5
Kaguya Shinomiya
4583 - 4964
L
Playoffs
Seed A3
Ro16
(B6) Chika Fujiwara (x2)
5691 - 3971
W
QF
(A7) Rin Tohsaka (x2)
7344 - 4366
W
SF
(A1) Kaguya Shinomiya (x2)
7995 - 7651
W
Final
(B1) Yukino Yukinoshita
9507 - 9725
L

Necklace record
Wins: 7
Appearances (excluding 2009-2010): 20

2010: Ruby (Winner)
2011: Aquamarine (Winner)
2012: Aquamarine (3rd), Ruby (Winner), Diamond (Stella 1st, Winner)
2013: Amethyst (6th), Ruby (2nd), Emerald (2nd), Topaz (3rd), Diamond (Stella 3rd)
2014: Aquamarine (Winner), Diamond (Stella 2nd)
2020: Aquamarine (2nd), Topaz (3rd), Amethyst (2nd), Sapphire (2nd), Emerald (Winner)
2021: Aquamarine (2nd), Topaz (2nd), Amethyst (2nd), Sapphire (Winner)
Poster gallery
[
]
Necklaces
Championships
History text TBD

Best Girl 1 - seed 27
Best Girl 2 - seed 70
Best Girl 3 - seed 53
---
Best Character 1 - seed 19
Best Character 2 - seed 46
Other Tournaments
[
]
2011
2013
(You) >

Evangeline Yamamoto

> Index (29-17-0)
(You) > Tsubasa Hanekawa >

Leticia Draculair

(39-15-13)
(You) > Kallen Kouzuki (54-13)
(You) > Irisviel von Einzbern (46-33)
(You) > Morgiana (42-36)
(You) > Eru Chitanda (45-31)
2014
Honours
[
]
For the full list of Mikoto's contest wins, see

(You)/Honours.
Waifu Rating = 1793 (11.42 IDV)

Gallery (outside ISML)
[

]
References
External links
[
]
Beware of spoilers and pop-ups.
ISML

Necklace

Winners
First year of necklace win only. Circlets from 2012-2015 included (if applicable).

2008

Shana • Setsuna S. • Kagami • Kyou • Haruhi

2009

Tomoyo S. • Yuki N. • Suigintou • Suiseiseki • Hinagiku • Shinku

2010

Mio • Taiga • Mikoto

2011

Kanade • Ruri • Hellscythe

2012

No new winners.

2013

Mashiro • Rikka • Asuna

2014

Kuroyukihime

2015

Yukino • Kosaki • Chitoge • Chiyo • Ayase

2016

Nao • Tohsaka • Saber • Kurisu

2017

Rem • Emilia • Katou

2018

Chtholly • Azunyan • Kanna

2019

Violet • Sagiri • Kurumi • Mai-san

2020

Kaguya

2021

Elaina
International Saimoe League

Champions
Heavenly Tiara

Fate Testarossa •

Hinagiku Katsura •

Mio Akiyama •

Mikoto Misaka •

Kanade Tachibana •
Ruri Gokou •

Kotori Itsuka •

Eru Chitanda •
Shana •

Megumi Katou •

Rem •

Violet Evergarden •

Yukino Yukinoshita •
Elaina • 2022
Lapis Scepter

Lelouch vi BritanniaEx •
Kazuto KirigayaEx •

Houtarou OrekiEx •

Hideyoshi KinoshitaEx •

Accelerator •

Sora •

Koro-sensei •

Hachiman Hikigaya •

Rimuru Tempest •

Miyuki Shirogane •

Sakuta Azusagawa • 2022
Ex - Exhibition tournament: Counted as official winners, but not recognized on the ISML website's main page
/r/anime

Elite Eight

Major Character Champions
Best Girls
Kurisu Makise • Yukino Yukinoshita • Mikoto Misaka • Rin Tohsaka • Rem • Asuna Yuuki • Kaguya Shinomiya • Mai Sakurajima
Best Guys
Lelouch Lamperouge • Koyomi Araragi • Spike Spiegel • Koro-sensei • Shigeo Kageyama • Levi Ackerman • Miyuki Shirogane • Hachiman Hikigaya
Best Chars.
Roy Mustang • Hitagi Senjougahara • Shinobu Oshino • Rintarou Okabe • Edward Elric
Other characters
Bold indicates former runner-up
C - Also reached Elite Eight in Best Character
C2 - Finished runner-up in Best Character
Best Girl
Ai Hayasaka • Aqua • Chika FujiwaraC • Chiyo Sakura • Emilia • Eru Chitanda • Holo • Himeko Inaba • Jibril • Mayuri Shiina • MeguminC2 • Megumi Tadokoro • Mikasa Ackerman • Ochako Uraraka • Ryuuko MatoiC • SaberC • Shouko NishimiyaC • Suruga Kanbaru • Taiga Aisaka • Tohru • Winry Rockbell • Yoko Littner • Yui Yuigahama
Best Guy
All Might • Alphonse Elric • Archer •

Deishuu Kaiki

• Erwin SmithC • Gintoki SakataC • Guts • Hisoka Morow • Izaya Orihara • Joseph Joestar • Kamina • Kazuma SatouC •

Killua Zoldyck

• Kiritsugu Emiya •

Kraft Lawrence

• Light YagamiC • Reigen AratakaC • Rimuru Tempest • SaitamaC • Sakuta Azusagawa • Shouya Ishida • Souma Yukihira • Subaru Natsuki • Tanjiro Kamado • Yuu IshigamiC
Best Char.
Eren Yeager • Haruhi Suzumiya • Homura Akemi • Rider (Fate/Zero)