Mai Sakurajima is the main female protagonist and titular character of Hajime Kamoshida's light novel series Rascal Does Not Dream of Bunny Girl Senpai, and its anime adaptations by the studio CloverWorks.
Mai is generally seen as a "universally-loved waifu", and is often compared to previous champions Yukino Yukinoshita and Hitagi Senjougahara because of their similar appearances, status, and wit. They also portray similar roles as the main heroine and love interest of the Main Characters of their respective series. In particular, Bunny Girl Senpai is also labelled by some fans as "discount Monogatari" because of the similarities in plot.
---(Main guy afflicted with some supernatural phenomenon helps other girls afflicted with supernatural phenomena, and he ends up collecting a "harem" of other girls but he chooses to stay loyal to one and only one girl)---
Contest History
Edit
Seasonal and Rookie SuccessEdit
The Bunny Girl was the breakout star of the year 2018, winning the Fall seasonal contest of both ISML and r/anime. In addition to that, she easily claimed the Best Girl of the Year title in r/anime, but only finished as a runner-up in the ISML counterpart due to suffering a heavy loss against Violet Evergarden in the seasonal championship final.
Mai's winning streak in r/anime continued by winning all matches in the 1 million subscriber event: the 24 Hour Best Girl Contest in 2019, defeating the likes of Ryuuko, Megumin, Rem and Kaguya along the way. The streak would be snapped in next year's April Fools contest however, as the r/anime users get tired of her winning every single game.
Her status as a breakout powerhouse proved itself in the 2019 ISML Main Tournament, where she won all regular season matches and secured her first necklace that year, but she only got a second seed due to Yukino Yukinoshita having a higher cumulative vote percentage despite a loss in her record. In the playoffs, Mai cruised through the final four, where Violet once again denied her another chance for a championship, this time in a rematch where she narrowly lost by 168 votes. She then proceeded to defeat Mashiro Shiina in the consolation match, finishing her first major contest in third place.
2020 : Sophomore StardomEdit
(to be determined)
Group Stage

Playoffs

Best Girl of the Year:
Regular Season (21-0)
Aquamarine (Necklace: 8th)
Topaz (Necklace: 8th)
Amethyst (Necklace: 8th)
Sapphire (Necklace: 8th)
Emerald (Necklace: 4th)
Ruby (Necklace Winner)
Diamond
Playoffs - (seed 2)
Final postition: 3rd place
More
Aquamarine
Win vs , xxxx -
Win vs , xxxx -
Win vs , xxxx -
Win vs , xxxx -
Win vs , xxxx -
Topaz
Win vs , xxxx -
Win vs , xxxx -
Win vs , xxxx -
Win vs , xxxx -
Win vs , xxxx -
Amethyst
Win vs , xxxx -
Win vs , xxxx -
Win vs , xxxx -
Win vs , xxxx -
Win vs , xxxx -
Sapphire
Win vs , xxxx -
Win vs , xxxx -
Win vs , xxxx -
Win vs , xxxx -
Win vs , xxxx -
Emerald
Win vs , xxxx -
Win vs , xxxx -
Win vs , xxxx -
Win vs , xxxx -
Win vs , xxxx -
Ruby
Win vs , xxxx -
Win vs , xxxx -
Win vs , xxxx -
Win vs , xxxx -
Win vs , xxxx -
Diamond
Win vs , xxxx -
Win vs , xxxx -
Win vs , xxxx -
Win vs , xxxx -
Win vs , xxxx -
Fall 2018 - seed 1
Best Girl of 2018 - seed 1
---
TBD
---
TBD
Minor Contests
Edit
r/anime ExhibitionsEdit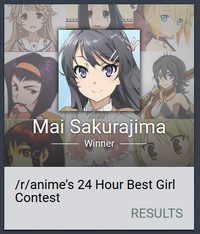 r/anime's 24 Hour Best Girl Contest (2019) - Seed 5 - Winner!

r/anime's 24 Hour WORST Girl Contest (2020) - Seed 7
PortraitsEdit
ISML
External Links
Edit
Class of 2018 - Winners & Honorable Mentions
ISML
Violet EvergardenWN • Ochako Uraraka†SP • PlateletSU • Mai SakurajimaFA
r/anime
Zero Two WN • AnzuSP • Chisa Kotegawa SU • Mai SakurajimaFA
Winter
Ichigo (015) • Rin Shima • Nadeshiko Kagamihara • Hinata Miyake • Shirase Kobuchizawa • Ginko Sora • Ai Hinatsuru • Mei Aihara • Yuzu Aihara • Takagi-san
Spring
Hitomi Mishima • Hina(matsuri) • LLENN • Narumi Momose • Maho Hiyajou
Summer
Rinne Ohara • Red Blood Cell • Rachel Gardner • Rem Galeu • Mahiru Tsuyuzaki • Satou Matsuzaka • Akira Oono
Fall
Aobuta
Kaede Azusagawa • Rio Futaba • Tomoe Koga • Nodoka Toyohama
Other
Rikka Takarada • Akane Shinjou • Saki Nikaidou • Sakura Minamoto • Priestess (GS) • High Elf Archer (GS) • Alice Zuberg • Juliet Persia • Yuu Koito
Legend: Bold underlined text - Overall Winner

WN - Winter, SP - Spring, SU - Summer, FA - Fall, † - Not a Debutant
Community content is available under
CC-BY-SA
unless otherwise noted.