Jurassic World: Dominion Dominates Fandom Wikis - The Loop
Play Sound
Lelouch Lamperouge, born Lelouch vi Britannia, is the main protagonist of Sunrise's anime series Code Geass. He is one of the most popular and successful anime characters of all time in terms of anime character popularity contests.
Icons
Contest History
[
]
Emperor of the West (/r/anime history)

[

]
The Emperor's winning spree continued with another major championship in 2015, winning r/anime's inaugural Best Guy Contest by defeating future winners Spike, Koyomi, Roy Mustang and Okabe, and then geassing Kamina right through his shades in the final match. This victory was helped by the fact that Lelouch is by and large the undisputed most favorited character on MyAnimeList, a site that many subredditors use.
Chinese Annexation (BMoe 2015)

[

]
Lelouch was allowed to compete on China's Bilibili Moe due to appearing in the Code Geass movie spin-off / interquel series Akito the Exiled as a brainwashed puppet of Britannia named "Julius Kingsley".  The fact that "Julius = Lelouch" should be treated as a spoiler is rendered moot because of this. Nevertheless, his immense loyal following remains strong despite his covered-up Geass eye. His campaign started by cruising past his group before overpowering Son Goku in the Round of 32, and firing Umaru's brother out of his job in the Round of 16.
The Elite Eight posed a more difficult challenge to Lelouch in the form of Archer and his trademark Unlimited Blade Works onslaught. After surviving his attack by ~4800 votes. Lelouch faced tournament hopeful Gintoki Sakata in the semi-finals which resulted in a grueling, closely-fought match in which the swordman kept a close pace against the rebellious mastermind. Ultimately, Lelouch bested Gintoki in a battle of attrition, winning by a margin of ~2800 votes and advanced to the finals where the unkillable octopus teacher Koro-sensei awaits. The match would retroactively become THE deciding factor in who gets the "Triple Crown" of male contests, but it proved to be anti-climactic as the rebel leader's massive army of loyal supporters outnumbered the teacher's students by a fairly lopsided difference of  ~16,000 votes.
After his win in China, Lelouch's victory tally means that he is the male anime character to win the most number of major contests: Korea Best Moe, ISML (which still counts despite being an exhibiton),  r/anime's Best Guy, and Bilibili Moe. He is also the only anime character to win the latter two tournaments in 2015, and remains the male to ever win two major championships in a single year. (other male character is

in 2013.)
Lelouch eventually made his return to ISML's main stage in the 2020 edition alongside 2011 female winner Mikoto Misaka. Unlike the Railgun however, his presence is now overshadowed by the burgeoning Kaguya-sama voting block, the ever-present Fate faction, and several one-man powerhouses from multiple shows. Nonetheless, Lelouch is expected to reach at least the Diamond period, and is perceived as a potential threat due to his winning history.
The first group stage saw Lelouch being drawn into the unusually competitive Group J, consisting of top-seeded Subaru, former pendant winners Otonashi, Willem, and Soma, and ISML minnow Giorno. The Black Prince secured qualification by beating the latter four males, but decisively lost to the season 2-boosted Re:Zero protagonist in the final match. This result made the group end in a three-way tie at the top with Subaru and Willem posting 4 wins as well; after tiebreakers were settled, the results meant that Lelouch went from a potential pendant appearance (before his loss) to settling for third place.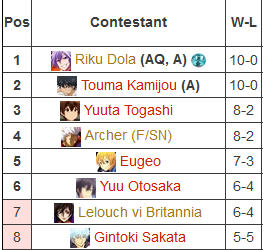 The King of Elevens' championship quality was tested in the second group stage, where he was drawn into the 16-man Group C as a 7th seed. Although determined to win, Lelouch performed as expected of his standing, having managed six wins in the first ten matches (Topaz and Amethyst). Coming into Sapphire, he would directly compete for the last direct qualification spots (5th-6th) against Charlotte main man Otosaka and SAO newcomer Eugeo, needing to win against both of them in order to advance. However, a shock loss to low-seeded Nagisa Shiota hampered Lelouch's chances, and although a win against Eugeo kept his hopes alive, a narrow defeat against Otosaka in the penultimate round sealed his fate of being relegated into the wildcards. He ultimately finished 7th with nine wins --- one game behind his group rivals.
Lelouch's campaign ended in the Sapphire Wildcard round as he failed to secure a spot among the top 8 survivors, placing 14th out of a field of 20 males. Unlike his fate in the Re:surrection films however, the re-count incident did not save him from being eliminated from the tournament.
Male Exhibitions

[

]
Male Exhibitions Record
Edition
Round
Opponent
Score
Result
2011
Round of 96 Group 2P
Lelouch vi Britannia
3169
1st (Advanced)

Syaoran (Tsubasa)

1169

Template:Lockon

Lockon Stratos

553
Round of 32

Oz Vessalius

3391 - 1535
Win
Round of 16
Accelerator
2817 - 2018
Win
Quarter-finals
Yuzuru Otonashi
2658 - 2096
Win
Semi-finals
Gintoki Sakata
2525 - 2211
Win
Final
Hideyoshi Kinoshita
2155 - 2076
Win (Champion)
2012
Round of 96 Group A
Lelouch vi Britannia
5021
1st (Advanced)

Ciel Phantomhive

2847
File:Dtk.png

Death the Kid

1946

Ken Sugisaki

1855

Shinya Kougami

1647

Souji Okita (Hakuoki)

1532
Round of 32

Kurou Yatogami

4251 - 2413
Win
Round of 16
Yuuta Togashi
3610 - 3264
Win
Quarter-finals
Kyon
4112 - 3291
Win
Semi-finals
Kirito
3809 - 3918
Loss
3rd place
Houtarou Oreki
3829 - 3417
Win
2013
Round of 96 Group C
Lelouch vi Britannia
4434
1st (Advanced)

Kakashi Hatake

2896
Takashi Natsume
2237

Masaomi Kida

2122

Sebastian Michaelis

2012

Saruhiko Fushimi

1466
Round of 32
Sorata Kanda
4049 - 2739
Win
Round of 16
Edward Elric
4051 - 2702
Win
Quarter-finals
Accelerator
4286 - 4537
Loss
Main Tournament

[

]
ISML 2020

Period
Round
Opponent
Score
Result
Nominations
N/A
N/A
53
Rank 23
Preliminaries
Seeding Round 2
17 opponents (Approval voting)
1184
5th (Seed 23)
Aquamarine
Split 1 Group J (3rd)

Giorno Giovanna

1804 - 1374
Win
Willem Kmetsch
2160 - 1955
Win
Yuzuru Otonashi
2481 - 1997
Win
Soma Yukihira
2267 - 1244
Win
Subaru Natsuki
2088 - 3139
Loss
Topaz
Split 2 Group C (7th)
Satoshi Fukube
1859 - 1447
Win
Touma Kamijou
1393 - 2035
Loss
Enkidu (F/GO)
2413 - 1757
Win
Riku Dola
1671 - 2628
Loss

Sasuke Uchiha

2456 - 2159
Win
Amethyst
Osamu Dazai
2210 - 2487
Win
Archer
1509 - 1524
Loss
Gintoki Sakata
2430 - 2040
Win
Yuuta Togashi
1661 - 2683
Loss
Kaito Kuroba
2865 - 2376
Win
Sapphire
Nagisa Shiota
2892 - 3051
Loss
Eugeo
2671 - 2645
Win

Hodaka Morishima

3151 - 2705
Win
Yuu Otosaka
3102 - 3158
Loss

Ken Kaneki

2875 - 1979
Win
Wildcard round
19 opponents (Approval voting)
4191
14th (Eliminated)
Pendant Rounds

[

]
Tournament of Champions

[

]
2017
2018
Matches (No particular order):
Poster gallery
[
]
AnimeBracket
[
]
Best Guy

[

]
Best Guy 1 (2015)
---
Best Character

[

]
Best Character 1 (2016)
Best Character 2 (2016)
Bilibili Moe

Record
Edition
Round
Opponent
Score
Result
2015
Round of 128 Group E4
Lelouch Lamperouge
42,532
1st (Advanced)

Template:Nobita

Nobita Nobi

16,947

Juuzou Suzuya

10,629

Obito Uchiha

6702
Round of 32
Goku
59,447 - 34,148
Win
Round of 16

Taihei Doma

57,760 - 52,960
Win
Quarter-finals
Archer
66,340 - 39,219
Win
Semi-finals
Gintoki Sakata
65,649 - 62,574
Win
Final
Koro-sensei
74,806 - 58,848
Win
Honours
[
]
Gallery
Contest Wins

[

]
KBM 2007 ☆
ISML 2011 Male Exb (Scepter) ★
r/anime's

Best Guy 1

★
ISML 2016 Tournament of Champions ☆
TGBUS Chinese Moe 2008 [1]
Aniparty Moe Tournament 2010 Male Div [2]
DM123 AnimeFans Saigar 2010 [3]
Anitown Moe Tournament 2015 Summer [4]
Facebook Chinese Saimoe Conference 2014 Male Div [5]
Baidu Chinese Best Moe (Male) 2015
Anime subreddit - Smartest Guy In Anime 2016 [6]
Baidu Nova Moe 2018 Male Div [7]
Facebook UN OTAKU MAS - Eaka Torneo de Protagonistas [8]
Animebracket: Smartest Anime Chars Ever (2017) [9]
Reddit Best Heterochromatic Character Tournament [10]
Facebook Torneo de Intelligentes [11]
w/z Best Guy Contest 2018 [12]
Myanimelist Husbando Hustle 2018 [13]
SPFF Character Face-off Champions League 2019 [14]
My Anime Land Smartest Anime Character 2020 [15]
Non-Contest Awards
[
]
Myanimelist Best Anime Character Poll - 1st [16]
External Links
[
]
Beware of spoilers and pop-ups.
International Saimoe League

Champions
Heavenly Tiara

Fate Testarossa •

Hinagiku Katsura •

Mio Akiyama •

Mikoto Misaka •

Kanade Tachibana •
Ruri Gokou •

Kotori Itsuka •

Eru Chitanda •
Shana •

Megumi Katou •

Rem •

Violet Evergarden •

Yukino Yukinoshita •
Elaina • 2022
Lapis Scepter

Lelouch LamperougeEx •
Kazuto KirigayaEx •

Houtarou OrekiEx •

Hideyoshi KinoshitaEx •

Accelerator •

Sora •

Koro-sensei •

Hachiman Hikigaya •

Rimuru Tempest •

Miyuki Shirogane •

Sakuta Azusagawa • 2022
Ex - Exhibition tournament: Counted as official winners, but not recognized on the ISML website's main page
ISML

Pendant

Winners
First year of pendant win only. Crowns from 2015 are included.

2015

8man • Otonashi • Archer • Koyomi • Sora • Accelerator • Lelouch

2016

Koro-sensei • Kiritsugu

2017

Nagisa S. • Levi • Souma • Touma

2018

Okabe • Taki • Willem

2019

Slime • Riku • Sakuta • Kiyotaka • Tomoya • Yuuta

2020

Shirogane • Ishigami • Gilgamesh

2021

Sorata • Kirito
/r/anime

Elite Eight

Major Character Champions
Best Girls
Kurisu Makise • Yukino Yukinoshita • Mikoto Misaka • Rin Tohsaka • Rem • Asuna Yuuki • Kaguya Shinomiya • Mai Sakurajima
Best Guys
Lelouch Lamperouge • Koyomi Araragi • Spike Spiegel • Koro-sensei • Shigeo Kageyama • Levi Ackerman • Miyuki Shirogane • Hachiman Hikigaya
Best Chars.
Roy Mustang • Hitagi Senjougahara • Shinobu Oshino • Rintarou Okabe • Edward Elric
Other characters
Bold indicates former runner-up
C - Also reached Elite Eight in Best Character
C2 - Finished runner-up in Best Character
Best Girl
Ai Hayasaka • Aqua • Chika FujiwaraC • Chiyo Sakura • Emilia • Eru Chitanda • Holo • Himeko Inaba • Jibril • Mayuri Shiina • MeguminC2 • Megumi Tadokoro • Mikasa Ackerman • Ochako Uraraka • Ryuuko MatoiC • SaberC • Shouko NishimiyaC • Suruga Kanbaru • Taiga Aisaka • Tohru • Winry Rockbell • Yoko Littner • Yui Yuigahama
Best Guy
All Might • Alphonse Elric • Archer •

Deishuu Kaiki

• Erwin SmithC • Gintoki SakataC • Guts • Hisoka Morow • Izaya Orihara • Joseph Joestar • Kamina • Kazuma SatouC • Killua Zoldyck • Kiritsugu Emiya •

Kraft Lawrence

• Light YagamiC • Reigen AratakaC • Rimuru Tempest • SaitamaC • Sakuta Azusagawa • Shouya Ishida • Souma Yukihira • Subaru Natsuki • Tanjiro Kamado • Yuu IshigamiC
Best Char.
Eren Yeager • Haruhi Suzumiya • Homura Akemi • Rider (Fate/Zero)
Korean Tournaments
Korea Best Moe (2006-2012, organized by Anizone.net)
Tournaments
2006 • 2007 • 2008 • 2009 • 2010 • 2011 • 2012
Female Champions
Suiseiseki • Hinagiku Katsura • Holo • Taiga Aisaka • Mio Akiyama • Homura Akemi • Hitagi Senjougahara
Male Champions
Kyon • Lelouch •

Mukuro Rokudo

• Tsunayoshi Sawada •

Kanglim (Ghost Messenger)

• Sougo Okita
Aniplus Character Tournament (Active since 2013, organized by Aniplustv.com)
Tournaments
2013 •

2014

•

2015

•

2016

•

2017

• 2018 • 2019 • 2020 • 2021 •

2022

Champions
Houtarou Oreki • Chiyo Sakura •

Producer (Imas CG)

• Rem • Chino Kafuu • Megumi Katou • Mai Sakurajima • Elaina • Yukina Minato • ??
Other
Aketo Records & Curses