The Sandman Will Keep You Awake - The Loop
Play Sound
Kiritsugu Emiya is the protagonist of the light novel and 2011-2012 anime Fate/Zero, and initially mentioned in the 2004 visual novel Fate/stay night. In Zero, which takes place before the events of the original VN, he is a participant of a battle royale called the "Fourth Holy Grail War", representing the Einzbern family. Partnering with his wife Irisviel and her Servant Saber, Emiya plays the role of a "Mage Killer" where he uses real military weapons and subversive tactics with the goal of assassinating other Masters. Near the end of the War, he saves a young boy named Shirou from a massive fire and becomes his foster father, ultimately instilling his ideals of becoming a "hero of justice" to him.
Kiritsugu also appears in the spinoff manga and anime series Fate/kaleid liner Prisma Illya.
The Mage Killer was a highly popular character during the 2010s, rivalling other Fate guys such as Archer, Iskandar, and Gilgamesh in terms of performance in saimoe tournaments. Like the other three, his main appeals lie in his "badass" and "edgy" appearance (using regular guns in a magic-heavy fantasy battle and kicking ass with it scores major points) and overall characterization, particularly his ideal of being a "hero of justice" and the events which shake this belief.
Icons
ISML Profile Flavor Text
[
]
Two ships are sinking at an equal rate. One holds 200 passengers; the other, 300. Which ship do you save? Only a fool would consider saving both ships. While Emiya Kiritsugu is no fool, he will attempt to do just that...and succeed doing it.
Kiritsugu enters the 4th Holy Grail War with no background in magic and no former ancestral participation. Yet, what makes him the most dangerous participant out of all contenders is his unorthodox method for achieving victory. From hostages to sniper rifles to poisons to bombs, Kiritsugu will use every trick in the book to achieve a certain end. People may question his means towards that end, but Kiritsugu does not mind as long as it achieves the same result.
What can a cold-blooded killer who has no relation to the war possibly want from the Holy Grail? Fame, power, fortune? No. Kiritsugu's drive is nothing so petty, but it is something no one would have guessed correctly: world peace. Kiritsugu wishes for a world where there would be no suffering, no sadness, and no war. If Kiritsugu wins this Holy Grail war, his immediate wish would be for the grail to disappear and to make sure that the 5th Holy Grail war will never happen again. To many, Kiritsugu's wish is childish and will never bear fruit. But Kiritsugu is serious. He will do whatever he can to make sure no one has to suffer anymore.
But, as they say, be careful what you wish for, it just might come true...
Best Guy
[
]
Best Guy 1 - seed 24
Best Guy 2 - seed 4
Best Guy 3 - seed 15
Best Guy 4 - seed 30
Best Guy 5 - seed 38
Best Guy 6 - seed 62
Best Guy 7 - seed 32
Best Guy 8 - seed 64
Best Character
[
]
Best Character 1 - seed 45
Best Character 2 - seed 23
Best Character 3 - seed 31
Best Character 4 - seed 36
Best Character 5 - seed 69
Honours
[
]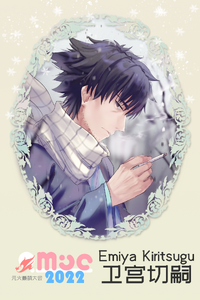 External Links
[
]
Beware of spoilers and pop-ups.
ISML

Pendant

Winners
First year of pendant win only. Crowns from 2015 are included.

2015

8man • Otonashi • Archer • Koyomi • Sora • Accelerator • Lelouch

2016

Koro-sensei • Kiritsugu

2017

Nagisa S. • Levi • Souma • Touma

2018

Okabe • Taki • Willem

2019

Slime • Riku • Sakuta • Kiyotaka • Tomoya • Yuuta

2020

Shirogane • Ishigami • Gilgamesh

2021

Sorata • Kirito