Jurassic World: Dominion Dominates Fandom Wikis - The Loop
Play Sound
Kanna Kamui is a character from Cool-kyou Shinja's manga Miss Kobayashi's Dragon Maid. Named after the god of thunder and lightning in Ainu mythology, Kanna is an electric dragon who followed Tohru to the human world, where she finds her under the care of the Kobayashi-san household. She assumes that Kobayashi seduced Tohru, but after the misunderstanding was resolved, she joins Kobayashi's adoptive family. Kanna is young by dragon standards, which is reflected in her human appearance and behavior as an elementary school child.
The loli dragon gained significant popularity in the anime fandom because of her extremely cute, child-like traits, which is enhanced by Kyoto Animation's TV adaptation. She also gained a memetic reputation online as a character that must not be lewded. However, the series itself shows otherwise, since Kanna is featured in sexually suggestive scenes and jokes, like showing emphasis on her thighs, and having a girl whose main gimmick is being obsessively in love with her.
Nevertheless, Kanna has cemented her place as Dragon Maid's most popular character, even more than the titular characters themselves. She is notable for having a colorful history in several saimoe tournaments in East Asia; for instance, she was one of the competitors involved in Bilibili Moe 2017's 8/17 incident, which sparked a site-wide inter-fandom war that lasted until the tournament's end. Kanna also emerged as one of the top tiara contenders in ISML 2018, where she ultimately placed 2nd behind Rem, and became the first girl to lose in the final match twice in the Korean Aniplus saimoe.

Icons
ISML Profile Flavor Text
(written by Momento10)


There is a gothic tribal wearing young dragon standing by the doorstep. She seeks one thing: others like her. However, a constant offering in the form of snacks will do just fine.

As a young dragon, Kanna Kamui's curiosity knows no boundaries, and the human realm provides enough abnormalities for her to question the daily lives and actions of such interesting creatures. However, even watching from afar becomes a chore for her, so she decides to live the life of an elementary school student. She may be older and more knowledgeable than the rest of her classmates, which may include her teacher, but such differences do not mean much to her.

Despite her age and race, Kamui is still a child at heart. She will cause a fuss if things do not go her way, get angry about the smallest of things, and may selfishly ask for things outside of her control. But when she sees how hard others around her a working just to match her request, Kamui remembers to politely thank them for the hard work they have done just to put up with her. And if they did not mind, it makes her all the more satisfied.

Kamui is ready for another day of adventure. Beware the cuteness that is Kanna Kamui!

History text
Main Tournament
[
]
Overall record
ISML Main Tournament Record
Regular season, playoffs, and consolation 1v1 matches only.
Preliminaries, gems, exhibitions, and approval / range voting rounds are NOT included.
Edition
Eliminated in
Final pos.
W
L
RS Record
ISML 2018
Runner-up
2nd
38
1
35-0
ISML 2019
Diamond WC Top 24
12th Conso
??
??
11-10
ISML 2020
Split 2 WC Top 64
60th Conso
10
10
10-10
ISML 2021
Split 3 Groups Top 32
21st Conso
19
18
18-17
ISML 2022
TBD
TBD
??
??
???

ISML 2023

ISML 2024

Total W-L: ???
Postseason: ???
RS Record: 74-27
Opponents played: ???

Match History
Seasonal
[
]
Anime: Dragon Maid season 1
Group Stage
Playoffs - seed 1 (CVP: 3.508)
Inter-seasonal
Poster gallery
[
]

Best Character
Best Character Contest history
Best Character

- seed 15

Best Character - seed 151
Other tournaments
[
]
Aniplus Character Tournament 2017

Aniplus Character Tournament 2021
Anime: Dragon Maid season 2 (Summer) - 1st
(Max 4): 1155 votes (1st / 13th)
(Max 2): 1273 votes (1st / 6th)
(B2) Siesta @ Tanmoshi -- 863 - 616
(D2) Miku Nakano @ 5-toubun season 2 -- 897 - 882
(D1) Yukina Minato @ BanG Dream! Garupa Pico season 2 -- 974 - 1314
Honours
[
]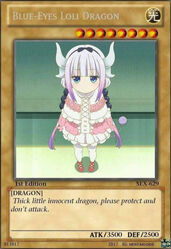 Wins = 2
Saimoe Animeclick 2018 [link needed]
[

]
Beware of spoilers and pop-ups.
ISML

Necklace

Winners
First year of necklace win only. Circlets from 2012-2015 included (if applicable).

2008

Shana • Setsuna S. • Kagami • Kyou • Haruhi

2009

Tomoyo S. • Yuki N. • Suigintou • Suiseiseki • Hinagiku • Shinku

2010

Mio • Taiga • Mikoto

2011

Kanade • Ruri • Hellscythe

2012

No new winners.

2013

Mashiro • Rikka • Asuna

2014

Kuroyukihime

2015

Yukino • Kosaki • Chitoge • Chiyo • Ayase

2016

Nao • Tohsaka • Saber • Kurisu

2017

Rem • Emilia • Katou

2018

Chtholly • Azunyan • Kanna

2019

Violet • Sagiri • Kurumi • Mai-san

2020

Kaguya

2021

Elaina
ISML Seasonal Diadem Winners

2012

Ririchiyo • Kuroyukihime • Asuna • Rikka

2013

Black Rabbit • Kurumi • Kirigiri • Mirai

2014

Chitoge • Shiro • Chiyo • Isuzu

2015

Megumi K. • Isla • Nao • MitsukiND, SEQ

2016

Megumin • Rem • Aoba •

Chitose

2017

Kanna • Chtholly • Suzune •

Nayuta

2018

Violet • UrarakaND, SEQ • Platelet • Mai-san

2019

Kaguya • Fumino •

Gray

•

Ishtar

2020

Kotoko

• Kei S.SEQ • Chizuru • Elaina

2021

Female
MikuND, SEQ • IinoND, SEQ • Keke DC • RanND, SEQ
Male
TanjiroSEQ, DC • NatsumeSEQ •

Kimihiko

•

Lugh

2022

Female
Male
ND - NOT a DEBUTANT; appeared in a seasonal contest beforehand
SEQ - Appeared in a SEQUEL installment
DC - Won inter-seasonal playoffs (Divine Circlet / Crown)
DCX - Won inter-seasonal playoffs but not a seasonal (listed last)
Kyoto Animation Characters
Air
Kanon
Clannad
Tomoya Okazaki • Nagisa Furukawa • Kyou Fujibayashi • Tomoyo Sakagami
Haruhi
Kyon • Haruhi Suzumiya • Yuki Nagato • Mikuru Asahina
Lucky Star
Kagami Hiiragi • Konata Izumi • Tsukasa Hiiragi
K-ON!
Mio Akiyama • Yui Hirasawa • Azusa Nakano • Ritsu Tainaka • Tsumugi Kotobuki
Chuunibyou
Yuuta Togashi • Rikka Takanashi • Shinka Nibutani • Sanae Dekomori
Hyouka
Houtarou Oreki • Eru Chitanda
Free!
Amagi
Isuzu Sento
Kyoukai no Kanata

AKihito Kanbara

•

Hiroomi Nase

• Mirai Kuriyama • Mitsuki Nase
Phantom World

Mai Kawakami

Euphonium
Kumiko Oumae • Reina Kousaka
Dragon Maid

Kobayashi

• Tohru • Kanna Kamui
Koe no Katachi
Shouya Ishida • Shouko Nishimiya
VE
Violet Evergarden