Jurassic World: Dominion Dominates Fandom Wikis - The Loop
Play Sound
Kanade Tachibana, initially known simply as Angel (or Tenshi in Japanese), is the titular character of the 2010 anime series Angel Beats! She is one of the most successful girls ever to grace the International Saimoe League with a total of nine poster awards to her name. The Angel was the most dominant contestant from 2011 to 2014; during that time she became the first girl to win 7 gem awards, including three straight division championships, and has never placed below third in final positions. Kanade is also the first female to achieve a perfect season, having won the tiara in 2012 without losing or drawing a single match.

Icons
Contest profile
[
]
Kanade holds a moderate presence in the contests of r/anime. Her Best Girl Contest performance is a hit-or-miss; while she managed to get into the Round of 32 two times (in 2014 and 2017), in recent years she has struggled to maintain her waning power in the tournament brackets due to becoming overshadowed by characters from popular and relatively recent shows.
Elsewhere, she finished as a runner-up on her first year in the defunct Korea Best Moe tournament, and enjoyed a relatively strong presence in China's Bilibili Moe, reaching the quarterfinals of the inaugural tournament due to appearing in the Angel Beats! OVA series.
In ISML
[
]
Of course, you probably read this article because of her exemplary history in the International Saimoe League.
Legendary. Mythical. Godlike. These are some of the words used to describe Kanade's performance in ISML's Main Tournament appearances from 2011 to 2014. Possessing a large and dedicated fanbase backed by Key supporters and P.A. Works supporters, the Angel is best associated with the tournament's Stella-Nova era, from which she enjoyed great success. It took the passing of the "Champions rule" in 2015 and a Tournament of Champions gap in 2016 to end her reign.
2011-2014

[

]
Coming off of a loss in the KBM 2010 final and a mediocre appearance in 2channel's Saimoe, Kanade debuted in ISML 2011 and immediately took over the contest by posting a perfect regular season record (49 wins), thereby securing the first seed in the single-elimination playoffs. However, she lost to last year's runner-up and longtime veteran Shana in the semi-finals, but scored third place after defeating fellow super rookie Kuroneko in the consolation match.
In 2012, Tachibana was assigned to the Nova division. There, she completed a historic perfect season by winning all 35 regular season matches, and then posted one of the most dominant playoff runs in ISML history with an 8-0 record. Her vote shares never went below 60% in almost all of her postseason matches; only Kobato Hasegawa during the nova quarter-finals managed to pull the Angel below that percentage.
Kanade shifted to the Stella division in ISML 2013, where she extended her win streak to an unprecedented 71 wins (and 112 in regular season only) after winning 28 straight matches. Her quest to claim a second straight tiara was challenged only by two people: former champion Mikoto Misaka, who broke her winstreak after beating her in Topaz 1 (29th matchday), and hungry rival Kuroneko, who also defeated her in the final regular season match. Although the Angel would beat both of them during the postseason --- Ruri in the stella division final and Mikoto in the tiara semi-finals --- she ultimately failed at the last hurdle after Kuroneko got her revenge in the title-deciding final match.
Although hurt by this loss, Kanade maintained her near-unstoppable form in the wake of the ISML 2014 regular season, only dropping one match against Misaka. She then ciaimed her third straight division title afterwards, which included victories against Mashiro and Misaka, and went all the way to the Tiara semi-finals where she was eliminated by Date A Live upstart and eventual champion Kotori Itsuka. The Angel settled for another third-place finish after beating Oreimo's Ayase Aragaki.
Tournament of Champions (2015-2019)

[

]
TBD
Rivalries
[
]
HanaKana Bowl (Tenshi-Kuroneko)

[

]
From 2011 to 2014, Kanade's most frequent rival is Ruri Gokou, another character voiced by her voice actress Kana Hanazawa. The pair have a history of meeting in the playoff stages every year, with Tenshi winning all but one match against Kuroneko.
Tenshi vs Kuroneko match history
Year
Tournament
Type
Round
Score
Record
201
201
201
201
201
201
201
201
201
201
Celestial Derby (Tenshi-Railgun)

[

]
Tachibana also holds a rivalry against Mikoto Misaka (aka the Railgun) for the honour of being ISML's greatest competitor of all time. As of 2021, these girls each have won 9 awards in the contest, having won one tiara championship apiece. Angel leads in gems 7 to 6, while the Railgun has two Tournament of Champions victories compared to Tenshi's one.
The pair have met each other in the postseason two times -- 2013 Tiara semi-final and 2014 Diamond playoff round 4 --- with both matches ending in Kanade's victory. While the rivalry would re-ignited with Angel's return in 2021, it is likely to decided in Misaka's favour as she continues to be a top tiara contender thanks to the support from Chinese Railgun fans, while the returning Angel is well past her prime years.
Tenshi vs Railgun ISML match history
DELET
Year
DELET
Round
Score
Record
ISML 2011
Regular season (Dia 7, day 35)
4319 - 4142
1-0
ISML 2013
Regular season (Topaz 1, day 29)
8758 - 8079
1-1
Stella playoffs (SF)
7030 - 5107
2-1
Semi-finals
8254 - 6060
3-1
ISML 2014
Regular season (Topaz 1, day 29)
Stella playoffs (Round 4)
3522 - 3503
ISML 2015 ToC
Semi-finals
6874 - 6271
ISML 2019 ToC
Group stage (Round 7)
6951 - 5994
ISML Profile Flavor Text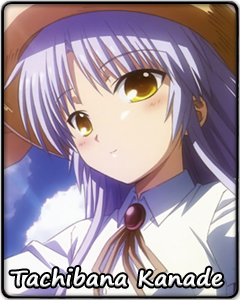 They all came to that world for something that they had been denied – all except for one girl.
Tachibana Kanade came to wait for a meeting which may never come. Caring, if slightly clueless, she tries to find her own place among the troubled people of the new world. Little does she know that it will be impossible for her to make friends here, at least as long as she genuinely cares about them...
Months pass, and Kanade is still waiting. She is president of the gardening club, and the sole remaining member. She is student council president, and all alone in her duty. Through days filled with solitude, Kanade never stops helping others pick up the broken pieces, even at the cost of countless painful partings.
As another day of trial draws to a close, Kanade sits alone at a dining table, a plate of her favorite mapo tofu in front of her. The taste will not erase the pain of bullet wounds or the memories of the harsh words thrown at her by those she wished to help. But it will give her the strength to remain firm in her resolution and do the right thing yet again.
After all, she is not merely waiting.
Main Tournament
[
]
Overall Record (as of ISML 2021 regular season)
ISML Main Tournament Record
Regular season, playoffs, and consolation matches only.
Preliminaries, gem rounds, and wildcard rounds are NOT included.
Edition
Eliminated in
Final pos.
W
L
RS Record
ISML 2011
Semi-finals
3rd
52
1
49-0 1st
ISML 2012
Champion
1st (N-1st)
43
0
35-0 N-1st
ISML 2013
Runner-up
2nd (S-1st)
40
3
33-2 S-2nd
ISML 2014
Semi-finals
3rd (S-1st)
41
2
34-1 S-2nd
2015-2020: Banned due to Champions rule (8 years)
ISML 2021
TBD
TBD
?
?
30-5
ISML 2022
TBD
TBD
?
?
?
Total W-L Record: 206-11 (94.93%)
Postseason: 25-3 (89.29%)
Total RS Record: 181-8 (95.78%)
1st (49-0-0)
Necklace Round:
|header = Regular Season (35-0)}}
Nova Playoffs
Tiara Playoffs
Stella 2nd (33-2)
Average VF: 5714
Average VA: 2749
Average VF%: 68.34%
Average VA%: 31.66%}}

Stella Playoffs
Tiara Playoffs
Stella Swiss Rounds
Tiara Playoffs
Poster Gallery
[
]
Other tournaments
[
]
2010

2011
2010

2011
Minor Contests
[
]
2011
Honours
[
]
Total Contest Wins = 8
Runner-up Lists
[
]
List of runner-up finishes = 9
External links
[
]
Beware of spoilers and pop-ups.
ISML

Necklace

Winners
First year of necklace win only. Circlets from 2012-2015 included (if applicable).

2008

Shana • Setsuna S. • Kagami • Kyou • Haruhi

2009

Tomoyo S. • Yuki N. • Suigintou • Suiseiseki • Hinagiku • Shinku

2010

Mio • Taiga • Mikoto

2011

Kanade • Ruri • Hellscythe

2012

No new winners.

2013

Mashiro • Rikka • Asuna

2014

Kuroyukihime

2015

Yukino • Kosaki • Chitoge • Chiyo • Ayase

2016

Nao • Tohsaka • Saber • Kurisu

2017

Rem • Emilia • Katou

2018

Chtholly • Azunyan • Kanna

2019

Violet • Sagiri • Kurumi • Mai-san

2020

Kaguya

2021

Elaina
International Saimoe League

Champions
Heavenly Tiara

Fate Testarossa •

Hinagiku Katsura •

Mio Akiyama •

Mikoto Misaka •

Kanade Tachibana •
Ruri Gokou •

Kotori Itsuka •

Eru Chitanda •
Shana •

Megumi Katou •

Rem •

Violet Evergarden •

Yukino Yukinoshita •
Elaina • 2022
Lapis Scepter

Lelouch LamperougeEx •
Kazuto KirigayaEx •

Houtarou OrekiEx •

Hideyoshi KinoshitaEx •

Accelerator •

Sora •

Koro-sensei •

Hachiman Hikigaya •

Rimuru Tempest •

Miyuki Shirogane •

Sakuta Azusagawa • 2022
Ex - Exhibition tournament: Counted as official winners, but not recognized on the ISML website's main page