Jurassic World: Dominion Dominates Fandom Wikis - The Loop
Play Sound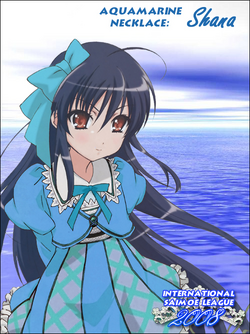 This page contains all contestants who have won any official poster ever awarded in the International Saimoe League.
Alternative links:

Characters are arranged in order of importance:
Number of awards won
Tiara / Scepter
Seasonal diadem and seasonal championship (e.g. divine circlet & crown from 2021)
Exhibition gems (except 2010)
Exhibition awards with 2+ editions (e.g. divine circlet 2015-2020, touhou)
Other exhibition awards (1 edition)

Only the character who has won the award is counted on the tally; any other characters who appear in a particular poster other than the relevant winners do not count. (Example: Shiro appears in ISML 2016's Scepter poster, won by her brother Sora)
Table
[
]
Desktop only: Mouse over an award or date to preview the poster image.
You need to Login or Register to a Wikia account in order to access each link's File page, otherwise it will only redirect to either the home page or a tangentially related article.
Statistics correct as of 2022 Feb 13 (after ISML 2021). A total of 354 posters, distributed among 210 unique awardees, have been awarded.
ISML Poster Winners
Character
No.
Main / Ex. Awards
Necklace / Pendant (Year Won)
Aqua
Topaz
Amet
Sapp
Eme
Ruby
Dia
Mikoto Misaka
10
Tiara 2011
ToC 2017
ToC 2018

2011

,

2014

-
-

2021

2020

2010

,

2012

2012

S
Kanade Tachibana
9
Tiara 2012
ToC 2015

2012

,

2013

2011

2014

2012

N
-
-

2013

S,

2014

S
Mashiro Shiina
9
n/a

2016

2013

,

2014

,

2015

,

2018

2021

2013

N
-

2020

2017

Shana
8
Tiara 2016

2008

-

2016

2009

,

2010

2010

2011

2010

Asuna Yuuki
8
Summer 2012

2020

2017

-

2014

N,

2018

2014

2013

2021

Hachiman Hikigaya
6
Scepter 2018
ToC 2019

2015

2016

,

2017

,

2018

-
-
-
-
-
Yukino Yukinoshita
6
Tiara 2020

2015

-

2019

2015

N,

2016

,

2020

-
-
-
Rem
5
Tiara 2018
Spring 2016
ToC 2019

2017

,

2018

-
-
-
-
-
-
Ruri Gokou
4
Tiara 2013
-
-

2012

,

2013

2011

-
-
-
Violet Evergarden
4
Tiara 2019
Winter 2018
ToC 2021

2019

-
-
-
-
-
-
Houtarou Oreki
4
Scepter 2013 Ex
ToC 2020
ToC 2021
Couples 2021
-
-
-
-
-
-
-
Sora
4
Scepter 2016
ToC 2018
-

2015

-

2016

-
-
-
Sakuta Azusagawa
4
Scepter 2021

2021

-

2019

-
-

2020

-
Rin Tohsaka
4
n/a
-

2019

-

2017

2016

2018

-
Archer
4
n/a
-
-
-

2017

-

2015

,

2016

,

2018

-
Touma Kamijou
4
n/a
-
-
-
-

2020

,

2021

2019

2017

Kurumi Tokisaki
4
Spring 2013

2021

2020

-
-

2019

-
-
Rikka Takanashi
4
Fall 2012
-
-
-
-

2013

2021

2020

Kaguya Shinomiya
4
Winter 2019
Couples 2019
-

2021

2020

-
-
-
-
Mio Akiyama
3
Tiara 2010

2010

2012

-
-
-
-
-
Megumi Katou
3
Tiara 2017
Winter 2015
-
-
-
-

2017

-
-
Eru Chitanda
3
Tiara 2015
ToC 2020
Couples 2021
-
-
-
-
-
-
-
Elaina
3
Tiara 2021
Fall 2020
-
-
-
-

2021

-
-
Lelouch vi Britannia
3
Scepter 2011 Ex
ToC 2017
-
-
-
-
-
-

2015

C
Koro-sensei
3
Scepter 2017

2016

,

2017

-
-
-
-
-
-
Miyuki Shirogane
3
Scepter 2020
Couples 2019
-

2020

-
-
-
-
-
Yuki Nagato
3
n/a
-

2009

2010

,

2011

-
-
-
-
Riku Dola
3
n/a

2020

2019

2021

-
-
-
-
Kurisu Makise
3
Exhib. 2013
-
-
-
-
-
-

2016

,

2019

Saber (F/SN)
3
Exhib. 2014
-
-
-
-
-

2016

,

2017

-
Sakura Kinomoto
3
Exhib. 2011
Div.Circlet 2011
Exhib. 2010
-
-
-
-
-
-
-
Hinagiku Katsura
2
Tiara 2009
-
-
-
-
-

2009

-
Accelerator
2
Scepter 2015
-
-
-

2015

#1
-
-
-
Rimuru Tempest
2
Scepter 2019

2019

-
-
-
-
-
-
Kirito
2
Scepter 2012 Ex
-
-
-
-
-
-

2021

Kagami Hiiragi
2
n/a
-
-

2008

-

2008

-
-
Haruhi Suzumiya
2
n/a
-
-
-
-
-

2008

2008

Taiga Aisaka
2
n/a
-

2010

-
-

2011

-
-
Eucliwood Hellscythe
2
n/a
-
-
-
-

2012

-

2011

Yuzuru Otonashi
2
n/a
-
-

2015

-

2016

-
-
Koyomi Araragi
2
n/a
-
-

2016

-

2015

-
-
Nagisa Shiota
2
n/a
-
-

2017

-

2018

-
-
Levi Ackerman
2
n/a

2018

-
-
-

2017

-
-
Rintarou Okabe
2
n/a
-
-

2018

-
-
-

2020

Yuu Ishigami
2
n/a
-

2021

2020

-
-
-
-
Yuuta Togashi
2
n/a
-
-
-

2021

-
-

2019

Kuroyukihime
2
Spring 2012
-
-
-
-
-

2014

-
Chitoge Kirisaki
2
Winter 2014
-
-
-
-

2015

-
-
Chiyo Sakura
2
Summer 2014
-
-
-
-
-

2015

-
Nao Tomori
2
Summer 2015
-

2016

-
-
-
-
-
Kanna Kamui
2
Winter 2017
-
-
-
-
-
-

2018

Chtholly N. S.
2
Spring 2017
-
-

2018

-
-
-
-
Mai Sakurajima
2
Fall 2018
-
-
-
-
-

2019

-
Keke Tang
2
Summer 2021
Ssn.Circlet 2021

-
-
-
-
-
-
-
Tanjiro Kamado
2
Winter 2021
Ssn.Crown 2021
-
-
-
-
-
-
-
Megumin
2
Winter 2016
Exhib. 2021
-
-
-
-
-
-
-
Ayase Aragaki
2
Exhib. 2013
-
-
-
-
-
-

2015

S
Tomoya Okazaki
2
Exhib. 2021
-
-
-
-

2019

-
-
Sorata Kanda
2
Exhib. 2020
-
-
-
-
-

2021

-
Index
2
Exhib. 2020
Exhib. 2021
-
-
-
-
-
-
-
Ruiko Saten
2
Exhib. 2020
Div.Circlet 2017
-
-
-
-
-
-
-
Miku Hatsune
2
Exhib. 2011
Exhib. 2010
-
-
-
-
-
-
-
Mikan Yuuki
2
Div.Circlet 2016
Exhib. 2010
-
-
-
-
-
-
-
Reimu Hakurei
2
Touhou 2013
Exhib. 2010
-
-
-
-
-
-
-
Nasa Yuzaki
2
Couples 2020
Exhib. 2021
-
-
-
-
-
-
-
Fate Testarossa
1
Tiara 2008
-
-
-
-
-
-
-
Kotori Itsuka
1
Tiara 2014
-
-
-
-
-
-
-
Hideyoshi Kinoshita
1
Scepter 2014 Ex
-
-
-
-
-
-
-
Setsuna Sakurazaki
1
n/a
-

2008

-
-
-
-
-
Kyou Fujibayashi
1
n/a
-
-
-

2008

-
-
-
Tomoyo Sakagami
1
n/a

2009

-
-
-
-
-
-
Suigintou
1
n/a
-
-

2009

-
-
-
-
Suiseiseki
1
n/a
-
-
-
-

2009

-
-
Shinku
1
n/a
-
-
-
-
-
-

2009

Kosaki Onodera
1
n/a
-
-

2015

-
-
-
-
Emilia
1
n/a
-
-

2017

-
-
-
-
Azusa Nakano
1
n/a
-
-
-
-

2018

-
-
Sagiri Izumi
1
n/a
-
-
-

2019

-
-
-
Kiritsugu Emiya
1
n/a
-
-
-
-
-
-

2016

Souma Yukihira
1
n/a
-
-
-
-
-

2017

-
Taki Tachibana
1
n/a
-
-
-

2018

-
-
-
Willem Kmetsch
1
n/a
-
-
-
-
-
-

2018

Kiyotaka Ayanokouji
1
n/a
-
-
-

2019

-
-
-
Gilgamesh
1
n/a
-
-
-

2020

-
-
-
Ririchiyo Shirakiin
1
Spring 2012
-
-
-
-
-
-
-
Black Rabbit
1
Winter 2013
-
-
-
-
-
-
-
Kyouko Kirigiri
1
Summer 2013
-
-
-
-
-
-
-
Mirai Kuriyama
1
Fall 2013
-
-
-
-
-
-
-
Shiro
1
Spring 2014
-
-
-
-
-
-
-
Isuzu Sento
1
Fall 2014
-
-
-
-
-
-
-
Isla
1
Spring 2015
-
-
-
-
-
-
-
Mitsuki Nase
1
Fall 2015
-
-
-
-
-
-
-
Aoba Sukukaze
1
Summer 2016
-
-
-
-
-
-
-

Chitose Karasuma

1
Fall 2016
-
-
-
-
-
-
-
Suzune Horikita
1
Summer 2017
-
-
-
-
-
-
-

Nayuta Kani

1
Fall 2017
-
-
-
-
-
-
-
Ochako Uraraka
1
Spring 2018
-
-
-
-
-
-
-
Platelet Leader
1
Summer 2018
-
-
-
-
-
-
-
Fumino Furuhashi
1
Spring 2019
-
-
-
-
-
-
-

Gray (Fate)

1
Summer 2019
-
-
-
-
-
-
-

Ishtar (Fate)

1
Fall 2019
-
-
-
-
-
-
-

Kotoko Iwanaga

1
Winter 2020
-
-
-
-
-
-
-
Kei Shirogane
1
Spring 2020
-
-
-
-
-
-
-
Chizuru Ichinose
1
Summer 2020
-
-
-
-
-
-
-
Miku Nakano
1
Winter 2021
-
-
-
-
-
-
-
Miko Iino
1
Spring 2021
-
-
-
-
-
-
-
Ran Mouri
1
Fall 2021
-
-
-
-
-
-
-
Takashi Natsume
1
Spring 2021
-
-
-
-
-
-
-

Kimihiko Kimizuka

1
Summer 2021
-
-
-
-
-
-
-

Lugh Tuatha De

1
Fall 2021
-
-
-
-
-
-
-
Kagura (Gintama)
1
Exhib. 2011
-
-
-
-
-
-
-
Shiori Shiomiya
1
Exhib. 2011
-
-
-
-
-
-
-
Remilia Scarlet
1
Exhib. 2011
-
-
-
-
-
-
-
Illyasviel von Einzbern
1
Exhib. 2011
-
-
-
-
-
-
-
Madoka Kaname
1
Exhib. 2011
-
-
-
-
-
-
-
Meiko "Menma" Honma
1
Exhib. 2012
-
-
-
-
-
-
-
Ikaros
1
Exhib. 2012
-
-
-
-
-
-
-
C.C.
1
Exhib. 2012
-
-
-
-
-
-
-
Sora Kasugano
1
Exhib. 2012
-
-
-
-
-
-
-
Inori Yuzuriha
1
Exhib. 2012
-
-
-
-
-
-
-
Aria H. Kanzaki
1
Exhib. 2013
-
-
-
-
-
-
-
Momo Belia Deviluke
1
Exhib. 2013
-
-
-
-
-
-
-
Last Order
1
Exhib. 2013
-
-
-
-
-
-
-
Yukina Himeragi
1
Exhib. 2014
-
-
-
-
-
-
-
Victorique de Blois
1
Exhib. 2014
-
-
-
-
-
-
-
Misaki Shokuhou
1
Exhib. 2014
-
-
-
-
-
-
-
Yui (SAO)
1
Exhib. 2014
-
-
-
-
-
-
-
Kuroko Shirai
1
Exhib. 2020
-
-
-
-
-
-
-
Shouko Nishimiya
1
Exhib. 2020
-
-
-
-
-
-
-
Yui Yuigahama
1
Exhib. 2020
-
-
-
-
-
-
-
Chino Kafuu
1
Exhib. 2020
-
-
-
-
-
-
-
Schwi Dola
1
Exhib. 2020
-
-
-
-
-
-
-
Conan Edogawa
1
Exhib. 2020
-
-
-
-
-
-
-
Saika Totsuka
1
Exhib. 2020
-
-
-
-
-
-
-
Shirou Emiya
1
Exhib. 2020
-
-
-
-
-
-
-
Lancer (F/SN)
1
Exhib. 2020
-
-
-
-
-
-
-
Subaru Natsuki
1
Exhib. 2020
-
-
-
-
-
-
-
Kazuma Satou
1
Exhib. 2020
-
-
-
-
-
-
-
Chika Fujiwara
1
Exhib. 2021
-
-
-
-
-
-
-
Ai Hayasaka
1
Exhib. 2021
-
-
-
-
-
-
-
Iroha Isshiki
1
Exhib. 2021
-
-
-
-
-
-
-
Nanami Aoyama
1
Exhib. 2021
-
-
-
-
-
-
-
Utaha Kasumigaoka
1
Exhib. 2021
-
-
-
-
-
-
-
Saitama
1
Exhib. 2021
-
-
-
-
-
-
-
Yuu Otosaka
1
Exhib. 2021
-
-
-
-
-
-
-
Ryuunosuke Akasaka
1
Exhib. 2021
-
-
-
-
-
-
-
Shouya Ishida
1
Exhib. 2021
-
-
-
-
-
-
-
Shidou Itsuka
1
Exhib. 2021
-
-
-
-
-
-
-
Yui (Angel Beats)
1
Div.Circlet 2015
-
-
-
-
-
-
-
Hitagi Senjougahara
1
Div.Circlet 2018
-
-
-
-
-
-
-
Reina Kousaka
1
Div.Circlet 2019
-
-
-
-
-
-
-
Ginko Sora
1
Div.Circlet 2020
-
-
-
-
-
-
-

Inuyasha

1
Div.Crown 2017
-
-
-
-
-
-
-
Alphonse Elric
1
Div.Crown 2018
-
-
-
-
-
-
-
Mikaela Hyakuya
1
Div.Crown 2019
-
-
-
-
-
-
-

Mochizou Ooji

1
Div.Crown 2020
-
-
-
-
-
-
-
Tsukasa Tsukuyomi
1
Couples 2020
-
-
-
-
-
-
-
Mare S. Ephemeral
1
VN's 2014
-
-
-
-
-
-
-
Shiroha Naruse
1
VN's 2021
-
-
-
-
-
-
-
Marisa Kirisame
1
Touhou 2017
-
-
-
-
-
-
-
Cirno
1
Touhou 2020
-
-
-
-
-
-
-
2B
1
Games 2018
-
-
-
-
-
-
-

Pikachu

1
Pets 2018
-
-
-
-
-
-
-
Tsumugi Kotobuki
1
Musicians 2020
-
-
-
-
-
-
-

Kizuna AI

1
VTubers 2021
-
-
-
-
-
-
-
Mihoshi Akeno
1
Exhib. 2010
-
-
-
-
-
-
-
Nodoka Miyazaki
1
Exhib. 2010
-
-
-
-
-
-
-

Niche (Tegami Bachi)

1
Exhib. 2010
-
-
-
-
-
-
-
Hecate (Shana)
1
Exhib. 2010
-
-
-
-
-
-
-

Maetel (Galaxy Express 999)

1
Exhib. 2010
-
-
-
-
-
-
-
Akane Suzumiya
1
Exhib. 2010
-
-
-
-
-
-
-

Yuffie Kisaragi

1
Exhib. 2010
-
-
-
-
-
-
-
Athena Tennousu
1
Exhib. 2010
-
-
-
-
-
-
-
Riku Harada
1
Exhib. 2010
-
-
-
-
-
-
-
Lucy Heartfilia
1
Exhib. 2010
-
-
-
-
-
-
-

Alice Margatroid

1
Exhib. 2010
-
-
-
-
-
-
-

Oscar François de Jarjayes

1
Exhib. 2010
-
-
-
-
-
-
-
Satoko Houjou
1
Exhib. 2010
-
-
-
-
-
-
-
Alisa Bannings
1
Exhib. 2010
-
-
-
-
-
-
-

Presea Combatir

1
Exhib. 2010
-
-
-
-
-
-
-
Shizuru Fujino
1
Exhib. 2010
-
-
-
-
-
-
-
Ai Enma
1
Exhib. 2010
-
-
-
-
-
-
-
Mahoro Andou
1
Exhib. 2010
-
-
-
-
-
-
-
Kaede Mizuno
1
Exhib. 2010
-
-
-
-
-
-
-

Chi Chi

1
Exhib. 2010
-
-
-
-
-
-
-
Rin Natsume
1
Exhib. 2010
-
-
-
-
-
-
-
Sara Shirogane
1
Exhib. 2010
-
-
-
-
-
-
-
Amu Hinamori
1
Exhib. 2010
-
-
-
-
-
-
-
Koyomi Morishita
1
Exhib. 2010
-
-
-
-
-
-
-

Oyuki (Urusei Yatsura)

1
Exhib. 2010
-
-
-
-
-
-
-
Anna Kyoyama
1
Exhib. 2010
-
-
-
-
-
-
-

Kairi (Kingdom Hearts)

1
Exhib. 2010
-
-
-
-
-
-
-
Eve (Black Cat)
1
Exhib. 2010
-
-
-
-
-
-
-
Mion Sonozaki
1
Exhib. 2010
-
-
-
-
-
-
-
Tenko Kamiyama
1
Exhib. 2010
-
-
-
-
-
-
-

Saya (Saya no Uta)

1
Exhib. 2010
-
-
-
-
-
-
-

Minmay Lynn

1
Exhib. 2010
-
-
-
-
-
-
-
Fatina
1
Exhib. 2010
-
-
-
-
-
-
-
Rebecca Miyamoto
1
Exhib. 2010
-
-
-
-
-
-
-
Asuna Kagurazaka
1
Exhib. 2010
-
-
-
-
-
-
-
Eruruu
1
Exhib. 2010
-
-
-
-
-
-
-

Fujino Asagami

1
Exhib. 2010
-
-
-
-
-
-
-
Manami Amamiya
1
Exhib. 2010
-
-
-
-
-
-
-

Minami Asakura

1
Exhib. 2010
-
-
-
-
-
-
-
Echo (Pandora Hearts)
1
Exhib. 2010
-
-
-
-
-
-
-
Yuuki Cross
1
Exhib. 2010
-
-
-
-
-
-
-
Lucy (Elfen Lied)
1
Exhib. 2010
-
-
-
-
-
-
-

Sheeta (Laputa)

1
Exhib. 2010
-
-
-
-
-
-
-
Lain Iwakura
1
Exhib. 2010
-
-
-
-
-
-
-
Rukia Kuchiki
1
Exhib. 2010
-
-
-
-
-
-
-