The International Saimoe League, abbreviated ISML, is an online moe [1] popularity contest which aims to "find the most moe anime girls". One of the many contests spun off of the Anime Saimoe Tournament held on 2channel, ISML was created with the purpose of allowing voters from around the world to participate (compared to Japan-exclusive AST and Korean-exclusive KBM). The contest has many characteristics that differentiate it from other popularity contests; but the most prominent is the league system that is similar to major United States sports leagues, and gem awards which are given to contestants who perform well during the regular season.
Initially contested by females only, ISML held a separate male exhibition tournament from 2011-2014, and later added a main tournament for them from 2015 onwards.
General Format
Nomination stage
ISML officially opens through the nomination phase which lasts one week. Some characters are exempted from this stage, and will automatically qualify to the regular season when they fulfill a certain requirement, such as winning a necklace.
Main Tournament
Preliminaries > Regular season / Group stage > Playoffs
Preliminaries
Some editions implement a preliminary period which consists of several rounds that thins out the number of nominees in order to fit the regular season's league capacity. Seeding rounds, which determine each contestant's regular season schedule, are also held at the same time.
Regular season
The regular season is a league-style tournament that lasts many months. From 2008 to 2015, the format was a massive single round-robin (every player plays all opponents once), while 2016 and later consisted of multiple group stages that whittled down the number of characters as the season progresses. At the end of the regular season, sixteen top-peforming / surviving contestants will advance to the playoffs.
Playoffs
The final part of ISML is the playoffs (officially called "Elimination Stage"), where 16 contestants will play through one or more elimination brackets to decide the year's champion, called the Heavenly Tiara for females, and Lapis Scepter for males..
2008 to 2010 used a double-elimination bracket, while 2011 onwards used single-elimination, with 2012-2015 divided into two phases: the first being contested within the Stella and Nova divisions, and the second combining both divisions in a single bracket. 2016's format used a 4x4 group stage and 8-man bracket instead.
Consolations & Final Rankings
During the playoffs, consolation matches will be held between those eliminated in the final group stages, and those knocked out early in the bracket. The final rankings are usually determined by CVP (cumulative vote points) and wins. Because of this, some of the contestants' final positions may NOT reflect what stage they were eliminated in.
A good example is 2018's Emilia and Taki, who placed 8th despite not qualifying in the playoffs. Normally 8th place is usually reserved to quarter-finalists, this is not the case here.
Eligibility Criteria
To be eligible for the main tournament, characters must appear in a Japanese-produced animated medium: TV shows, Films, Made-for-DVD (OVA), Internet (ONA). Foreign source materials are allowed if the adaptations were produced by Japanese studios (e.g. Korean Webtoons like Tower of God)
Hentai (R-18+ rated works) is NOT ALLOWED.
Characters must debut / appear in an anime released before December 31 of the previous year.
Must be a human / humanoid, or possess anthropomorphic qualities.
Must have a name or other universal means of identification.
Must regularly appear in the series, or have a significance to the story's plotline.
For non-binary characters (sexless, gender ambiguous / unknown, switches between sexes, hermaphrodite) they will be assigned based on which gender traits are more dominant, or which gender the audience assumes them to be.
Examples: Houseki no Kuni's sexless gems , Made in Abyss's Nanachi (gender unknown) and Monogatari's

Ougi Oshino

(apeeared as a boy and a girl) compete in the female division.
Otokonoko characters, popularly known in the Western anime community as traps, will always compete in the male division.
Voting policy
Compared to its Japanese and Korean counterparts, ISML's voting is simple and relatively easy to understand. No account creation is needed.
All characters have icons and names, you just have to click on someone.
At the bottom of the screen, there are icons for sex and age range. These are optional.
Before submitting your votes, you must enter a CAPTCHA. To prevent bots, you will have to wait a certain amount of time before you can even submit.
Rules:
You must vote on at least 8 matches.
Voting is only limited to ONE (1) vote per IP address.
Only one vote per 1 vs 1 match-up.
A voter may not vote on behalf on another person.
Voting is limited to certain matchdays.
Once your ballot is submitted, your votes can only be changed by asking the staff for permission.
Unique Characteristics
As one of the oldest and longest-running online character popularity contests, ISML has many characteristics that set it apart from other competitions besides its league format.
Annual Charter & Constitution
ISML publishes a yearly charter which supplements the basic rules. It stipulates details that are not mentioned in the basic rules, including the specific format of a certain year, detailed schedule, additional restrictions, and so on. This allows the organizer to make some changes every year while maintaining the contest's core values. The contest also provides a legalese document called the "Constitution".
From the website:
The Annual Charter defines the values and limitations of and establishes a schedule for ISML. The Charter purposes to be the flexible aspect of ISML that complements the static Constitution. It aims to provide ISML with the ability to make the innovations necessary to remain entertaining each year.
The purpose of the Constitution is to provide a permanent set of guidelines that govern and provide the basic framework for the structure and execution of all ISML tournaments. While staff members may come and go throughout the years, the principles of the League should not change. Supporting the Constitution are the Annual Charters mentioned in Article VIII which fill in the blanks and provide specific details for the particular year's tournament.
ISML annual charter links
Annual charter:
Logo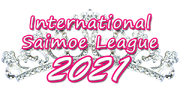 The ISML wordmark consists of the contest's name and year in Segoe Print text with a tiara behind it.
ISML's official emblem is a flower with seven colored petals representing its seven periods / gems. The colors are ordered clockwise.
Gem awards
The regular season is divided into seven periods, in chronological order:
Each period lasts several matches, and the best-performing contestants on that period will participate in a special round (format varies) to determine who wins that period's necklace (females) or pendant (males). Each period will produce only one necklace and pendant winner.
In ISML's early years, the necklace was simply awarded to the best peformer in a given period, which allows the possibility of a contestant winning multiple necklaces. Starting from 2011, a contestant cannot win multiple necklaces in a single year.
Exhibitions
The Exhibition Matches were first implemented in 2010 with the purpose of raising awareness on anime characters who did not appear in the main competition. Users can also suggest exhibition matches in the official ISML forum.
From 2011 to 2013, the Male Exhibition contest was introduced. Its format consists of a group stage and a 32-man single elimination bracket. Despite the "exhibition" label, the male champions are considered of equal status to those who won in the male regular season era (2015 onwards). However, their posters are NOT displayed in the front page.
Meanwhile, 2014's male exhibition is replaced by Trap Exhibition, causing former finalist Hideyoshi to ascend into the hall of fame because (s)he's the most popular trap at the time.
Throughout ISML's history, many sub-contests under the Exhibition label have been organized with a poster being awarded to each winning contestant. In addition, several exhibition contests have become an integral part of several editions:
Serial exhibition contests
Seasonal Contest
Since 2012, four seasonal contests were held each year, which are contested between female characters appearing in a given year's anime season. The winner of each contest is awarded the seasonal diadem.
Tournament of Champions
The ToC is a special tournament contested between ISML's previous champions. The first female ToC happened in 2015, the same year these characters were started to be banned from the main tournament. The first male ToC was held in 2017.
Touhou Tournament
After several Touhou characters appeared in ISML 2009's regular season, they were subsequently banned from the main event because of their video game origins and the fact that their anime is fan-made. Instead, a contest made exclusively for them was organized in 2013. Two more editions have been held in 2017 and 2020. The victors are unsurprisingly the most recognizable ones: in order they are protagonist Reimu Hakurei, deuteragonist Marisa Kirisame, and meme character Cirno.
Jewelry Exhibitions
Secondary gem awards with different accessory names, usually contested between the second-best performers in the regular season. They were first awarded from 2011 to 2014. Jewelries returned in 2020 with a fixed name assigned to each gender: female bracelets and male rings.
Divine Circlet & Crown
A consolation tournament for contestants eliminated early in the regular season and selected nominees who didn't make it in the main event. Its most notable feature is that their posters are made by users instead of the ISML staff. The poster submissions are decided by a combination of popular vote from Facebook, ISML forums and Tieba Baidu, and judging from the staff. The female Divine Circlet was awarded in 2011, and from 2015 to 2020, while the male Crown award was first awarded in 2017.
Couple Tournament (CP)
A contest between anime couples (and ships). The inaugural 2019 contest was off-limits to all main tournament contestants at the time; it was won by the Kaguya-sama main couple. The 2020 edition was restricted only to characters outside of the main tournament and champions; as a result it ended with Tonikaku Kawaii's

married

couple winning due to recency bias. The upcoming 2021 couples contest is planned to have no restrictions whatsoever.
Other exhibition contests by year:
Other exhibition contests
2014

:
Reverse Trap: Females who look like males. Won by Nisekoi's Seishirou Tsugumi at the height of the show's popularity.
Visual Novel: Self-explanatory. Won by

Mare S. Empemeral

from Hoshizora no Memoria: Wish Upon A Shooting Star.
2018:
Video Game Exhibitions: Female only. Ended in an all-Nier:Automata final with 2B winning over

A2

.
Pets: Non-human / animal mascot characters, such as

Doraemon

,

Nyanko-sensei

and Clannad's Botan (Kyou's pet pig). However, it was won by

Pikachu

.
2020:
Idols / Musicians: Characters from idol franchises and females who can play instruments. This is still a moe contest, after all. Despite the abundance of idol entries, the contest was won by a keyboard player from K-On!
Dedicated Support
Unlike other competitions, ISML has a dedicated website solely for its contest which supports multiple languages such as English, Chinese (Traditional and Simplified), Japanese, Korean, Russian, Vietnamese, and German. Since the site is non-profit, it has a donation page to ensure continued operation of the contest. The proportion of Chinese sponsorship is overwhelmingly high.
From 2008-2017, the result pages displayed graphs of each match's hourly vote progress, map of voting percentages from each country/region, and regular season statistics tables. In addition, there were many features outside the competition itself, such as:
detailed profiles for all main tournament contestants
Match of the Day (with flavor text)
Emblems for anime series (Example: the Toaru series' emblem depicts a 5-point star defaced by a lightning bolt, which represents its strongest contestant Mikoto Misaka)
AMV promotional videos
During ISML 2019's nomination phase, support for the Kyoto Animation arson attack was promoted and recommended on the site's front page.
However, due to the manpower and technical problems of the management team, many of these features disappeared from 2018 onwards as the website switched to a different layout. The increasing workload of the staff also led to numerous delays and interruptions of various updates. In particular, there were cases in the 2019 contest where the results were delayed by as many as 63 hours.
In 2020, the ISML staff produced a "Saimoe Podcast" which was published in Youtube. The principal speakers consist of:
Momento10 - podcast host and mediator, writer of the "Match of the Day"
maglor - Korean-American, primary tournament organizer. Uses Shirobako girls

Erika Yano

and Aoi Miyamori as avatars.
Chibasa - French site administrator and moderator
History
"Where do we go from here? There is nothing afterwards."
This section needs expansion.
Conception
In 2006, the popularity of Anime Saimoe Tournament and news of Best Moe Tournament spawned interest in English based Moe Tournament. The format of Elimination period for the Preliminary and Round-robin League Style for the Regular season was first proposed by Psieye on AnimeSuki forums. In 2007 following discussion about Super Moe Tournament results, the talk of English based Moe Tournament was reawakened and minhtam1638 started working on ISML as a reaction to this. After much discussion in the AnimeSuki Forum, the format of having Auto-qualifying entrants based on their records in Anime Saimoe Tournament and Best Moe Tournament was adopted along with free for all nomination phase to fill the number of 64 that was needed for the Tournament league play.
The main reason for the creation of ISML was spawned from the criticisms of two other tournaments, Anime Saimoe Tournament and Best Moe Tournament, for reasons that the single-elimination tournaments held in Japan and Korea were decided at random. To correct this problem, ISML uses a round-robin tournament, which ensure that all participants will face the rest exactly once. After the round-robin phase, the top 16 participants are seeded into double-elimination instead of randomly paired. Because each participant needs to be eliminated twice, this process reduces random spikes in popularity that may cause a consistently strong character to fall.
Another goal for ISML is to have its polls open to voters across the world, where as Anime Saimoe Tournament attempts to block non-Japanese ISPs from voting. ISML is tailored to embrace voters from as many backgrounds as possible. From the first voting in ISML, which was the 2008 nominations, voters were encouraged to submit nomination in any language they were comfortable with. Volunteers promoted ISML in websites based in many different language. By the end of 2008 Regular Season, non-English speaking voters outnumbered English speakers.
As of 2009, ISML is the largest moe tournament in the world. Its layout is user-friendly, requiring no registration and using image-assisted voting for recognition. While international voting is encouraged, ISML has a strict eligibility rule on its contestants. Only characters that are recurring or of significant importance are allowed; simply a cameo appearance does not receive consideration in ISML.
Winner's Gallery
For the gem award posters, see the necklace and pendant page.
Tiara Winners

Scepter Winners
Tournament Formats
Double-elimination Era (2008-2010)
RS contestants = 64 in 2008 to 2009, 50 in 2010.
No Preliminary stage in 2008 edition. Preliminary phase is introduced in 2009, which consists of Nomination and Preliminary stage. Its Regular season phase consisted of a single full round-robin divided into 7 periods. Each period has 9(or 7) matches, and the winner of that period would be given a necklace.
After 63(or 49) round-robin matches, the top 16 moves on to Post-season phase, which consisted of a double-elimination tournament. Double-elimination is composed of 2 parts; 8R winner's bracket, loser's bracket. Each bracket's last survivor competes in final, to determine the champion.
Single-elimination era (2011) and Stella-Nova (2012-2014)
RS contestants = 50 in 2011, 35 × 2 in 2012 to 2014.
In 2011, The one-girl, one-gem policy was introduced this year, which stipulates that a contestant winning a necklace this year will be banned from participating in that year's future gem rounds. Also, Post-Season became single-eimination RO16 bracket format. Direct invite system is abolished in this edition. And Consolation Gem award started in this year, which continued to 2014.
In 2012, Female division was split into two separate divisions: Nova Division for contestants with 2 ISML appearances or less, and Stella Division for contestants with 3 or more ISML appearances. As a result, the number of necklaces awarded was reduced to five, and the gem order was completely re-arranged.
Meanwhile, the postseason was expanded into 2 phases: Division Final and Tiara Final. Divison Final involves a single-elimination bracket contested within each division, Tiara Final involves the top 8 finishers of each division battling it out on a single-elimination bracket.
In 2011 to 2014, Male characters compete in the contest for the first time in ISML history, albeit in the form of an exclusive Exhibition Tournament. And Seasonal Diadem was introduced in 2012. This award is primarily contested between females making their anime debut in this year's respective season.
Transition period (2015-2016)
RS Contestants = 35 × 3 in 2015, 128 × 2 in 2016.
The champions ban rule was introduced in 2015: previous 8 female champions and male champions. In addition, all female champions will compete in ISML's first ever Tournament of Champions, which will take place after the playoffs stage. The inaugural Main Tournament for male characters held in this year.
In 2016, the Nova/Stella split was discontinued this year, merging back the Female division into a single tournament once more. Gem orders reverted just as Double-elimination era. All characters weren't featured in a single period; all 128 characters were distributed evenly from Aquamarine to Sapphire (4 x 8 groups) and Emerald to Ruby (2 × 8 groups). Regular Season changed a full round-robin to 4 member-Group robin format.
Preliminary stage is revoked, so that Nomination result determines RS contestants. Especially, RO16 playoffs was a single round-robin group stage. After this, single-elimination bracket determines Tiara / Scepter bearer.
Group stage era (2017-present)
2017~2019: RS Contestants = 120 × 2 in 2017~2018, 72 × 2 in 2019.
Until 2017, previous year's necklace and pendant winners that didn't win Tiara / Scepter were granted automatic qualification into the main tournament. Then, necklace and pendant rounds from this edition onwards will be decided through IRV. Also, Wildcard Stage is introduced in this year.
Regular season is 6 member-Group robin format in 2017~2018, 4 member-Group robin format in 2019. Playoff bracket reverted just as 2011's RO16 format, depending on character's RS CVP seeding. Previous Champions re-participates in turn, according to the winning year. In addition, Male Division ToC also started to held in this period.
All Seasonal Diadem Tournament became an Group (3 members per group) - SE bracket (RO16) format in 2017. However, Group Stage Phase is replaced to Approval Voting Elimination until 2019.

2020~: RS Contestants = 120 × 2 in preliminaries, 96 × 2 in RS.
Preliminary period and seeding rounds return this year with a new format. The regular season format is changed; it is now split into 3 group stages. RS is 6 member-Group robin format in AQ, 16 member-Group robin format in the rest of RS.
Split 1: 96 participants; AQ / Split 2: 64 participants; TP to SP / Split 3: 32 participants; EM to DM.
Consolation Gem award returned. The award will also be given to males for the first time. In addition, Male Sesonal Diadem is awarded until 2021 edition. Playoff RO16 seeding is depending on standings from Split 3 Groups.
Tournament Summaries
Double-elimination Era (2008-2010)
Almost of this era, Shana was always the No.1 contender heroine in ISML. But she did NOT catch all decisive chances to win Tiara. At First, Kyoani's dominance was unstoppable every each season. But in later period, J.C. gradually began to follow Kyoani's empire.
In the early days, Mainstream shows were Lucky Star, Nanoha, Hayate, Rozen Maiden, Clannad and Haruhi. In after days, Toradora and K-ON! entered to this group.
2008: The very first edition was just no more than Kyoani's reign, no less. 5 of 7 Necklaces were awarded to Kyoani faction: Lucky Star, Haruhi and Clannad. Two-time necklace winner and Back to back necklace winner are also kyoani characters of course. Ironically, the initial Tiara did not belong to them, instead top dog of Nanoha - Fate Testarossa.
ISML 2008

award winners
Tiara: Fate Testarossa

Necklace

Shana • Setsuna S. • Kagami • Kyou • Haruhi
2009: The second edition's RS can be summarized as Clannad vs Rozen Maiden. And Touhou characters were only appeared this season. But Shana's rapid growth devoured all fames of RS, with #1 standing. In playoffs, Rozen Maiden was starting to dwindle in power. Shana was expected to win the championship without difficulty, however, the #11 contestant Hinagiku Katsura became the champion who has the lowest seed in the playoffs history.
ISML 2009

award winners
Tiara: Hinagiku Katsura

Necklace

Tomoyo • Yuki • Suigintou • Shana • Suiseiseki • Hinagiku • Shinku
2010: It was a year of some monumental phenomena. First, Shana grabbed the lion's share of the seven gems and double-RS wins, winning a record-setting three necklaces in this edition alone. In addition, K-ON! faction's worldwide monopoly hits ISML without exception. Mio Akiyama won this year's Heavenly Tiara, keeping the trend of Upper Bracket winners going on to final winners of ISML.
ISML 2010

award winners
Tiara: Mio Akiyama

Necklace

Mio • Taiga • Yuki • Shana • Mikoto
Single-elimination era (2011) and Stella-Nova (2012-2014)
2011
The competition saw Mikoto Misaka's ascension to hall of fame status by winning the final match against Shana, starting the latter's steady decline in power coming into the next few years as newer girls started to take the spotlight. The tournament also had males competing for the first time under the "Exhibition" label, which ended with Code Geass's Lelouch winning the first Scepter against trap icon Hideyoshi.
ISML 2011

award winners
Tiara: Mikoto Misaka • Scepter*: Lelouch vi Britannia

Necklace

Mikoto • Angel • Yuki • Kuroneko • Taiga • Shana • Eucliwood
Jewelries
Bracelet: Miku • Earrings: Cardcaptor • Brooch: Kagura • Amulet: Shiori • Ring: Remilia • Medallion: Illya • Anklet: Madoka

Seasonals

Divine Circlet: Sakura Kinomoto
2012
It was a historic year for Angel Beats fans as their titular waifu completed an unprecedented clean sweep of the tournament, winning all regular season matches, her first eligible gem round (Aquamarine), and the division playoffs (Sapphire), before claiming the Tiara in one of the most dominant playoff runs ever. In the male division, Kirito won the Scepter, and Hideyoshi finishes 2nd again.
ISML 2012

award winners
Tiara: Kanade "Angel" Tachibana • Scepter*: Kazuto "Kirito" Kirigaya

Necklace

Angel • Kuroneko • Mikoto • Eucliwood • Mio
Division Winners: Nova: Angel • Stella: Mikoto
Jewelries
Bracelet: Menma • Brooch: Ikaros • Medallion: C.C. • Anklet: Sora K. • Earrings: Inori

Seasonals

Winter: Ririchiyo • Spring: Kuroyukihime • Summer: Asuna • Fall: Rikka
2013: This edition was the first time Sakurasou characters competed; its top dog Mashiro would later become one of ISML's strongest contenders. Other notable debuting shows include A-1 Pictures' Sword Art Online and Kyoto Animation's Chuunibyou, who fielded last year's top two seasonal contestants (Asuna and Rikka).
Tournament-wise, 2013 represented the peak of the Stella Division's strength with all four of its most prominent girls (Railgun, Angel, Kuroneko, Hellscythe) appearing in the semi-finals. Kanade's winning streak continued as her quest for a second straight Tiara became the overarching narrative, but Kuroneko -- her greatest adversary -- brought the Angel's dominance to an end after defeating her in the final match to claim this year's Tiara.
ISML 2013

award winners
Tiara: Ruri "Kuronkeko" Gokou • Scepter*: Houtarou Oreki

Necklace

Angel • Kuroneko • Asuna • Rikka • Mashiro
Division Winners: Nova: Mashiro • Stella: Angel
Jewelries
Bracelet: Ayase • Brooch: Aria • Medallion: Momo • Anklet: Last Order • Earrings: Kurisu

Seasonals

Winter: Black Rabbit • Spring: Kurumi • Summer: Kirigiri • Fall: Mirai
Other Exhibitions
Touhou I: Reimu Hakurei
2014: This was the last year where previous champions were able to participate in the Main Tournament. 2014 was highlighted by Ayase's dark horse run into fourth place, and the debut of harem light novel series Date A Live. Kotori Itsuka, one of its main characters, placed first in the Nova division, but after a mediocre division playoff performance (for her seed), managed to ultimately claim the Tiara for herself. Kotori's championship run brings Fate's 2008 win to mind as both girls never even won a necklace award, yet finished first in the regular season and won the overall championship.
ISML 2014

award winners
Tiara: Kotori Itsuka • Scepter*: Hideyoshi Kinoshita

Necklace

Mikoto • Angel • Kuroyukihime • Asuna • Mashiro
Division Winners: Nova: Asuna • Stella: Angel
Jewelries
Bracelet: Yukina • Brooch: Vic • Medallion: Misaki • Anklet: Yui • Earrings: Saber

Seasonals

Winter: Chitoge • Spring: Shiro • Summer: Chiyo • Fall:

Isuzu

Other Exhibitions
Reverse Trap: Seishirou Tsugumi • Visual Novel:

Mare S. Ephemeral
Transition period (2015-2016)
According to champions ban rule, compulsory contender change was occured. This resulted to power inflation of some shaded powerhouses; such as Mashiro Shiina, Yukino Yukinoshita, Eru Chitanda and Rin Tohsaka. Even more, lack of overarching waifus gave Shana to LAST chance toward champion's road.
In this period, No Game No Life and Fate's rapid growth observed all over the RS/playoff matches. However, past glorious factions like SAO, Oreimo, DAL, K-On!, Haganai were relegated from playoff stage.
2015: The competition was contested with 3 shows; Oregairu, Fate and Nisekoi. But weakened power of Stella made Fate females to no necklace, no finalist faction. Yukino Yukinoshita was a strong contender for the Tiara all of the edition, with aquamarine necklace and nova circlet. But Eru Chitanda defeated Yukino in the final, in what is considered the biggest upset in ISML history. More surprisingly, she did not participated any necklace showdowns in this year. In inaugural male division, Accelerator got the Scepter winning upexpected finalist Koyomi Araragi.
ISML 2015

award winners
Tiara: Eru Chitanda • Scepter: Accelerator

Necklace

Yukino • Kosaki • Chiyo • Chitoge • Mashiro
Division Winners: Nova: Yukino • Stella: Ayase

Pendant

8man • Otonashi • Archer • Koyomi • Sora
1st seed: Accel • Special Round: Lelouch

Seasonals

Winter: Megumi Katou • Spring: Isla • Summer: Nao • Fall: Mitsuki

ISML ToC

Female: Kanade Tachibana
Other Exhibitions
Divine Circlet: Yui
2016: This edition was a pinnacle of Fate franchise's performance. After emerald league, Fate characters got 5 gems in a year. Oregairu, Sakurasou, and NGNL managed to keep last year's performance. However, Some shows like DAL, Nisekoi and Saekano were totally sluggish in RS. In the Female division, Shana defeated Illyasviel von Einzbern in her third finals appearance to claim the owner of Heavenly Tiara. In the male side, Sora beated Hachiman Hikigaya in the final to win Lapis Scepter.
ISML 2016

award winners
Tiara: Shana • Scepter: Sora

Necklace

Mashiro • Nao • Shana • Yukino • Rin • Saber • Kurisu

Pendant

Koro • 8man • Koyomi • Sora • Otonashi • Archer •

Kiritsugu

Seasonals

Winter: Rem • Spring: Megumin • Summer:

Aoba

• Fall:

Chitose

Other Exhibitions
Divine Circlet: Mikan Yuuki
Group stage era (2017-present)
Past Tiara/Scepter winners started to turn back to main tournament. Nevertheless, The rise of Supernova-Class rookies such as Rem, Violet Evergarden, Mai Sakurajima and Kaguya Shinomiya reined in their dominance. Furthermore, Asuna Yuuki and Megumi Katou, who had been sluggish for a while, were also back in action.
In this era, Newbies were totally dominant than older characters. The outstanding shows were Fate, Re-Zero, Saekano, Raildex, Aobuta, Kaguya-sama and Oregairu. A-1 heroines were dominant by far.
2017: A rookie faction - Re:Zero - made its debut. Also, SAO and Sakurasou were regained their heyday performances. Those 3 shows dominated all over the RS. Meanwhile, Oregairu and Konosuba were starting to dwindle in power as the League continues. Megumi Katou controversially won the Tiara against Main Tournament debutant Emilia, with the help of a group of Chinese conspirators. In the male side, Koro-sensei Quest's broadcast gave the eponymous teacher to win Scepter against Hachiman Hikigaya.
ISML 2017

award winners
Tiara: Megumi Katou • Scepter: Koro-sensei

Necklace

Rem • Asuna • Emilia • Rin • Megumi K. • Saber • Mashiro

Pendant

Koro • 8man •

Nagisa S.

• Archer • Levi • Soma • Touma

Seasonals

Winter: Kanna • Spring: Chtholly • Summer: Suzune • Fall:

Nayuta

ISML ToC

Female: Mikoto Misaka • Male: Lelouch
Other Exhibitions
Divine Circlet: Ruiko Saten • Divine Crown:

Inuyasha

• Touhou II: Marisa Kirisame
2018: This edition is described as the league of Rem. Her performance was comparable to Angel, with over 50% votes in aquamarine showdown. The sole competitor of Rem was Kanna Kamui, while other contenders crumbled by unexpected losses. Rem's dominance continued to playoffs, with 65% of the vote on average. As a result, No one hindered her Tiara acquisition, even Kanna. Meanwhile, Hachiman Hikigaya became just the second contestant in ISML history to complete a perfect season.
ISML 2018

award winners
Tiara: Rem • Scepter: Hachiman Hikigaya

Necklace

Rem • Mashiro • Chtholly • Asuna • Azusa • Rin • Kanna

Pendant

Levi • 8man • Okabe • Taki •

Nagisa S.

• Archer • Willem

Seasonals

Winter:

Violet

• Spring: Uraraka • Summer:

Platelet

• Fall: Mai

ISML ToC

Female: Mikoto Misaka • Male: Sora
Other Exhibitions
Divine Circlet: Hitagi Senjougahara • Divine Crown:

Alphonse Elric

• Video Games 2B • Pets:

Pikachu
2019: This edition was contested between last year's promising debutants(Violet Evergarden and Mai Sakurajima) and Old-veterans(Yukino Yukinoshita, Rin Tohsaka and Kurumi Tokisaki). Meanwhile, Frequent Gem winners such as Mashiro, Asuna, Archer and Levi all failed to get any gem this year. The Tiara was won by Violet Evergarden, and the Scepter was won by Rimuru Tempest, after every close game at the playoff. It was notable for the first instance in which both champions were debutants as well as aquamarine winners.
ISML 2019

award winners
Tiara: Violet Evergarden • Scepter: Rimuru Tempest

Necklace

Violet • Rin •

Yukino

• Sagiri • Kurumi • Mai • Kurisu

Pendant

Slime • Riku • Sakuta • Kiyotaka • Tomoya • Touma • Yuuta

Seasonals

Winter: Kaguya • Spring:

Fumino

• Summer:

Gray

• Fall:

Ishtar

ISML ToC

Female: Rem • Male: Hachiman Hikigaya
Other Exhibitions
Divine Circlet: Reina Kousaka • Divine Crown:

Mikaela Hyakuya

• Couple / Ship: Miyuki x Kaguya
2020: It was characterized by the clash of several voting factions representing popular shows; Kaguya-sama, Raildex, and Oregairu, who benefited from having new seasons airing that year. Those 3 factions sweeped away three-seventh of all gems. The female division ended with Yukino Yukinoshita winning the Tiara against Misaka Mikoto, foiling the latter's quest for a repeat championship just after she was unbanned. On the other hand, the male division was dominated by Miyuki Shirogane, who led the tournament in nominations, voting numbers/percentages, and finished the RS undefeated.
ISML 2020

award winners
Tiara: Yukino Yukinoshita • Scepter: Miyuki Shirogane

Necklace

Asuna • Kurumi • Kaguya • Yukino • Mikoto • Mashiro • Rikka

Pendant

Riku • Miyuki • Ishigami • Gil • Touma • Sakuta • Okabe
Bracelet
Kuroko • Shouko N. • Yui Y. • Chino • Index • Schwi • Ruiko
Ring
Conan •

Sorata

• Saika •

Shirou

•

Lancer

• Subaru •

Kazuma

Seasonals

Winter:

Kotoko

• Spring: Kei Shirogane • Summer: Chizuru • Fall: Elaina

ISML ToC

Female: Eru Chitanda • Male: Houtarou Oreki
Other Exhibitions
Divine Circlet: Ginko Sora • Divine Crown:

Mochizou Ooji

• Touhou III: Cirno • Idols / Musicians: Tsumugi Kotobuki • Couple / Ship:

Nasa

x Tsukasa
Trivia
For ISML records, click here.
Although Type-Moon's Fate franchise holds an ubiquitous presence in the contest (and to the anime community as a whole), none of its characters have won the championship. The series has produced three runner-ups: Illyasviel von Einzbern (2016), Archer (2018), and Rin Tohsaka (2019).
To date, no anime series has ever won Tiara or Scepter twice, nor does any contestant have won the aformentioned awards two times. Kanade Tachibana and Mikoto Misaka have come the closest to winning the Tiara twice, having reached the final in 2013 and 2020 respectively.
As of 2020, three (3) anime franchises have successfully produced a Tiara and Scepter winner:
Among all of the champions, Light Novel adaptations reign supreme. The only champions who aren't originally from light novels include:
Gem winners who did NOT reach to corresponding Year's playoff:
Tiara / Scepter bearers who have RS 1st corresponding year(include 2016 edition)
Winners who did NOT become champions within 3rd year participation(include male exhibition):
All multi-aquamarine bearers( ) have Tiara / Scepter. Except Koro-sensei, Rest of the characters are RS double-winners.
Gemless Tiara bearers: Fate Testarossa, Kotori Itsuka and Eru Chitanda.
See also
References
External links

Community links:
International Saimoe League (link)
Main Pages
2008 • 2009 • 2010 • 2011 · 2012 • 2013 • 2014 • 2015 • 2016 • 2017 • 2018 • 2019 • 2020 • 2021 •

2022

Gem Awards
Necklace • Pendant
Exhibitions
Seasonal Diadem • Divine Circlet / Crown •

Tournament of Champions

Voting Methods

Single-elims

•

Double-elims

•

IRV & STV

•

Approval & Range

•

FPTP

Tiara Winners
Fate • Hina • Mio • Misaka • Tenshi • Kuroneko • Efreet • Eru • Shana • Katou • Rem • Violet • Yukino • 2021 • 2022
Scepter Winners
Lelouch† • Kirito† • Oreki† • Hideyoshi† • Accel • Sora • Koro • 8man • Slime • Miyuki • 2021 • 2022
† - Male exhibition victory