ISML 2017 was the 10th edition of the International Saimoe League contest. This tournament marked the return of ISML 2008 champion Fate Testarossa's eligibility into the Main Tournament.
It was the first edition where previous year's necklace and pendant winners that didn't win Tiara / Scepter were granted automatic qualification into the main tournament, bringing the total number of direct invites to 20  (14 female, 6 male). In addition to that, the necklace and pendant rounds from this year onwards will be decided through Instant-Runoff Voting (IRV). The wildcard rounds were also introduced in this edition, giving next-worst contestants another chance at survival.
Megumi Katou controversially won the Tiara against Main Tournament debutant Emilia because a group of Chinese conspirators admitted to having rigged the match using voting bots in Megumi's favor.[1] In the male division, the release of the Assassination Classroom spin-off series Koro-sensei Quest gave the eponymous teacher all he needs to win the year's Scepter against Hachiman Hikigaya, who was making his second appearance in the final.
Qualification
120 characters will play in the main tournament. However, 14 (female) or 6 (male) of these slots are pre-occupied by Direct Invites.
Hence, only the top 104 females and top 116 males with the most nominations will qualify.
Last-Place Tiebreaker: The ISML staff gives priority to characters who haven't appeared in the ISML tournament yet.
Elimination Stage / Playoffs

[

edit

|

edit source

]
Single-elimination bracket.
Surviving players are seeded using the Cumulative Vote Percentage (CVP) stat earned throughout the regular season. Note that seedings are subject to change by the staff without prior notice.
Seeding Order: 1v16, 8v9, 4v15, 5v12, 2v15, 7v10, 3v14, 6v11.
All losers (except the runner-up) will play consolation matches to determine their final rankings.
The winner of the final match claims the grand prize: Heavenly Tiara for females, and Lapis Scepter for males.
To view nominations by anime, see the results page.
Nomination Ballot Rules:
Eighteen (18) nomination slots.
Must nominate AT LEAST 5 valid characters
Must have AT LEAST 3 valid anime series/franchises represented.
Must nominate AT LEAST 1 valid male and 1 valid female character.

Note that you NEED to fulfill these three criteria above when nominating; otherwise your entire ballot will be VOIDED, meaning ALL of your nominations WILL NOT COUNT towards the results,

All nominations have equal weight and have no ranking.
Each nomination must have a COMPLETE name of the character (any order, language, or spelling, and diacritic usage is allowed) and its anime source (any language is acceptable; shorthand titles like those used for those notorious long light novel titles are allowed).

If a character doesn't have the anime source next to it (and vice versa), only that entry will be DISCARDED (aka doesn't count). However, they will NOT VOID your entire ballot.
Slight misspellings are generally accepted, so long as they are understood by the staff.

Each nomination must be unique:

Multiple entries with the same character name but different language / spelling / name order will only count as ONE nomination towards that character.

Example: If you enter "Shinobu Oshino" in one entry and then "Oshino Shinobu" in another, both entries will only count as one nomination for Shinobu.

Aliases, Nicknames, Alter-egos, Secret identities, and Alternative forms will only count as ONE nomination towards that character they represent.

Example: "Shinobu Oshino" and "Kiss-Shot-Acerola-Orion-Heart-Under-Blade" will only count as one nomination for Shinobu. Pls don't do it; it will only waste slots.

A ballot can only be submitted once. Incomplete ballots can be submitted, however, you CANNOT save it for later. Remember, once your ballot is submitted, that's it. That's why you need to plan your nominations carefully; it's one of the reasons why the nomination stage lasts a week.
In the ISML website, characters with the same number of nominations are displayed in "ISML Alphabetical Order". However, this order is inconsistent, so this wiki will alphabetically order them by family names instead. (ISML 2017 archive link.)
Female
Since this year had very few votes, this wiki will not include contestants below the tiebreaker threshold.
Male
For male characters, appearances from male exhibition tournaments (2011-2014) will be counted for continuity purposes.
RD - This year will be their Regular season debut (first appearance).
OLD (Old Debutant) - Character's anime series is at least two years old at the time of their qualification. This means that the character has had chances to get past ISML nominations, but failed.
[Note 1] Akko (LWA) qualifies over Alisha Diphda (Tales) because she didn't play in an ISML match yet (failed to qualify in the 2016 seasonals).
[Note 2] Saiki K. is considered "old" because of an ONA (Web animation) adaptation that was released in August 4, 2013, three years before the TV series was aired.
To view all of the regular season matches and all group results in every period, see ISML 2017/Regular Season.
Format:
Players are divided into groups of six (6).
Single round-robin format.
Contestants are awarded points after each match:
Eight (8) top-ranked contestants will qualify for Necklace (female) or Pendant (male). Criteria used are discussed in the "Gem and Wildcard Rounds" section below.
5th placed contestants in each group will play in the Wildcard rounds for one more chance to stay in the competition.
Last-placed (6th) contestant in each group is eliminated outright. If there are not enough fifth-placed players to complete the wildcards, they will select players with the highest Cumulative Vote Percentage (CVP) among the last-placed ones.
After each period, the remaining contestants are re-drawn into different groups, and their points are reset to zero.
Number of Players: 120 > 96 > 72 > 60 > 48 > 36 > 32 > 24. (divide each number by 6 to determine the number of groups)

Aquamarine and Topaz eliminates 24 players.
Amethyst - Ruby eliminates 12 players.
Diamond eliminates 8 players.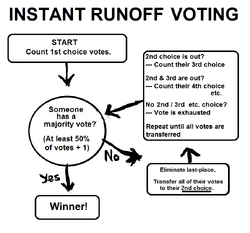 Qualifying Criteria for Necklace / Pendant: 
Group position
Points
Wins
Votes earned (VF)
Vote difference (VD)
Whatever the fuck the ISML staff smokes
Gem Winners are banned from participating in further gem rounds.

All Necklace / Pendant rounds use the Instant Runoff Voting (IRV) format.
Instant-runoff voting (IRV) format explained
Voters rank the contestants in order of preference. (1st - 8th)
Results start by counting the first-choice votes. If someone earns a majority (more than 50% of all votes), that player wins. If there is no majority, then the player with the least amount of votes is eliminated.
The eliminated player's votes are transferred to their voters' respective second choices.
If a voter has no other preferred candidates (lets say, he voted only one contestant and nothing else), then that vote becomes exhausted, and its vote doesn't count for other contestants, thereby wasting his ballot if his contestant loses.
The entire counting process repeats until a majority vote is declared, or there are only two contestants left, in which case the contestant with the higher votes wins.

Wildcard rounds either use Single-transferable vote (STV), Approval Voting or Range Voting.
The Wildcard STV is similar to IRV, the only difference is that multiple contestants are accepted rather than just one. Contestants earning a majority vote automatically qualify for the next period, and their votes are redisdtributed to their second choices like an eliminated cotestant would. The counting ends when all of the qualifying spots are filled, either through majority or by elimination process.
In the Approval Voting format, voters may choose any number of contestants they wish to advance. Contestants with the highest number of votes (Number varies) advance, and the rest are eliminated.
Range Voting (aka Score voting) is similar to Approval voting, but instead of a single "Vote me!" button, there's a slider where voters can input their desired scores for each contestant.

Characters eliminated outright in groups are arranged by Cumulative Vote Percentage (CVP) (Not shown here) in descending order.
ELIMINATED IN GROUPS (Male) - 20
ELIMINATED IN GROUPS (Male) - 16
ELIMINATED IN GROUPS (Female) - 9
ELIMINATED IN GROUPS (Male) - 9
Sapphire Female Wildcard (Range Voting)
Survived - 8
Ayase Aragaki
13,320
Maki Nishikino
12,355
C.C.
13,178
Yuri Nakamura
12,281
Mirai Kuriyama
13,091
Shinobu Oshino
11,701
Yuuki Konno
13,089
Yuki Nagato
11,520
Eliminated - 2
Golden Darkness
11,375
Tsukiko Tsutsukakushi
11,066
ELIMINATED IN GROUPS (Female) - 10
ELIMINATED IN GROUPS (Male) - 10
ELIMINATED IN GROUPS (Female) - 8
ELIMINATED IN GROUPS (Male) - 8

No Ruby Wildcards: Bottom 2 teams of each group are eliminated.
ELIMINATED IN GROUPS (Female) - 12
5th place:
Yoshino
Aqua
Ram
Chiyo Sakura
Inori Yuzuriha
Nanami Aoyama
6th place:
Eriri Spencer Sawamura
Umaru Doma
Tohka Yatogami
Sora Kasugano
Mirai Kuriyama
Yuuki Konno
ELIMINATED IN GROUPS (Male) - 12
5th place:
6th place:
Subaru Natsuki
Tatsuya Shiba
Shidou Itsuka
Roy Mustang
Ryuunosuke Akasaka
Takashi Natsume

No Diamond Wildcard:  The final group stage meant that only the top 4 finishers of each group advanced to the playoffs, and the rest are eliminated. For this reason, this wiki will display the results of the Diamond group stage.
Tiebreakers:  Points (3W, 1D, Loss=VF/VA)  > Wins > Head-to-head record > Votes For (VF) > Vote Difference (VD).
Females

Males
Top 4 finishers from each group are seeded using the Cumulative Vote Percentage (CVP) earned during the course of the entire regular season.

Female Seeds

Male Seeds
King of the Hill
Pic
Round 1
Pic
Round 2
Pic
Round 3
F1

S1

F2

R1

S2

R2
2017 Tournament of Champions
[
edit
|
edit source
]
Top 8 Qualified Males (based on CVP)
Topaz
Diamond
Playoffs
Necklace & Tiara

Pendant & Scepter

Seasonals

Exhibitions
Community content is available under
CC-BY-SA
unless otherwise noted.