Homura Akemi is one of the main characters featured in the 2011 original anime series Puella Magi Madoka Magica produced by Studio Shaft. She was the 2011 champion of the Korean Anizone moe tournament. In the Japanese 2channel saimoe, Homura was the only member of the series' "Holy Quintet" to never reach the final round, only reaching the quarter-finals in the 2014 edition.
Background & History
[
]
Character profile
[
]
Icons
ISML Profile
ISML Profile Flavor Text (May contain spoilers)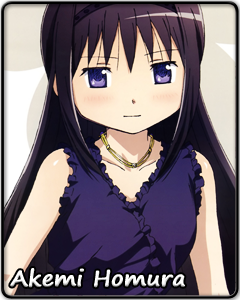 "When Akemi Homura introduces herself to her new classmates, she does so by stating her name only, as if anything more was a pointless effort and acknowledging those around her could only distract her away from what is truly important. Her demeanor is cold, but she has the looks, intelligence, and athletic ability that every girl can only dream of and is a natural idol among her peers. It is no surprise that other students wish to befriend her... but forging new friendships seems to be the last thing Homura has in mind.''
At face value, her words and actions are devoid of any hint of kindness and compassion. However, no one can truly understand the intentions guiding her, just as none can imagine the mental and emotional scars she bears. Her eyes are an abyss, a pit deep enough to conceal even her loneliness and the longing to wrap her arms around the one who means everything to her. Her heart is shackled, too broken to register anything but new despair and pain. Tears course through her veins in place of blood, tears she cannot shed no matter how desperately she wants to.
And yet Homura holds her head high, never losing sight of her mission. She will do whatever it takes to grasp onto the single miracle afforded her. She will fight and mislead and betray. Brand her friend or foe, the love and devotion Homura exemplifies are a power far surpassing both time and space."'
In r/anime
[
]
Homura is by far the strongest and most successful Madoka Magica.character. She currently remains one of the few characters to have reached at least the fourth round in all Best Girl contests. The black-haired magical girl is best associated with the phrase "Homura did nothing wrong" which has become both a running gag and a battle cry for her fans, who desire to see her succeed in the brackets despite years of hurt and disappointment. As a wielder of time-related powers, Homura has appropriately became involved in a number of restarted matchdays in the subreddit's history.
2014-2017
Homura debuted as the highest-seeded Madoka character in the very first Best Girl contest at #24. Unfortunately, she missed out by 16 votes against Asuna in the round of 16, which remains her best finish in this tournament series to date. Homura then suffered a fourth round exit against Taiga Aisaka in Best Girl 2 and managed a fifth round result in Best Girl 3 after losing to Saber . In Best Girl 4 she notably defeated last year's runner-up Megumi Tadokoro by a close margin, but missed out yet again on another chance to return into the last 16 after losing to Yoko Littner by 300+ votes.
2018-present: Fourth Round Struggles, First Elite Eight and Contest Win
Since then, Homura has endured a string of round 4 losses in the Best Girl contests, having been eliminated by the eventual champion Rem in 2018 even after their bracket's round was restarted. She also lost to Ryuko Matoi in 2019 and Saber for the second time in 2020. The 2021 contest saw the magical girl secure her best seed so far at #16 due to the announcement of the Madoka sequel movie, but she could not capitalize on this position as she lost to the underseeded Tsubasa Hanekawa.
On the other hand, Homura would enjoy relatively better results outside the main r/anime waifu contest. In 2018's Best Character 4 she reached the Elite Eight for the first time, losing to fellow time traveler and eventual champion Rintarou Okabe in the quarter-finals. Two years later, she became the subject of another restart following a loss to Zero Two in round 3, which was judged to be illegal because of the latter's fans cross-posting the contest to other subreddits. As a result, Homura won in the ensuing rematch, but she was eliminated by Shouko Nishimiya in the following round.
Homura would earn her first honour in the spring of 2020 as she became champion of r/anime's second "24-Hour Best Girl" exhibition contest, which was switched into "Worst Girl" halfway through the tournament. While some users say that the magical girl deserved the victory, the title remains dubious because it's an April Fools event, and the runner-up was Kurisu Makise, one of the least likely characters one would seriously call a "worst girl".
ISML Record

[

]
Main Tournament
[
]
Overall Record
ISML Main Tournament Record
Regular season, playoffs, and consolation 1v1 matches only.
Preliminaries, gems, exhibitions, and approval / range voting rounds are NOT included.
Edition
Eliminated in
Final pos.
W
L
RS Record
ISML 2012
Regular season
Nova 27th
7
28
7-28
ISML 2013
Regular season
Nova 32nd
7
28
7-28
ISML 2014
Did not qualify (Stella Prelims, Phase 1 Round 4)
ISML 2015
Did not qualify (Stella Prelims, Round 5)
ISML 2016
Top 32 Groups (Emerald)
17th-32nd
3
3
3-3
ISML 2017
Amethyst Groups
65th-72nd
5
10
5-10
ISML 2018
Topaz WC
78th
2
8
2-8
ISML 2019
Sapphire WC
43rd
3
9
3-9
ISML 2020
Split 1 Wildcards
73rd
1
4
1-4
ISML 2021
ISML 2022
Total W-L: 28-90 (23.73%)
Postseason: N/A
RS Record: same as total
Opponents played: ???
Match History
ISML 2012

--- Nova 27th
Period
Round
Opponent
Score
Result
Nominations
N/A
N/A
923
Nova Rank 1
Nova Preliminaries
Phase 1
(Vote 2 per group)
Round 1 Grp L
6 opponents
3723
1st
Round 2 Grp L
6 opponents
3528
1st
Round 3 Grp L
6 opponents
3392
1st (Adv. to RS)
2012 Regular Season Nova Record:  7-28 --- (43.416 Pts, 27th)
Aquamarine
Round 1

Template:Minami s

Minami Shimada
4403 - 4073
Win
Round 2

Template:Fear

Fear Kubrick
4188 - 3810
Win
Round 3
Haqua du Lot Herminium
3649 - 3824
Loss
Round 4
Yozora Mikazuki
3680 - 4179
Loss
Round 5
Kurisu Makise
3711 - 4010
Loss
Round 6
Kirino Kousaka
3102 - 4820
Loss
Round 7
Charlotte Dunois
3715 - 4614
Loss
Bracelet (ex.)
6 opponents (approval voting)
1362
Loss
Amethyst
Round 1
Sora Kasugano
3781 - 3412
Win
Round 2
Haruna (Zombie)
3765 - 4059
Loss
Round 3
Ayase Aragaki
3566 - 3838
Loss
Round 4
Shiori Shiomiya
3233 - 3382
Loss
Round 5
Yuri Nakamura
2637 - 4704
Loss
Round 6
Yui (Angel Beats)
2703 - 4792
Loss
Round 7
Eucliwood Hellscythe
2427 - 5551
Loss
Ruby
Round 1

Template:Kanade s

Kanade Suzutsuki
3493 - 3583
Loss
Round 2
Kyouko Sakura
4257 - 2194
Win
Round 3
Subaru Konoe
3228 - 3340
Loss
Round 4
Shouko Kirishima
3185 - 3549
Loss
Round 5
Erio Touwa
3218 - 3499
Loss
Round 6
Mato Kuroi
3517 - 3615
Loss
Round 7
Ruri "Kuroneko" Gokou
2948 - 5673
Loss
Emerald
Round 1
Yuno Gasai
3398 - 2505
Win
Round 2
Kanon Nakagawa
2910 - 2728
Win
Round 3
Elucia de Lute Ima
2595 - 2981
Loss
Round 4
Mizuki Himeji
2918 - 3076
Loss
Round 5
Inori Yuzuriha
2461 - 3428
Loss
Round 6
Victorique de Blois
2621 - 3165
Loss
Round 7
Kanade Tachibana
1995 - 4867
Loss
Topaz
Round 1
Meiko "Menma" Honma
2880 - 2653
Win
Round 2
Riko Mine
2651 - 2926
Loss
Round 3
Masami Iwasawa
2580 - 2920
Loss
Round 4
Irisviel von Einzbern
2431 - 2510
Loss
Round 5
Aria Holmes Kanzaki
2309 - 3043
Loss
Round 6
Sena Kashiwazaki
2359 - 3669
Loss
Round 7
Kobato Hasegawa
2845 - 4371
Loss
ISML 2013

--- Nova 32nd
Period
Round
Opponent
Score
Result
Nominations
N/A
N/A
232
Nova Rank 12
Nova Preliminaries
Phase 1
(Vote 2 per group)
Round 1 Grp H
6 opponents
3058
3rd (Adv.)
Round 2 Grp J
5 opponents
3235
2nd (Adv.)
Round 3 Grp K
4 opponents
3254
2nd (Adv.)
Round 4 Grp I
3 opponents
3636
3rd (Releg.)
Phase 2
Group A
(Triple trio)
Round 1
Homura Akemi
2948
1st (4 pts)
Shiori Shiomiya
2859
Yuno Gasai
2250
Round 2
Homura Akemi
3055
1st (4 pts)
Yuiko Kurugaya
2476

Erica Blandelli

1321
Round 3
Homura Akemi
3009
1st (4 pts)
Tsubasa Hanekawa
2615

Medaka Kurokami

1128
Round 4
Keiko "Silica" Ayano
3347
2nd (2 pts)
Homura Akemi
2434
Total: 14 pts
Pos: 2nd (Releg.)
Sanae Dekomori
2108
Phase 3
Group H
(Bracket stage)

Round 1
Hakaze Kusaribe
4573 - 2199
Win
Round 2
Elucia de Lute Ima
3747 - 3536
Win (Adv. to RS)
2013 Regular Season Nova Record:  7-28  (32nd)
Average VF: 3391, Average VA: 4436, Average VF%: 43.22%, Average VA%: 56.78%
Aquamarine
Round 1
Rea Sanka
4716 - 4576
Win
Round 2
Nyaruko
3689 - 5460
Loss
Round 3
Mikan Yuuki
3585 - 4315
Loss
Round 4
Nanami Aoyama
2977 - 4833
Loss
Round 5
Sena Kashiwazaki
2823 - 4548
Loss
Round 6
Mashiro Shiina
2358 - 5169
Loss
Round 7
Tsukihi Araragi
4380 - 3753
Win
Amethyst
Round 1
Yui (SAO)
3596 - 5015
Loss
Round 2
Momo Belia Deviluke
3216 - 4203
Loss
Round 3
Kurisu Makise
2708 - 3851
Loss
Round 4
Silica
4005 - 4190
Loss
Round 5
Eru Chitanda
2525 - 5596
Loss
Round 6
Asuna Yuuki
2534 - 5128
Loss
Round 7
Shouko Kirishima
3588 - 3940
Loss
Ruby
Round 1
Subaru Konoe
3778 - 3806
Loss
Round 2
Ririchiyo Shirakiin
2899 - 3687
Loss
Round 3
Shinobu Oshino
3507 - 3249
Win
Round 4
Shinka Nibutani
2542 - 4521
Loss
Round 5
Suguha "Leafa" Kirigaya
3317 - 3580
Loss
Round 6
Kobato Hasegawa
2281 - 4594
Loss
Round 7
Meiko Honma
2989 - 4207
Loss
Emerald
Round 1
Yui Kotegawa
3594 - 3843
Loss
Round 2
Karen Araragi
4388 - 4351
Win
Round 3
Erio Touwa
3509 - 3420
Win
Round 4
Touka Takanashi
3627 - 4071
Loss
Round 5
Yozora Mikazuki
3079 - 3906
Loss
Round 6
Rikka Takanashi
2327 - 5378
Loss
Round 7
Karuta Roromiya
3373 - 3351
Win
Topaz
Round 1
Fuuko Kurasaki
6557 - 6853
Loss
Round 2
Mei Misaki
3906 - 3803
Win
Round 3
Rin Natsume
3320 - 4432
Loss
Round 4
Kudryavka Noumi
3470 - 3854
Loss
Round 5
Inori Yuzuriha
3342 - 5287
Loss
Round 6
Kuroyukihime
2692 - 5377
Loss
Round 7
Aria Holmes Kanzaki
3489 - 5118
Loss
ISML 2014

--- Eliminated in Stella Preliminaries
Period
Round
Opponent
Score
Result
Nominations
N/A
N/A
2102
Stella Rank 11
Stella Preliminaries
Phase 1
Vote 2 per group
Top 1 advance to RS
Round 1
6 opponents
3045
3rd (Releg.)
Round 2
5 opponents
4078
2nd (Releg.)
Round 3
4 opponents
4120
3rd (Releg.)
Round 4
3 opponents
4435
2nd (Eliminated)
ISML 2015

--- Eliminated in Stella Preliminaries (Round 5)
Period
Round
Opponent
Score
Result
Nominations
N/A
N/A
193
Rank 17
Stella Preliminaries
Preliminaries
(Vote 2 per group)
Round 1
9 opponents
1875
4th (Adv.)
Round 2
7 opponents
1543
5th (Adv.)
Round 3
7 opponents
1288
5th (Releg.)
Round 4
5 opponents
2032
4th (Releg.)
Round 5
5 opponents
2143
6th (Eliminated)
ISML 2016

--- Eliminated in Emerald Groups (Ro32)
Period
Round
Opponent
Score
Result
Nominations
N/A
N/A
138
Rank 31
Sapphire
Round of 128 Group G
(2nd, Advanced)
Miyuki Shiba
1454 - 1123
Win
Yoshino
1213 - 1463
Loss
Kyouko Toshinou
1446 - 1081
Win
Ruby
Round of 64 Group C
(3rd, Eliminated)
Chino Kafuu
1266 - 1660
Loss
Umaru Doma
1339 - 1262
Win
Iroha Isshiki
1233 - 1415
Loss
ISML 2017

--- Eliminated in Amethyst Groups (Ro72)
Period
Round
Opponent
Score
Result
Nominations
N/A
N/A
45
Rank 16.5
Aquamarine
Group K
(3rd, Advanced)

Kayo Hinazuki

861 - 546
Win

Kotori Kanbe

1047 - 697
Win
Yui Hirasawa
732 - 833
Loss
Misaki Shokuhou
896 - 786
Win
Emilia
605 - 958
Loss
Topaz
Group O
(4th, Advanced)
Kaori Miyazono
865 - 1047
Loss

Mizuki Usami

837 - 705
Win
Rikka Takanashi
758 - 1245
Loss
Yoshino
779 - 1308
Loss
Tsubasa Hanekawa
1135 - 938
Win
Amethyst
Group K
(6th, Eliminated)
Megumi Katou
577 - 1028
Loss
Ayase Aragaki
761 - 1299
Loss
Chitoge Kirisaki
784 - 822
Loss
Jibril
944 - 1130
Loss
Tohka Yatogami
775 - 1142
Loss
ISML 2018

--- Eliminated in Topaz Wildcards (Ro96)
Period
Round
Opponent
Score
Result
Nominations
N/A
N/A
59
Rank 66
Aquamarine
Group (5th, WC)
Ayase Aragaki
2027 - 4090
Loss
Tomoyo Daidouji
2744 - 3057
Loss
Emilia
2978 - 4666
Loss
Ikaros
2835 - 2697
Win
Kotori Minami
3337 - 4148
Loss
Wildcard
24 opponents (Approval voting)
14,862
4th (Survived)
Topaz
Group (5th, WC)
Jibril
3832 - 4727
Loss
Illyasviel von Einzbern
3018 - 6710
Loss
Mikasa Ackerman
3077 - 3836
Loss
Saber
2615 - 4933
Loss
Holo
4704 - 4616
Win
Wildcard
21 opponents (Approval voting)
7753
12th (Eliminated)
ISML 2019

--- Eliminated in Sapphire Wildcards (Ro48)
Period
Round
Opponent
Score
Result
Nominations
N/A
N/A
113
Stella Rank 47
Aquamarine
Group (3rd)

Rinne Ohara

4391 - 4601
Loss
Saber
4254 - 5868
Loss
Saber Extra
5693 - 5141
Win
Topaz
Group (3rd)
Tohru
4531 - 6113
Loss
Rikka Takanashi
5430 - 6052
Loss
Ichigo (DitF)
7166 - 6495
Win
Amethyst
Group (3rd)
Asuna Yuuki
4374 - 5972
Loss
Yoshino
4887 - 5336
Loss
Ai Haibara
5770 - 4717
Win
Sapphire
Group (4th, WC)
Schwi Dola
6661 - 7758
Loss
Shouko Nishimiya
5837 - 6648
Loss
Mitsuha Miyamizu
6800 - 7598
Loss
Wildcard
11 opponents (STV)
2735.4
6th (Eliminated)
ISML 2020

--- Eliminated in Split 1 / Aquamarine Wildcards (Ro96)
Period
Round
Opponent
Score
Result
Nominations
N/A
N/A
115
Rank 22
Preliminaries
Seeding Rd 2
23 opponents (Approval voting)
1252
Seed 37
Aquamarine
Split 1 Group C
(5th, WC)
Mitsuha Miyamizu
1500 - 2237
Loss

Yotsuba Nakano

2074 - 1959
Win
Taiga Aisaka
2017 - 2972
Loss
Yukino Yukinoshita
1431 - 3100
Loss
Ram
1603 - 2331
Loss
Wildcard
23 opponents (Approval voting)
2845
17th (Eliminated)
Exhibitions
[
]
ISML Exhibitions Record
Contest
Round
Opponent
Score
Result
2019 Couples / Ships
(w/ Madoka Kaname)
Round of 16

Akihito

x Mirai
10,501 - 9202
Win
Quarter-finals

Nozaki

x Sakura
9433 - 8424
Win
Semi-finals

Miyuki

x Kaguya
9972 - 11,774
Loss
2020 Divine Circlet
Group C (4th)

Alice Zuberg

1345 - 1917
Loss
Tohka Yatogami
1642 - 2783
Loss
Cocoa Hoto
2371 - 3348
Loss
Jewelries (exhibition gems)

[

]
Best Girl Contest

Record
Contest
Round
Opponent
Score
Result
Best Girl 1 (2014)
(seed 24)
Round of 512
(490)

Botan

2757 - 356
Win
Round of 256
(283)

You Kasukabe

3624 - 876
Win
Round of 128
(105) Emi Yusa
3550 - 2225
Win
Round of 64
(41) Yui (Angel Beats)
4399 - 2655
Win
Round of 32
(9) Shiro
5120 - 3808
Win
Round of 16
(8) Asuna Yuuki
5773 - 5791
Loss
Best Girl 2 (2015)
(seed 42)
Round of 512
(471) Konata Izumi
5557 - 1973
Win
Round of 256
(215)

Mairu Orihara

5590 - 1901
Win
Round of 128
(87) Isla
5000 - 3214
Win
Round of 64
(23) Taiga Aisaka
4195 - 4626
Loss
Best Girl 3 (2016)
(seed 31)
Round of 512
(482)

Nana Ebina

4007 - 1038
Win
Round of 256
(226)

Chloe von Einzbern

3992 - 1419
Win
Round of 128
(98) Kallen Stadtfeld
4708 - 2595
Win
Round of 64
(34) C.C.
4713 - 4109
Win
Round of 32
(2) Saber
3744 - 4793
Loss
Best Girl 4 (2017)
(seed 56)
Round of 512
(457)

Erina Pendleton

7879 - 1896
Win
Round of 256
(201)

Akeno Himejima

7325 - 3656
Win
Round of 128
(73) Komachi Hikigaya
6201 - 5163
Win
Round of 64
(7) Megumi Tadokoro
6395 - 6178
Win
Round of 32
(24) Yoko Littner
7624 - 7941
Loss
Best Girl 5 (2018)
(seed 63)
Round of 512
(450)

Iori Nagase

5960 - 2348
Win
Round of 256
(194)

An Onoya

6131 - 3610
Win
Round of 128
(63) Misato Katsuragi
5767 - 5115
Win
Round of 64
(2) Rem
4815 - 8581
Loss
Best Girl 6 (2019)
(seed 54)
Round of 512
(459)

Rio Nakamura

3660 - 1816
Win
Round of 256
(203)

Urara Shiraishi

3457 - 2332
Win
Round of 128
(75)

Kou Yagami

4576 - 2861
Win
Round of 64
(11) Ryuuko Matoi
3371 - 5260
Loss
Best Girl 7 (2020)
(seed 47)
Round of 512
(466)

Carole

2222 - 438
Win
Round of 256
(210) Kyou Fujibayashi
2288 - 1385
Win
Round of 128
(82) Fumino Furuhashi
2345 - 1780
Win
Round of 64
(18) Saber
2266 - 4274
Loss
Best Character Contest

[

]
Best Character Contest

Record
Contest
Round
Opponent
Score
Result
Best Char 1 (2015)
(seed 22)
Round of 512
(454)

Orochimaru

2974 - 1116
Win
Round of 256
(198)

Naruto Uzumaki

2568 - 1292
Win
Round of 128
(70) Komachi Hikigaya
2674 - 1830
Win
Round of 64
(6)

Light Yagami

2320 - 2475
Loss
Best Char 2 (2016)
(seed 12)
Round of 512
(501)

Naota Nandaba

1409 - 377
Win
Round of 256
(245)

Suzaku Kururugi

1333 - 467
Win
Round of 128
(117)

Decim

1472 - 676
Win
Round of 64
(53)

Olivier Mira Armstrong

1741 - 847
Win
Round of 32
(21) Saber
1352 - 1270
Win
Round of 16
(28) Spike Spiegel
1228 - 1431
Loss
Best Char 3 (2017)
(seed 40)
Round of 512
(473)

Hanzo Urushihara

1813 - 513
Win
Round of 256
(217)

Mugen

1500 - 740
Win
Round of 128
(89) Shouya Ishida
2287 - 1746
Win
Round of 64
(25) Yui Yuigahama
1492 - 1107
Win
Round of 32
(8) Rintarou Okabe
1310 - 1759
Loss
Best Char 4 (2018)
(seed 22)
Round of 512
(491)

Rinko Yamato

1369 - 340
Win
Round of 256
(235) Hiyori Iki
1246 - 612
Win
Round of 128
(150)

Kou Yagami

1641 - 809
Win
Round of 64
(43)

Genos

1552 - 1006
Win
Round of 32
(11)

Izuku Midoriya

1663 - 1183
Win
Round of 16
(38) Mayoi Hachikuji
1280 - 1170
Win
Quarter-finals
(3) Rintarou Okabe
1462 - 2200
Loss
Best Char 5 (2020)
(seed 41)
Round of 512
(472)

Shizuka Sakaki

572 - 192
Win
Round of 256
(216)

Kohaku

832 - 359
Win
Round of 128
(88) Zero Two
925 - 492
Win
Round of 64
(41) Shouko Nishimiya
589 - 654
Loss
Best Char 6 (2021)
(seed TBD)
Round of 512
Win
Round of 256
Win
Round of 128
Win
Round of 64
Win
Round of 32
Win
Round of 16
Win
Quarter-finals
Win
Semi-finals
Win
Final
Loss
r/anime Exhibitions Record
[
]
r/anime Exhibitions Record
Contest
Round
Opponent
Score
Result
24-Hour Best Girl
(1M subs, 2019)
(seed 37)
Round of 256
(220) Yui (Angel Beats)
304 - 107
Win
Round of 128
(165) Hinata Hyuuga
293 - 173
Win
Round of 64
(28) Zero Two
210 - 180
Win
Round of 32
(5) Mai Sakurajima
284 - 497
Loss
24-Hour Worst Girl
(April Fools 2020)
(seed 43)
Round of 256
(214)

Template:Misaka 9982

MISAKA 9982

193 - 84
Win
Round of 128
(171)

Hinata Kawamoto

155 - 74
Win
Round of 64
(22) Ram
300 - 210
Win
Round of 32
(11)

Yunyun

306 - 297
Win
Round of 16
(38) Tohru
310 - 255
Win
Quarter-finals
(14) Rin Tohsaka
318 - 292
Win
Semi-finals
(2) Megumin
285 - 272
Win
Final
(9) Kurisu Makise
414 - 382
Win (Champion)
Other Contests
[
]
2ch's J-Saimoe

Record
Contest
Round
Opponent
Score
Result
2011
Round 1
(Group A)
Mikoto Misaka
696
2nd (Eliminated)
Homura Akemi
585
Sara (Jewelpet)
57
2013
Round 1
(Group B)
Homura Akemi
293
1st (Advanced)
Nanoha Takamachi
269
Asuka Langley Soryu
20
Round 2
Ayase Aragaki
438
3rd (Eliminated)
Madoka Kaname
413
Homura Akemi
201
2014
Round 1
Homura Akemi
198
1st (Advanced)
Hinagiku Katsura
73
Aira Harune
49
Round 2
Homura Akemi
314
1st (Advanced)
Yukina Himeragi
87
Youko Inokuma
77
Round 3
Yuu Sonoda
138 - 39
Win
Round 4
Homura Akemi
131
1st (Advanced)
Sayaka Miki
65
Yui Yuigahama
21
Satoha Tsujigaito
13
Round of 16
Ryuuka Shimizudani
197 - 195
Win
Quarter-finals
Saki Miyanaga
423 - 594
Loss
Anizone's Korea Saimoe

Record
Contest
Round
Opponent
Score
Result
2011
Round of 96
(Groups)
Homura Akemi
292
1st (Advanced)
Ayumi Takahara
69
Kaori Kanzaki
68
Round of 32
Azusa Nakano
255 - 160
Win
Round of 16
Mio Akiyama
371 - 155
Win
Quarter-finals
Victorique de Blois
401 - 192
Win
Semi-finals
Charlotte Dunois
302 - 275
Win
Final
Erio Touwa
696 - 334
Win (Champion)
Miscellaneous
[
]
Other notable contests
Contest
Round
Opponent
Score
Result
Senpuu PL
(2012)
Round 1
(Groups)
Mikoto Misaka
39
2nd (Eliminated)
Homura Akemi
18
Sara (Jewelpet)
2
Senpuu PL
(2013)
Round 1
(Groups)
Homura Akemi
21
1st (Advanced)
Kaori Kanzaki
16
Momo Belia Deviluke
14
Round 2
(Groups)
Eru Chitanda
37
2nd (Eliminated)
Homura Akemi
18
Saber Extra
13
Senpuu PL
(2014)
Round 1
(Groups)
Homura Akemi
33
1st (Advanced)
Chitoge Kirisaki
15
Kisara Tendou
10
Round 2
(Groups)

Yamuraiha

25
2nd (Eliminated)
Momo Belia Deviluke
22
Homura Akemi
21
/r/awwnime Bracket
Girls 2012
(seed ??)
Round of 256
Sayuri Kurata
250 - 43
Win
Round of 128
Lisbeth
571 - 366
Win
Round of 64
Holo
705 - 745
Loss
Honours
[
]
Contest Wins
[
]
Total Wins : 7 + 1 = 8 (

)
KBM 2011 ☆
Baidu CIP Moe 2011 [1]
Yamibo Yuri Saimoe 2011/2013
Baidu AST 2014 [2]
r/anime's 24-Hour Worst Girl (April Fools 2020)
ZERO2014 Moe Contest Dead site
External links
[
]
Beware of spoilers and pop-ups
Female Major Champions
ISML ★
2008: Fate Testarossa · 2009: Hinagiku Katsura · 2010: Mio Akiyama · 2011: Mikoto Misaka · 2012: Kanade Tachibana · 2013: Ruri Gokou · 2014: Kotori Itsuka · 2015: Eru Chitanda · 2016: Shana · 2017: Megumi Katou · 2018: Rem · 2019: Violet Evergarden · 2020: Yukino Yukinoshita · 2021: ???
AnimeBracket
Best Girl ★
BG1: Kurisu Makise · BG2: Yukino Yukinoshita · BG3: Mikoto Misaka · BG4: Rin Tohsaka · BG5: Rem · BG6: Asuna Yuuki · BG7: Kaguya Shinomiya · BG8: Mai Sakurajima · BG9: ??
Best Char. ☆
BCh2: Hitagi Senjougahara · BCh3: Shinobu Oshino
Bilibili Moe †
Japan ★
2015: Saber · 2016: Rem · 2017: Mash Kyrielight · 2018: Sakura Kinomoto
China ★
2016:

Tushan Susu

· 2017:

Su Mucheng

· 2018:

Kagura (Onmyoji)

Anime Saimoe ☆ †
2002: Sakura Kinomoto · 2003: Riku Harada · 2004: Rosemary Applefield · 2005: Nanoha Takamachi · 2006: Suiseiseki · 2007: Rika Furude · 2008: Kagami Hiiragi · 2009: Taiga Aisaka · 2010: Azusa Nakano · 2011: Mami Tomoe · 2012: Toki Onjouji · 2013: Madoka Kaname · 2014: Nodoka Haramura + Saki Miyanaga (co-winners)
Korea Best Moe ☆ †
2006: Suiseiseki · 2007: Hinagiku Katsura · 2008: Holo · 2009: Taiga Aisaka · 2010: Mio Akiyama · 2011: Homura Akemi · 2012: Hitagi Senjougahara
Legend: † Defunct, ‡ Hiatus / Unknown fate