Jurassic World: Dominion Dominates Fandom Wikis - The Loop
Play Sound
Homura Akemi is a character from the 2011 original anime series Puella Magi Madoka Magica. She is a gun-slinging, hair-flipping, mysterious magical girl who tries to prevent Madoka from forming a contract with Kyuubey and become a magical girl like her. In the last few episodes, Homura's true intentions and backstory are eventually revealed, with the events making her arguably the "true protagonist" of the story. Indeed, she later stars as the main character of the 2013 sequel film Madoka Magica: Rebellion.
As a magical girl, Homura uses real military hardware to fight witches instead of magical weapons, and is later revealed to possess the power to control time. In the fandom, Homura is mainly shipped romantically with Madoka as her actions and motives stem from her love for the titular character - although whether this love is romantic or otherwise is yet to be confirmed in the canon anime.
The resident "dark magical girl" is the anime's best known competitor in saimoe tournaments, having won Anizone's Korean saimoe in 2011 and scoring multiple decent results in notable contests such as /r/anime and ISML. Ironically, in 2channel's original Saimoe contest, Homura was the worst performing girl out of the main quintet because she did not reach the final round unlike the other four girls, only managing a quarter-final result in 2014.

Icons
ISML Profile Flavor Text (May contain spoilers)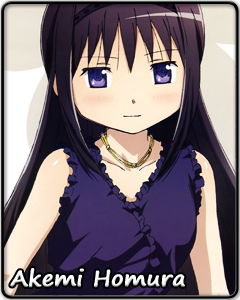 "When Akemi Homura introduces herself to her new classmates, she does so by stating her name only, as if anything more was a pointless effort and acknowledging those around her could only distract her away from what is truly important. Her demeanor is cold, but she has the looks, intelligence, and athletic ability that every girl can only dream of and is a natural idol among her peers. It is no surprise that other students wish to befriend her... but forging new friendships seems to be the last thing Homura has in mind.''
At face value, her words and actions are devoid of any hint of kindness and compassion. However, no one can truly understand the intentions guiding her, just as none can imagine the mental and emotional scars she bears. Her eyes are an abyss, a pit deep enough to conceal even her loneliness and the longing to wrap her arms around the one who means everything to her. Her heart is shackled, too broken to register anything but new despair and pain. Tears course through her veins in place of blood, tears she cannot shed no matter how desperately she wants to.
And yet Homura holds her head high, never losing sight of her mission. She will do whatever it takes to grasp onto the single miracle afforded her. She will fight and mislead and betray. Brand her friend or foe, the love and devotion Homura exemplifies are a power far surpassing both time and space."'
Main Tournament
[
]
Overall Record
ISML Main Tournament Record
Regular season, playoffs, and consolation 1v1 matches only.
Preliminaries, gems, exhibitions, and approval / range voting rounds are NOT included.
Edition
Eliminated in
Final pos.
W
L
RS Record
ISML 2012
Regular season
Nova 27th
7
28
7-28
ISML 2013
Regular season
Nova 32nd
7
28
7-28
ISML 2014
Did not qualify (Stella Prelims, Phase 1 Round 4)
ISML 2015
Did not qualify (Stella Prelims, Round 5)
ISML 2016
Top 32 Groups Emerald
17th-32nd
3
3
3-3
ISML 2017
Amethyst Groups Top 72
65th-72nd
5
10
5-10
ISML 2018
Topaz Wildcards Top 96
78th WC
2
8
2-8
ISML 2019
Sapphire Wildcards Top 48
43rd WC
3
9
3-9
ISML 2020
Split 1 Wildcards
73rd WC
1
4
1-4
ISML 2021
Did not qualify (Preliminaries: 95th / 72nd)
ISML 2022
Total W-L: 28-90 (23.73%)
Postseason: N/A
RS Record: 28-90 (23.73%)
Opponents played: ???

Match History
ISML 2019

Nominations: 113 votes (47th)
Rd
Opponent
Score
W-L?
Aqua 1

Rinne Ohara

4391 - 4601
L
Aqua 2
Saber
4254 - 5868
L
Aqua 3
Nero
5693 - 5141
W
Tpz 1
Tohru
4531 - 6113
L
Tpz 2
Rikka Takanashi
5430 - 6052
L
Tpz 3
Ichigo
7166 - 6495
W
Amet 1
Asuna Yuuki
4374 - 5972
L
Amet 2
Yoshino
4887 - 5336
L
Amet 3
Ai Haibara
5770 - 4717
W
Sapp 1
Schwi Dola
6661 - 7758
L
Sapp 2
Shouko Nishimiya
5837 - 6648
L
Sapp 3
Mitsuha Miyamizu
6800 - 7598
L
Wildcards (STV, Max 4): 2735.4 -- 6th / 12th, Out
Final position: 43rd (based on wildcard result)
ISML 2020

Nominations: 115 votes (22nd)
Seeding R2 (approval): 1252 (seed 37)
Stage
Rd
Opponent
Score
W-L?
Split 1
Group C
5th (1W 4L)
Wildcards
Aqua 1
Mitsuha Miyamizu
1500 - 2237
L
Aqua 2
Yotsuba Nakano
2074 - 1959
W
Aqua 3
Taiga Aisaka
2017 - 2972
L
Aqua 4
Yukino Yukinoshita
1431 - 3100
L
Aqua 5
Ram
1603 - 2331
L
Wildcards (approval, Max 8): 2845 -- 17th / 24th, Out
Final position: 73rd (based on wildcard result)
History
[
]
Homura is the most popular Madoka Magica character on /r/anime, as far as her results in the tournaments are concerned. She is best associated with the phrase "Homura did nothing wrong" (originally a response to her controversial actions in the Rebellion film), which has become both a running gag and a battle cry for her fans who desire to see her succeed in the brackets despite years of hurt and disappointment. Homura has also been involved in several restarted match days in the tournament's history, which coincidentally fits in with the fact that she has time-related powers.
The dark-haired magical girl debuted as the highest-seeded Madoka character in the very first Best Girl contest at #24. She reached the sixth round, but narrowly missed out on a place in the elite eight after she lost by 16 votes against Asuna. Since then, Homura's subsequent appearances in Best Girl have her get knocked out in round 4 against many tournament staples. However, she did break the 4th round barrier two times: in Best Girl 3 where she lost to Saber in round 5, and in Best Girl 4 where she upset #9 seed Tadokoro in round 4 (which featured an link-heavy, RES-crippling post by an /r/Homura moderator)[1] before getting knocked out by Yoko Littner.
After a new Madoka movie serving as the sequel to Rebellion was announced in 2021[2], Homura's chances in Best Girl 8 seemed hopeful, especially when she secured the #16 seed, her highest position to date. Unfortunately, she could not capitalize on the announcement hype, and she was eliminated in round 4 against the underseeded Tsubasa Hanekawa.
On the other hand, Homura would enjoy relatively better results in the mixed-gender Best Character Contest, because her character plot is one of her main appeals. After being denied in the last 16 by Spike Spiegel in Best Character 2, Homura finally broke into the Elite Eight in Best Character 4 when she defeated Mayoi Hachikuji, but her run ended when she encountered fellow time traveler and eventual champion Rintarou Okabe.
Two years later, Homura became involved in an incident when she lost to Zero Two in Best Character 5's round 3. The match got suspended as the host received reports of outside parties influencing the result, which was implied to be Zero Two fans cross-posting the contest to their home subreddits and Discord servers - a definite possibility given their involvement in a high-profile match against Asuna in Best Girl 6. After a discussion thread was put up on deciding what to do with the brigaded characters,[3] the host decided to restart the round, and requested the offending users to delete their posts promoting their character in the contest.[4] As a result, Homura won in the ensuing rematch, but she was eliminated by Shouko Nishimiya in the following round.
Homura would finally earn her first /r/anime honour by winning the second "24-Hour Best Girl" exhibition contest, which turned out to be /r/anime's 2020 April Fools celebration event as the title was switched into "Worst Girl of All Time" halfway through.[5][6]. Given her divisive reception as a character, having her win the title instead of the likes of Kurisu or Megumin seemed very fitting, and her fans don't seem to mind, because a win is still a win anyways.
Matches
[
]
Best Girl

Best Character
Best Character Contest match history
Best Character 1

- seed 59

Best Character 2 - seed 12

Best Character 3 - seed 40

Best Character 4 - seed 22

Best Character 5 - seed 41

Exhibitions
24-Hour Best Girl (1mil. Subscriber Event) - seed 37
24-Hour Worst Girl (April Fools 2020) - seed 43
(22) Ram @ Re:Zero -- 300 - 210
(38) Tohru @ Dragon Maid -- 310 - 255
(14) Rin Tohsaka @ Fate/stay night -- 318 - 292
(2) Megumin @ Konosuba -- 285 - 272
(9) Kurisu Makise @ Steins;Gate -- 414 - 382
Honours
[
]
Total Wins : 7 + 1 = 8
Baidu CIP Moe 2011 Baike Baidu link
Yamibo Yuri Saimoe 2011/2013
Baidu AST 2014 Baike Baidu link
r/anime's 24-Hour Worst Girl (April Fools 2020)
ZERO2014 Moe Contest Zero DM BBSdead link
Miss Anime Tournament 2013 (ISML forum, Websitedead link)
[

]
References

Beware of spoilers and pop-ups
/r/anime

Elite Eight

Major Character Champions
Best Girls
Kurisu Makise • Yukino Yukinoshita • Mikoto Misaka • Rin Tohsaka • Rem • Asuna Yuuki • Kaguya Shinomiya • Mai Sakurajima
Best Guys
Lelouch Lamperouge • Koyomi Araragi • Spike Spiegel • Koro-sensei • Shigeo Kageyama • Levi Ackerman • Miyuki Shirogane • Hachiman Hikigaya
Best Chars.
Roy Mustang • Hitagi Senjougahara • Shinobu Oshino • Rintarou Okabe • Edward Elric
Other characters
Bold indicates former runner-up
C - Also reached Elite Eight in Best Character
C2 - Finished runner-up in Best Character
Best Girl
Ai Hayasaka • Aqua • Chika FujiwaraC • Chiyo Sakura • Emilia • Eru Chitanda • Holo • Himeko Inaba • Jibril • Mayuri Shiina • MeguminC2 • Megumi Tadokoro • Mikasa Ackerman • Ochako Uraraka • Ryuuko MatoiC • SaberC • Shouko NishimiyaC • Suruga Kanbaru • Taiga Aisaka • Tohru • Winry Rockbell • Yoko Littner • Yui Yuigahama
Best Guy
All Might • Alphonse Elric • Archer •

Deishuu Kaiki

• Erwin SmithC • Gintoki SakataC • Guts • Hisoka Morow • Izaya Orihara • Joseph Joestar • Kamina • Kazuma SatouC • Killua Zoldyck • Kiritsugu Emiya •

Kraft Lawrence

• Light YagamiC • Reigen AratakaC • Rimuru Tempest • SaitamaC • Sakuta Azusagawa • Shouya Ishida • Souma Yukihira • Subaru Natsuki • Tanjiro Kamado • Yuu IshigamiC
Best Char.
Eren Yeager • Haruhi Suzumiya • Homura Akemi • Rider (Fate/Zero)
Korean Tournaments
Korea Best Moe (2006-2012, organized by Anizone.net)
Tournaments
2006 • 2007 • 2008 • 2009 • 2010 • 2011 • 2012
Female Champions
Suiseiseki • Hinagiku Katsura • Holo • Taiga Aisaka • Mio Akiyama • Homura Akemi • Hitagi Senjougahara
Male Champions
Kyon • Lelouch •

Mukuro Rokudo

• Tsunayoshi Sawada •

Kanglim (Ghost Messenger)

• Sougo Okita
Aniplus Character Tournament (Active since 2013, organized by Aniplustv.com)
Tournaments
2013 •

2014

•

2015

•

2016

•

2017

• 2018 • 2019 • 2020 • 2021 •

2022

Champions
Houtarou Oreki • Chiyo Sakura •

Producer (Imas CG)

• Rem • Chino Kafuu • Megumi Katou • Mai Sakurajima • Elaina • Yukina Minato • ??
Other
Aketo Records & Curses