Jurassic World: Dominion Dominates Fandom Wikis - The Loop
Play Sound
Fate Testarossa, also known as Fate T. Harlaown, is a character from the Magical Girl Lyrical Nanoha franchise.
Testarossa was the very first champion of the International Saimoe League, having won the tiara in 2008 by placing first in the regular season and going undefeated in the double-elimination playoffs. She is one of the few ISML champions to have never won any necklaces. Fate also finished runner-up in 2channel's 2006 saimoe tournament, losing to Suiseiseki from Rozen Maiden.
Match History
[
]
2005
[
]
2006
[
]
2007
[
]
2008
[
]
2010
[
]
Fate Testarossa > Saber > Yuuko Kinoshita > Koyomi Morishita (428-125-118-71)
Fate Testarossa > Mikan Yuuki >

Natsume

(509-409-122)
Ruiko Saten > Fate Testarossa > Fumino Serizawa (748-709-140)
2013
[
]
2006
[
]
2007
[
]
2010
[
]
Fate Testarossa >

Echo

> Izumi Curtis (683-488-291)
Holo > Fate Testarossa (929-654)
ISML Profile Flavor Text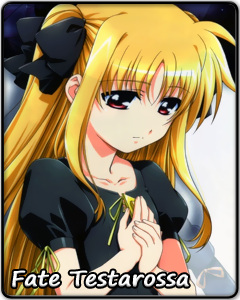 It was a small wish. The girl wanted to be loved and accepted. She wanted to revive the warmth of her mother's smile.
In the name of that small wish, Fate Testarossa was ready to take a weapon into her petite hands, devote her childhood to mastering both magic and single combat, and face superior enemies in battle again and again, escaping death by a hair's breadth every time. She was ready for everything if it meant she could regain her past. She, who never wished to hurt another, would grit her teeth and deny herself any weakness, taking step after painful step on the difficult path awaiting her.
Her resolve had the strength of stone – it would not crumble no matter what adversity she had to face. But there was one tiny crack in her armor, one thing she was not ready for – kindness. Confronted with the reality of somebody reaching out a friendly hand to her, Fate hesitates for the first time. To fight for her past, she has to swipe the hand away. To create her own future, she has to reach out and accept the warmth.
Fate's fight is the struggle of a selfless and loving daughter, and the journey of a small girl craving affection. With both placed in the balance, Fate's heart is put to the ultimate test. And slowly, in those burgundy eyes, an answer is born. It is the fruit of her doubt and worries, but it is her own, Fate Testarossa's, answer.
2008
[
]
1st (60-0-3)
2009
[
]
6th (55-0-0-8)
2010
[
]
20th (31-0-18)
2011
[
]
38th (12-0-37)
More
Average VF: 2882
Average VA: 3663
Average VF%: 44.06%
Average VA%: 55.94%
Jewel Box
[
]
Contest Wins
[
]
Total Wins = 4 (

)
ISML 2008 Heavenly Tiara ★
Ayanimelist Mal Moe 2008 [1]
Myanimelist CUTEST SECTION poll 2010 [2]
Yamibo Yuri Saimoe 2015
External Links
[
]
Beware of spoilers and pop-ups.
International Saimoe League

Champions
Heavenly Tiara

Fate Testarossa •

Hinagiku Katsura •

Mio Akiyama •

Mikoto Misaka •

Kanade Tachibana •
Ruri Gokou •

Kotori Itsuka •

Eru Chitanda •
Shana •

Megumi Katou •

Rem •

Violet Evergarden •

Yukino Yukinoshita •
Elaina • 2022
Lapis Scepter

Lelouch LamperougeEx •
Kazuto KirigayaEx •

Houtarou OrekiEx •

Hideyoshi KinoshitaEx •

Accelerator •

Sora •

Koro-sensei •

Hachiman Hikigaya •

Rimuru Tempest •

Miyuki Shirogane •

Sakuta Azusagawa • 2022
Ex - Exhibition tournament: Counted as official winners, but not recognized on the ISML website's main page