Jurassic World: Dominion Dominates Fandom Wikis - The Loop
Play Sound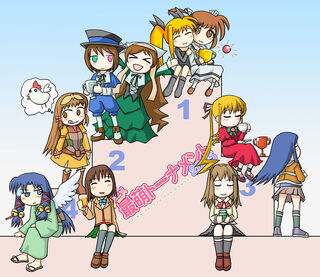 In single-elimination tournaments, the Elite Eight refers to the final eight contestants remaining in a given contest. Most tournaments employ a final stage that consists of eight contestants playing each other in a 1v1 single-elimination bracket over three rounds (quarter-finals, semi-finals, and final) to determine its champion. This stage is commonly labeled with terms such as "Finals Bracket" or "Final Round". Some competitions also implement consolation rounds for the eliminated competitors in order to determine lower places, most commonly a 3rd-4th place match fought between semi-final losers.
The elite eight single-elimination stage is very common in many tournaments, both in the context of this wiki and in real-life sports competitions, because of the number's ubiquitous presence and perfect length with regards to brackets.
"Elite Eight" originates from the American NCAA Division I Men's Basketball Tournament (aka March Madness), from which it refers to the competition's regional finals, with the winners advancing to the much more significant Final Four. This term is actually trademarked by the NCAA[1], but who really cares about that.
The Elite Eight in various tournaments
[
]
J-Saimoe
[
]
In all editions of 2channel's original Japanese saimoe tournament, all contestants are split into eight single-elimination groups, with each winner being grouped together and re-seeded into a final 1v1 single-elimination bracket to determine its champion.
K-Saimoe
[
]
Likewise, in the 2ch-inspired Korean saimoe tournament organized by Anizone, the elite eight also makes a presence. Unlike 2channel's, the elite eight bracket is not fixed, because throughout the entire tournament, all surviving contestants are randomly assigned an opponent after each round.
Aketo
[
]
This nominal sequel to KBM also employs an elite eight 1v1 bracket, which typically precedes the multi-man elimination rounds; for instance, the "Round of 16" is actually 4 matches of 4 players each; vote only one per match.
Bilibili Moe
[
]
In China's version of a saimoe tournament, the top 8 contestants from each gender is prominently displayed on the websites' front page.
AnimeBracket
[
]
In the AnimeBracket website used by r/anime users for its contests, there is a group called "Finals" which shows the top 8 contestants in a given event. All tournaments held in the website use a fixed single-elimination bracket, with the competitor's positions determined by seeds from the qualifying round.
Mr. and Ms. /co/
[
]
The "Elite Eight" term is explicitly used in 4chan's Mr. and Ms. co character tournament, where it refers to the quarter-finals stage and beyond. Unlike the above examples, there is a special distinction for characters who manage to reach this round. For instance, characters who appear in the elite eight are temporarily barred from entering the next edition to keep the competitions "fresh". After the characters serve their ban, they may be nominated again until they reach the elite eight again or win it all. Furthermore, all quarter-final losers will play each other in a four-way voting round to determine who will be placed in order from 5th-8th.
The Elite Eight temporary ban rule is also used in similar tournaments inspired from /co/, such as /v/ and /mlp/.
[

]
References: