Jurassic World: Dominion Dominates Fandom Wikis - The Loop
Play Sound
Elaina is the titular protagonist of the light novel and anime series Wandering Witch. Her witch name is The Ashen Witch.
Contest profile
[
]
Elaina emerged as one of the most popular girls to come out of the Fall 2020 lineup partly due to the LN's established fanbase, and gained more fans because of her cute and hot as fuck design. She won ISML's corresponding seasonal diadem by beating seasonal rival Tsukasa Tsukuyomi in the main bracket's final. However, she had less luck in the r/anime counterpart as she fell to Tsukasa in the Fall semifinals, and then crashed out of the second round to Katarina in the "Best Girl of the Year" contest. In Korea, she was voted as the winner of the 2020 Aniplus character tournament, notably defeating former Aketo winners Chino and Megumi Katou along the way.
Because of Elaina's popularity in East Asian countries, users in the Chinese forum ISML Tieba in the Baidu website have speculated her potential to be the strongest performing debutant in the ISML 2021 main tournament, which she immediately fulfilled to expectations, as the witch led the 2021 regular season in wins alongside last year's runner-up Misaka. She later confirmed her status as a Tiara contender by defeating Mashiro Shiina in Emerald 5, then winning her first necklace award in that period. In Playoffs, She became the 4th First-Year Winner defeating Mikoto in the final, due to the massive support of Korean fanbases.
The witch's earliest eligible Best Girl appearance will be the ninth edition held in 2022.
ISML record

[

]
ISML Profile Flavor Text (May contain spoilers)
Who's that young, beautiful girl flying in the air where even the wind dances with her ash-colored hair? Yes, it's her: Elaina.
Elaina is the very definition of pride. After all, not everyone can claim that they graduated from the academy at the age of 14 and become a full-fledged witch at the age of 15. And, Elaina had to work very hard to do so in such a short amount of time, studying day at night, focusing all her free time conjuring spells. She has every right to be a little selfish about her demands.
All those who loathe her have no choice but to admire her. After all, her ego is not just for show. She can easily back up her word with her powerful incantation of spells. Whether it is reversing time to fix broken objects and buildings, defeating powerful enemies, or assisting witches in theoretical tasks, there is nothing Elaina is not capable of. This young witch is capable of defying expectations, and she flaunts it.
With great power comes great responsibility, and the person most critical of her thoughts and actions is herself. She knows that she is a traveler. She knows that she is an outsider entering the lives of other power. And even if she wants to do more for the people she has acquainted herself with, she cannot. Settling in would mean giving up her dreams of traveling the world, which she cannot afford to lose. Such is the life she has chosen as a wandering witch.
And so, Elaina flies on, hoping to one day create a novel just like the one that inspired her to be a witch, but better. After all, she is Elaina - nothing short of perfection.
Seasonal & Exhibition
[
]
Elim. round (Max 16, approval, PO 1): 6294, 1st / 30th, Advanced
(PO 4): (4) Saya @ Wandering Witch, 6144 - 1853
(PO 5): (2) Tsukasa Tsukuyomi @ Tonikaku Kawaii, 5897 - 5045
Inter-seasonal (PO 6): (Spring) Kei Shirogane @ Kaguya-sama, 6410 - 5137
ISML Couples / Ships 2020 - seed 31 (w/

Saya)
Main Tournament
[
]
ISML 2021

Directly Invited (2020 fall diadem)
Preliminary R1: 3187 (1st / 42nd)
Preliminary R2: 2459 (1st / 11th)
Results: ARP: 1, CVP:3.006, Seeded 2nd
Stage
Rd
Opponent
Score
W-L?
Split 1
Group B
1st (5W 0L)
Aqua 1
Saya (Wandering Witch)
2621 - 394
~W
Aqua 2
Origami Tobiichi
2575 - 1138
~W
Aqua 3
Yui Hirasawa
3381 - 1742
~W
Aqua 4
Ichigo (DitF)
3233 - 1900
~W
Aqua 5
Yui Yuigahama
2811 - 1863
~W
Split 2
Group A
1st (15W 0L)
Tpz 1

Krul Tepes

2325 - 722
~W
Tpz 2
Megumin
1412 - 1127
~W
Tpz 3
Hina Amano
1464 - 700
~W
Tpz 4
Kanna Kamui
1947 - 1333
~W
Tpz 5
Tsukasa Tsukuyomi
2012 - 1381
~W
Amet 1
Tohka Yatogami
1861 - 903
~W
Amet 2
Saber
1388 - 835
~W
Amet 3
Ruiko Saten
1840 - 933
~W
Amet 4
Tohru (Dragon Maid)
2404 - 1381
~W
Amet 5
Asuna Yuuki
2415 - 1937
~W
Sapp 1
Shinobu Kochou
2291 - 985
~W
Sapp 2
Ginko Sora
2533 - 1374
~W
Sapp 3
Yui Hirasawa
2173 - 1138
~W
Sapp 4
Sagiri Izumi
2468 - 1326
~W
Sapp 5
Emilia
2297 - 2018
~W
Split 3
Group ?
Pos
Eme 1
Eme 2
Eme 3
Eme 4
Eme 5
Ruby 1
Ruby 2
Ruby 3
Ruby 4
Ruby 5
Dia 1
Dia 2
Dia 3
Dia 4
Dia 5
Playoffs
Seed
Ro16
CO 1
CO 2
CO 3
CO 4

Gem Record
Appearances: 5 (as of 2021)
2021: Aquamarine (4th), Topaz (3rd), Amethyst (3rd), Sapphire (3rd), Emerald (Winner!)
Poster gallery
[
]
Other tournaments
[
]
Seasonal Salt: 2020 Fall - seed 5
Best Girl of 2020 - seed 8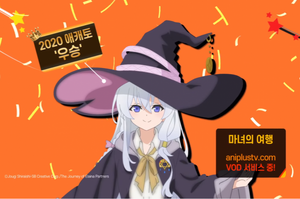 Honours
[
]
ISML 2020 Fall diadem (seasonal)
ISML 2021 Heavenly Tiara ★
Anime Empire Female White Hair Competition 2021 [2]
Mimori Manga & LN - AMAK tournament waifu 2021 [3]
Bilibili Minimoe ACG animation character tournament 2021 [4]
Anime Indonesia Part terakhir Banh 2022 [5]
Runner-up Lists
[
]
List of runner-up finishes = 6
Non-contest honours

[

]
Kono Light Novel ga Sugoi! female character rankings
External links
[
]
Beware of spoilers and pop-ups.
International Saimoe League

Champions
Heavenly Tiara

Fate Testarossa •

Hinagiku Katsura •

Mio Akiyama •

Mikoto Misaka •

Kanade Tachibana •
Ruri Gokou •

Kotori Itsuka •

Eru Chitanda •
Shana •

Megumi Katou •

Rem •

Violet Evergarden •

Yukino Yukinoshita •
Elaina • 2022
Lapis Scepter

Lelouch LamperougeEx •
Kazuto KirigayaEx •

Houtarou OrekiEx •

Hideyoshi KinoshitaEx •

Accelerator •

Sora •

Koro-sensei •

Hachiman Hikigaya •

Rimuru Tempest •

Miyuki Shirogane •

Sakuta Azusagawa • 2022
Ex - Exhibition tournament: Counted as official winners, but not recognized on the ISML website's main page
ISML Seasonal Diadem Winners

2012

Ririchiyo • Kuroyukihime • Asuna • Rikka

2013

Black Rabbit • Kurumi • Kirigiri • Mirai

2014

Chitoge • Shiro • Chiyo • Isuzu

2015

Megumi K. • Isla • Nao • MitsukiND, SEQ

2016

Megumin • Rem • Aoba •

Chitose

2017

Kanna • Chtholly • Suzune •

Nayuta

2018

Violet • UrarakaND, SEQ • Platelet • Mai-san

2019

Kaguya • Fumino •

Gray

•

Ishtar

2020

Kotoko

• Kei S.SEQ • Chizuru • Elaina

2021

Female
MikuND, SEQ • IinoND, SEQ • Keke DC • RanND, SEQ
Male
TanjiroSEQ, DC • NatsumeSEQ •

Kimihiko

•

Lugh

2022

Female
Male
ND - NOT a DEBUTANT; appeared in a seasonal contest beforehand
SEQ - Appeared in a SEQUEL installment
DC - Won inter-seasonal playoffs (Divine Circlet / Crown)
DCX - Won inter-seasonal playoffs but not a seasonal (listed last)
ISML

Necklace

Winners
First year of necklace win only. Circlets from 2012-2015 included (if applicable).

2008

Shana • Setsuna S. • Kagami • Kyou • Haruhi

2009

Tomoyo S. • Yuki N. • Suigintou • Suiseiseki • Hinagiku • Shinku

2010

Mio • Taiga • Mikoto

2011

Kanade • Ruri • Hellscythe

2012

No new winners.

2013

Mashiro • Rikka • Asuna

2014

Kuroyukihime

2015

Yukino • Kosaki • Chitoge • Chiyo • Ayase

2016

Nao • Tohsaka • Saber • Kurisu

2017

Rem • Emilia • Katou

2018

Chtholly • Azunyan • Kanna

2019

Violet • Sagiri • Kurumi • Mai-san

2020

Kaguya

2021

Elaina
Korean Tournaments
Korea Best Moe (2006-2012, organized by Anizone.net)
Tournaments
2006 • 2007 • 2008 • 2009 • 2010 • 2011 • 2012
Female Champions
Suiseiseki • Hinagiku Katsura • Holo • Taiga Aisaka • Mio Akiyama • Homura Akemi • Hitagi Senjougahara
Male Champions
Kyon • Lelouch •

Mukuro Rokudo

• Tsunayoshi Sawada •

Kanglim (Ghost Messenger)

• Sougo Okita
Aniplus Character Tournament (Active since 2013, organized by Aniplustv.com)
Tournaments
2013 •

2014

•

2015

•

2016

•

2017

• 2018 • 2019 • 2020 • 2021 •

2022

Champions
Houtarou Oreki • Chiyo Sakura •

Producer (Imas CG)

• Rem • Chino Kafuu • Megumi Katou • Mai Sakurajima • Elaina • Yukina Minato • ??
Other
Aketo Records & Curses