This article covers an upcoming event. Information in this article is subject to change and may not reflect the latest version.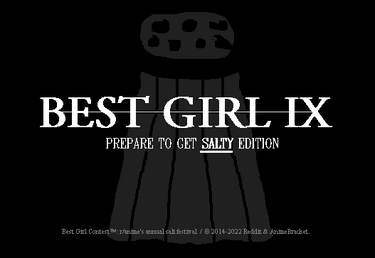 seriously? best girl 9?
if anyone is still interested in the contest that is...
BEST GIRL IX
PREPARE TO BE SALTY EDITION
Scheduled to begin in June 2022.
Rules & Tournament Format
[
]
All voting rounds begin and end at 18:00 Eastern Standard Time (UTC-4). (15:00 Pacific, 22:00 UTC, 06:00 Beijing)

Voting poilcy
You must register or login to a reddit account in order to vote.
Accounts must be at least 2 months old.
NO CROSSPOSTING / BRIGADING / LINKING the contest to other subreddits.

Nomination
Lasts 2 days
Enter name, series, image URL address
Image links must come from MyAnimeList or Anilist, otherwise the nomination will be deleted
Females only. Sexless characters with feminine appearance are allowed, but males (traps) are not.
Characters who have made their animated debut in 2021 Summer or later are NOT allowed. (that's right, No Komi-san, No

Jolyne

, No

Template:Makima

Template:Power csm

Template:Reze

Chainsaw Man girls.)
Check the entrants list first to prevent repeat nominations

Eliminations
Voters will choose the characters they want to participate in the main bracket stage.
All nominees are divided into 4-6 groups. (depending on nominees)
Each group lasts 1 day
Approval voting - Vote whoever you like; there is no limit.
512 players with the highest adjusted votes will advance to the main bracket.
Series Limit: maximum of 5 characters per series.

Main Bracket
512 players, single-elimination
Seeded by results in the previous stage
Rounds 1-6 are split into 4 groups per round; each group lasts one day

Round 1 Group A lasts 2 days instead in order to give users time to fill out their bracket predictions.

Quarter-finals and beyond will last one day each
A consolation match for third-place, if available, will be held in a separate website.
If a match is tied, the higher-seeded contestant wins.
Opinions
[
]
With Kaguya and Mai gone, Best Girl 9's playing field looks wide open once again, but obviously last year's Elite Eight remain as contenders:
Notable newcomers:

Other:
Mikasa (aot season 4)
Tohru (dragon maid s2), Kanna is voted out because she's a loli
the usual secondaries of popular series (Kei, Rio, Koga, Kaede, Yunyun, Wiz, Ram, Beako, Komachi, Hiratsuka-sensei)
Monogatari (appears declining, but it all depends on their opponent)
K-On girls (mostly Yui, Mio and Azunyan)
Chitanda
Yuigahama and Iroha
......
[

]