Jurassic World: Dominion Dominates Fandom Wikis - The Loop
Play Sound
Best Character 5: Salt;Gate was the fifth edition of /r/anime's Best Character Contest, a mixed-gender elimination contest. The contest was held in late 2020 is named in honor of Rintarou Okabe, the main protagonist of the visual novel / anime series Steins;Gate, after he won the title in the contest's previous edition.
After 5 years and 11 consecutive elite eight appearances, Edward Elric finally breaks his curse of never winning an r/anime contest. In the last four rounds, the alchemist defeated fellow title favorite Mai, first seeded Shirogane, perennial contender Megumin, and finally a season 4-boosted Eren Yeager in the title match to become the subreddit's fifth Best Character.
This is the final tournament hosted by r/anime moderator ShaKing807; subsequent tournaments will be hosted by moderator mpp00.
Rules & Tournament Format
[
]
Nomination Rules

[

]
If the character is a non-human, they may be nominated only if they are able to use languages to communicate with other characters or the audience.
Character must appear in an anime adaptation. Characters that have only appeared in a manga, visual novel or hentai are NOT allowed.
Only characters that have appeared in an anime as late as Summer 2019 are eligible. Please do not nominate any character who has appeared in an anime later than that season.
Picture links must come from MyAnimeList (MAL) or AniList. If not, the nomination will be deleted.
Check the Character List first before nominating to prevent repeats.
There will be a 5 character per franchise cap, meaning that only 5 characters per franchise will be allowed into the final bracket. These 5 spots will be determined by elimination round votes.
Previous winners of Best Girl, Guy, and Character contests are NOT allowed:
BAN LIST
Best Girl:

Kurisu Makise,

Yukino Yukinoshita,

Mikoto Misaka,

Rin Tohsaka,

Rem,

Asuna Yuuki,

Kaguya Shinomiya.
Best Guy:

Lelouch Lamperouge,

Koyomi Araragi,

Spike Spiegel,

Koro-sensei,

Shigeo Kageyama,
Levi Ackerman.
Best Character:
Roy Mustang,
Hitagi Senjougahara,
Shinobu Oshino,

Rintarou Okabe.
Tournament Format

[

]
Elimination Stage
All nominees are divided into multiple groups (number varies depending on the total nominees). Each group will last one day.
Approval voting format: For each group, voters may select any number of characters that they like to advance into the bracket stage.
Top 512 characters with the highest number of adjusted votes will advance.
For each anime franchise, only 5 characters with the highest votes will advance to the main bracket. Any lower that that and they will be cut off.
Adjusted votes: ???

Bracket Stage
512 contestants will play in a single-elimination bracket.
Seeding is determined by adjusted votes.
For rounds 1-6, each round is split into four groups; voting for each group lasts one day (and one round lasts four days).
Quarter-finals and beyond will last one day each.
Voting starts and ends at 5 PM EST; after one group ends, their results will be revealed as soon as possible, and the next group will begin at the same time.
Since AnimeBracket does not implement consolation matches, the third-place match (contested by semi-final losers) will be held in a different website.
The winner of the final match is declared r/anime's fifth Best Character, and will be banned from participating in future Best Girl, Guy, and Character contests.
Voting Policy

[

]
In order to vote in r/anime's major contests, they will have to login their Reddit account first. Only accounts of at least two months old will be allowed to vote in the contest.
For Best Character 5, this means accounts created as late as 2020 October 1 can participate in the main bracket.
Schedule
[
]
Every 5 PM / 17:00 EST (UTC-05:00), a new thread will be posted in the r/anime forums. The next round begins at that same time, and the results of the previous round will also be revealed.
[Note] Due to Thanksgiving celebrations, the Nomination period will actually last 4 days in total, with each "nomination day" lasting two days instead.
[Note 2] Round 3 Group A voting was delayed for one day, then restarted for another day after a campaign post outside the r/anime subreddit caused a spike in vote numbers. This incident meant that Round 3 will last 6 days in total.
[Note 3] Semi-finals lasted three days because of errors from the AnimeBracket website.
Rounds 1-3 (Top 512 - Top 128)
[
]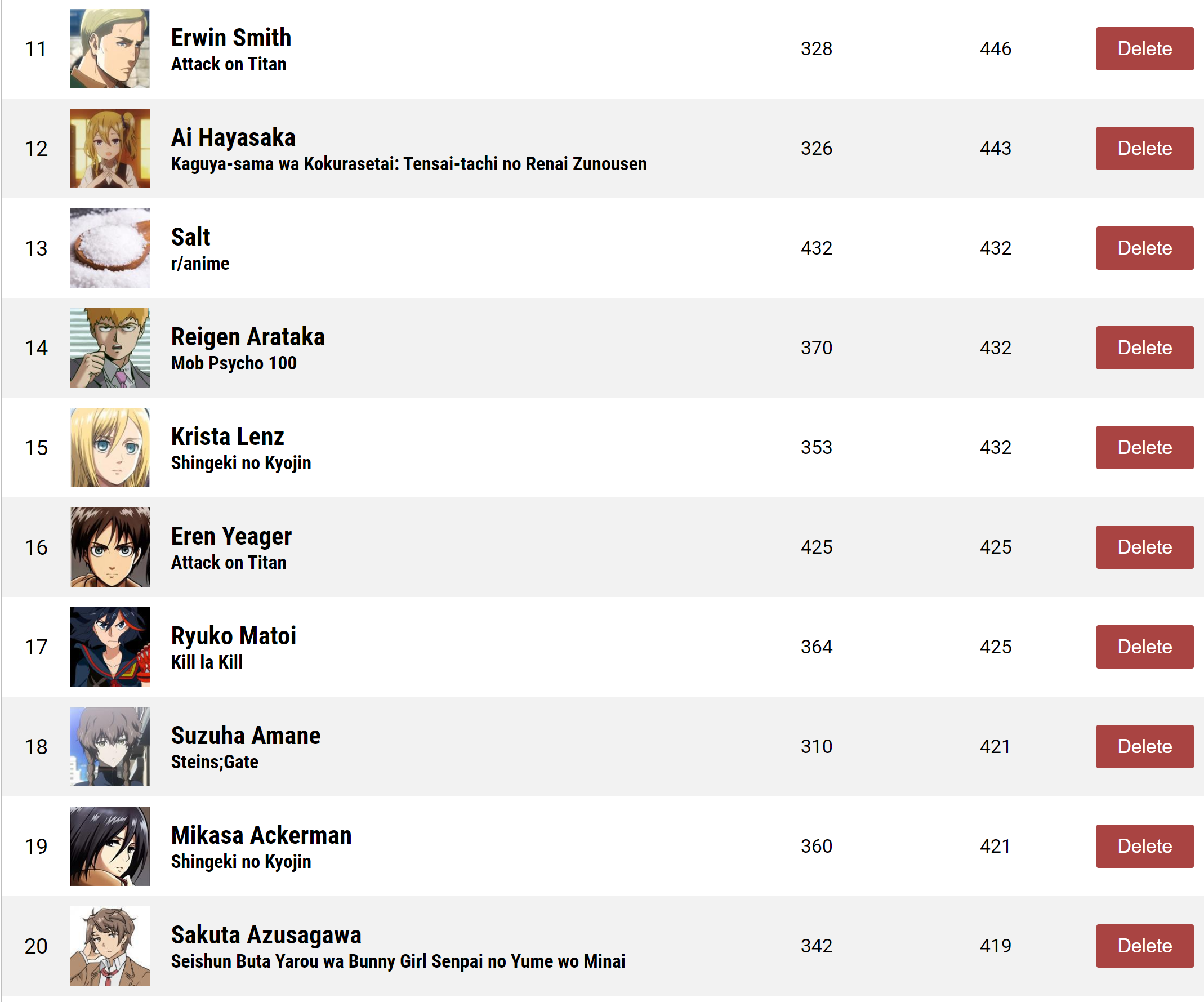 Click the link to this gallery to see how the seedings looked like before the 5-character-per-franchise limit.
Despite this restriction, some franchises managed to enter a sixth character in the main bracket. Jojo's Bizarre Adventure is one such example: the lowest-seeded character there is Jonathan Joestar (#222), who managed to slip past the host's (presumably) manually-enforced restrictions; he entered the bracket as the sixth JJBA man below Joseph (#80), Dio (#91), Jotaro (#112), Speedwagon (#136), and Polnareff (#153).
A joke entry, Salt from r/anime, made it in the bracket as a 13th seed. Obviously they're ineligible, but it just shows how much Salt has established itself as a way of life in the anime community, especially when it comes to these popularity contests.
Notable Snubs

[

]
The following are notable characters who have failed to make it in this year's bracket:

Former Top 8 Finishers

Other
Katsuki Bakugo (My Hero Academia) -- Bakugo got culled in 6th place. Again. And ironically he lost the 5th spot to Uraraka, who is the series' lowest seed (#130).
Kirito (Sword Art Online) -- Given SAO's infamy on r/anime in spite of Asuna's win, it's no surprise the black swordsman failed to appear in the bracket. This also meant that no "Guts vs Kirito" too.
Group A

[

]
Group A Quadrant 1
Part 1
Round of 512
Round of 256
Round of 128
1
Miyuki Shirogane
823
512

Kouko Kaga

136
1
Miyuki Shirogane
942
256
Tohru Honda
429
256
Tohru Honda
385
257
Togame
267
1
Miyuki Shirogane
955
129
Thorfinn
437
128
Rikka Takanashi
563
385
Yuzuru Otonashi
231
128
Rikka Takanashi
549
129
Thorfinn
616
129
Thorfinn
593
384

Ai Mizuno

195
------
64
Mio Akiyama
712
449
File:Mirelia.png

Mirelia Q Melromarc

146
64
Mio Akiyama
823
193
Shino "Sinon" Asada
427
193
Sinon
362
320

Aoi Inuyama

351
64
Mio Akiyama
603
65
Asuka Langley
729
65
Asuka Langley Soryu
639
448
Shion Sonozaki
194
65
Asuka Langley
810
192
R. Tanaka
355
192
Ryuunosuke Tanaka
492
321

Lucoa

294
Part 2
Round of 512
Round of 256
Round of 128
32
Tanjirou Kamado
564
481

Ginko

258
32
Tanjirou Kamado
733
225

Hirotaka Nifuji

309
288
Izaya Orihara
417
288
Izaya Orihara
361
32
Tanjirou Kamado
790
97
Hina
483
97
Hina
485
416

Mikoto Yamato

232
97
Hina
576
160
Piccolo
504
160
Piccolo
441
353

Karen "LLENN" Kohiruimaki

303
------
33
Winry Rockbell
708
480

Naota Nandaba

146
33
Winry Rockbell
859
224
Mashiro Shiina
376
224
Mashiro Shiina
351
289
Yuuta Togashi
295
33
Winry Rockbell
803
96
Yoko Littner
498
96
Yoko Littner
584
1098
417

Mikoto Mikoshiba

187
96
Yoko Littner
669
161
Hitomi Mishima
449
161
Hitomi Mishima
447
352

Akemi Souryuuin

242
Group A Quadrant 2
Part 1
Round of 512
Round of 256
Round of 128
16
Ryuuko Matoi
664
497
Sakura Kinomoto
173
16
Ryuuko Matoi
893
241
Mari Tamaki
359
241
Mari Tamaki
277
272

Vash the Stampede

343
16
Ryuuko Matoi
850
113
Tanya
400
113
Tanya von Degurechaff
522
400

Naruzou Machio

201
113
Tanya
590
144
Nagisa Shiota
469
144
Nagisa Shiota
458
369

Ken Kaneki

248
------
49
Maes Hughes
643
464

Tokushirou Tsurumi

159
49
Maes Hughes
755
208
Yotsuba Nakano
338
305
Roronoa Zoro
372
305
Roronoa Zoro
384
49
Maes Hughes
651
80
Joseph Joestar
662
80
Joseph Joestar
594
433

Tetsuo Takahashi

175
80
Joseph Joestar
733
177
Kanade Tachibana
401
177
Kanade Tachibana
427
336

Sakamoto

267
Part 2
Round of 512
Round of 256
Round of 128
17
Suzuha Amane
777
496
File:007.png

Nana "007"

92
17
Suzuha Amane
788
240
Meiko Honma
353
273
Celty Sturluson
364
273
Celty Sturluson
361
17
Suzuha Amane
717
112
Jotaro Kujo
602
112
Jotaro Kujo
475
401

Toushirou Hijikata

228
112
Jotaro Kujo
651
145
Atsuko Kagari
419
145
Atsuko Kagari
498
368

Kittan Bachika

223
------
48
Yunyun
625
465

Hana Midorikawa

168
48
Yunyun
670
209
Kusuo Saiki
379
209
Kusuo Saiki
481
304

Senko-san

308
48
Yunyun
585
81
Rio Futaba
724
81
Rio Futaba
646
432
File:Riki n.png

Riki Nendou

177
81
Rio Futaba
676
176
Vegeta
529
176
Vegeta
452
337

Soul "Eater" Evans

194
Group A Quadrant 3
Part 1
Round of 512
Round of 256
Round of 128
8
Edward Elric
738
505

Olivia

137
8
Edward Elric
898
249
Monkey D. Luffy
436
249
Monkey D. Luffy
300
264

Ryuu Lion

262
8
Edward Elric
1089
121
Ritsu Kageyama
254
121
Ritsu Kageyama
572
392
Masami Iwasawa
199
121
Ritsu Kageyama
564
136
Speedwagon
548
136
Robert E. O. Speedwagon
518
377

Miia

218
------
57
Ritsu Tainaka
594
456

Papika

127
57
Ritsu Tainaka
662
200
Mio Naganohara
381
200
Mio Naganohara
347
313
Nanami Aoyama
309
57
Ritsu Tainaka
577
72
Komachi Hikigaya
607
72
Komachi Hikigaya
578
441

Nozomi Kaminashi

153
72
Komachi Hikigaya
572
185
Kumiko Oumae
485
185
Kumiko Oumae
457
328

Gohan

277
Part 2
Round of 512
Round of 256
Round of 128
25
Tsubasa Hanekawa
637
488
File:Ashitaka.png

Ashitaka

167
25
Tsubasa Hanekawa
771
232
Hitori Bocchi
408
232
Hitori Bocchi
336
281
Kuroko Shirai
270
25
T. Hanekawa
799
104
Rimuru Tempest
448
104
Rimuru Tempest
535
409
File:Franken stein.png

Franken Stein

163
104
Rimuru Tempest
573
153
J. P. Polnareff
454
153
Jean-Pierre Polnareff
420
360

Kouhei Imamura

283
-------
40
Yui Yuigahama
660
473
File:Ryo a.png

Ryo Asuka

138
40
Yui Yuigahama
845
217
Mayaka Ibara
367
217
Mayaka Ibara
250
296

Hanako Koyanagi

280
40
Yui Yuigahama
715
89
Archer
575
89
Archer
558
424

Joe

181
89
Archer
769
168
Dimple
375
168
Dimple
423
345

Maika Sakuranomiya

319
Group A Quadrant 4
Part 1
Round of 512
Round of 256
Round of 128
9
Mai Sakurajima
799
504

Shera L. Greenwood

78
9
Mai Sakurajima
1049
248
File:Meowth.png Meowth
384
248
File:Meowth.png Meowth
288
265
White Blood Cell U-1146
299
9
Mai Sakurajima
958
120
Haruhi Suzumiya
436
120
Haruhi Suzumiya
528
393

Trafalgar Law

216
120
Haruhi Suzumiya
702
137
Taki Tachibana
459
137
Taki Tachibana
513
376
File:Ursula.png

Ursula Callistis

257
------
56
Mayoi Hachikuji
622
457
Asia Argento
144
56
Mayoi Hachikuji
723
201
Hestia
448
201
Hestia
379
312

Priestess

261
56
Mayoi Hachikuji
688
73
All Might
631
73
All Might
571
440
Tamako Kitashirakawa
253
73
All Might
739
184
Chihiro Ogino
386
184
Chihiro Ogino
411
329
Rika Furude
271
Part 2
Round of 512
Round of 256
Round of 128
24
Shouko Nishimiya
725
489

Misaki Kamiigusa

102
24
Shouko Nishimiya
972
233

Diana Cavendish

331
280
Ichika Nakano
210
280
Ichika Nakano
353
24
Shouko Nishimiya
812
152
Shouyou Hinata
468
105
Ami Kawashima
471
408

Asirpa

236
105
Ami Kawashima
538
152
Shouyou Hinata
562
152
Shouyou Hinata
464
361

Kiki

234
-------
41
Homura Akemi
572
472

Shizuka Sakaki

192
41
Homura Akemi
832
216
Kohaku
421
216
Kohaku
359
297

Arisa Uotani

279
41
Homura Akemi
925
88
02
492
88
Zero Two "02"
520
425

Ayaka Uehara

213
88
02
601
169
Phosphophyllite
562
169
Phosphophyllite
402
344
Seishirou Tsugumi
311
Group B

[

]
Group B Quadrant 1
Part 1
Round of 512
Round of 256
Round of 128
4
Chika Fujiwara
883
509

Mio (Dororo)

168
4
Chika Fujiwara
774
253
Shirase Kobuchizawa
447
253
Shirase K.
396
260

Shizuo Heiwajima

376
4
Chika Fujiwara
1047
125
Karma Akabane
461
125
Karma Akabane
482
388

Fuu Kasumi

341
125
Karma Akabane
555
132
Raphtalia
477
132
Raphtalia
485
381

Saki Watanabe

407
-----
61
Meme Oshino
669
152

Asta

203
61
Meme Oshino
664
196
File:Isabella tpn.png Isabella (TPN)
402
196
File:Isabella tpn.png Isabella
367
317

Reinhard von Lohengramm

360
61
Meme Oshino
748
68
Shouko Makinohara
668
68
Shouko Makinohara
622
445
File:Hiei.png

Hiei

260
68
Shouko Makinohara
582
189
Revy
441
189
Revy
448
324
File:Dtk.png

Death the Kid

229
Part 2
Round of 512
Round of 256
Round of 128
29
Darkness
855
484
File:Rem dn.png

Rem (Death Note)

155
29
Darkness
810
228

High Elf Archer

369
285
Shizue Izawa
269
285
Shizue Izawa
436
29
Darkness
887
100
Norman
582
100
Norman
616
413

Uruka Takemoto

237
100
Norman
559
157
Minori Kushieda
479
157
Minori Kushieda
518
356

Haruko Haruhara

308
-------
36
Emma
645
477

Ayame Kajou

213
36
Emma
595
221
Hyakkimaru
392
221
Hyakkimaru
341
292

Arata Kaizaki

339
36
Emma
705
93
Mitsuha Miyamizu
722
93
Mitsuha Miyamizu
693
420

Saki Hanajima

185
93
Mitsuha Miyamizu
574
164
Kousei Arima
419
164
Kousei Arima
494
349

Taichi Mashima

264
Group B Quadrant 2
Part 1
Round of 512
Round of 256
Round of 128
13
Krista Lenz
770
500
File:Kamajii.png

Kamajii

164
13
Krista Lenz
775
244
Yuri Nakamura
516
244
Yuri Nakamura
282
269
Misa Amane
327
13
Krista Lenz
936
116
Ainz Ooal Gown
502
116
Ainz Ooal Gown
532
397

Makoto "Smile" Tsukimoto

278
116
Ainz Ooal Gown
532
141
Sayaka Miki
487
141
Sayaka Miki
498
372

Umetarou Nozaki

312
------
52
Shinobu Kochou
674
461

Squealer

225
52
Shinobu Kochou
653
205
Nako Sunao
376
205
Nako Sunao
211
308
Satoshi Fukube
345
52
Shinobu Kochou
671
77
Satsuki Kiryuuin
746
77
Satsuki Kiryuuin
552
436
Lain Iwakura
243
77
Satsuki Kiryuuin
604
180
Hiyori Iki
378
180
Hiyori Iki
470
333

Erza Scarlet

290
Part 2
Round of 512
Round of 256
Round of 128
20
Mayuri Shiina
726
493
Kyouko Kirigiri
180
20
Mayuri Shiina
846
237
Mewtwo
442
237
Mewtwo
288
276

Iori Kitahara

354
20
Mayuri Shiina
963
109
Ray
478
109
Ray
603
404
File:Tuesday.png

Tuesday

182
109
Ray
636
148
Stephanie Dola
387
148
Stephanie Dola
470
365

Mafuyu Kirisu

323
------
45
Eru Chitanda
619
468

Seishuu Handa

167
45
Eru Chitanda
662
212
Kou Yagami
344
212
Kou Yagami
218
301

Hibiki Sakura

321
45
Eru Chitanda
816
84
Crusch Karsten
543
84
Crusch Karsten
643
429

Hideki Hinata

219
84
Crusch Karsten
588
173
Vignette
393
173
Vignette Tsukinose April
416
340

Satoru Fujinuma

342
Group B Quadrant 3
Part 1
Round of 512
Round of 256
Round of 128
5
Megumin
844
508

Kanata Hoshijima

144
5
Megumin
817
252
Yuki Nagato
466
252
Yuki Nagato
313
261
Yuno Gasai
296
5
Megumin
1081
133
Kallen Stadtfeld
421
124
Shiro (NGNL)
562
389
Hibiki Tachibana
234
124
Shiro (NGNL)
433
133
Kallen Stadtfeld
587
133
Kallen Stadtfeld
425
380

Eikichi Onizuka

337
------
60
Shinji Ikari
580
453

Kaede Kageyama

238
60
Shinji Ikari
579
197
File:Canute.png Canute (Vinland)
417
197
File:Canute.png Canute
373
316
File:Nano.png Nano Shinonome
356
60
Shinji Ikari
546
69
Kiritsugu Emiya
820
69
Kiritsugu Emiya
623
444

Inuyasha

218
69
Kiritsugu Emiya
662
188
Asuka Tanaka
316
188
Asuka Tanaka
426
325

Bondrewd

326
Part 2
Round of 512
Round of 256
Round of 128
28
Alphonse Elric
745
485
File:Siegfried.png

Siegfried Kircheis

135
28
Alphonse Elric
830
229
Viral
384
229
Viral
217
284
Last Order
363
28
Alphonse Elric
925
101
Ryuuji Takasu
523
101
Ryuuji Takasu
532
412
Osamu Dazai (BSD)
232
101
Ryuuji Takasu
495
156
Tomoya Okazaki
411
156
Tomoya Okazaki
475
357
File:Cinnabar.png

Cinnabar

235
-------
37
Senku Ishigami
694
476

Mamako Oosuki

163
37
Senku Ishigami
603
220
Yami Yugi
423
220
Yami Yugi
387
293

Gabriel Tenma White

357
37
Senku Ishigami
768
92
Itaru Hashida
588
92
Itaru "Daru" Hashida
614
421

Hajime Shinoda

195
92
Itaru Hashida
542
165
Seto Kaiba
498
165
Seto Kaiba
495
348
Haruhi Fujioka
251
Group B Quadrant 4
Part 1
Round of 512
Round of 256
Round of 128
12
Ai Hayasaka
785
501

Nozomi Kasaki

186
12
Ai Hayasaka
822
245
Kyou Fujibayasahi
368
245
Kyou Fujibayasahi
279
268

Yusuke Urameshi

344
12
Ai Hayasaka
804
117
Gintoki Sakata
656
117
Gintoki Sakata
522
396
File:Howl.png

Howl

204
117
Gintoki Sakata
620
140
Kanao Tsuyuri
353
140
Kanao Tsuyuri
485
373

Yuzuru Nishimiya

387
------
53
Shouya Ishida
637
460

Tanaka-kun

171
53
Shouya Ishida
664
204
Rias Gremory
369
204
Rias Gremory
305
309
Kagura
360
53
Shouya Ishida
708
76
Yui Hirasawa
640
76
Yui Hirasawa
674
437

Chiaki Oogaki

116
76
Yui Hirasawa
656
181
Mami Tomoe
323
181
Mami Tomoe
486
332

Itsuki Nakano

325
Part 2
Round of 512
Round of 256
Round of 128
21
Ram
695
492
Tomoko Kuroki
194
21
Ram
684
236

Dororo

290
277
Yuzuki Shiraishi
355
277
Yuzuki Shiraishi
411
21
Ram
797
108
Leorio Paladiknight
652
108
Leorio Paladiknight
536
405
Mion Sonozaki
253
108
Leorio Paladiknight
490
149
Kei Tsukishima
414
149
Kei Tsukishima
412
364

Jin (Champloo)

337
-------
44
C.C.
609
469

Hyakunosuke Ogata

184
44
C.C.
669
213
Misaki Shokuhou
397
213
Misaki Shokuhou
313
300

Fafnir (Dragon Maid)

317
44
C.C.
782
85
Thorkell
563
85
Thorkell
526
428

Hanako Honda

240
85
Thorkell
600
172
Goblin Slayer
376
172
Goblin Slayer
473
341

Chise Hatori

325
Group C

[

]
Group C Quadrant 1
Part 1
Round of 512
Round of 256
Round of 128
2
Kazuma Satou
801
511

Chane Laforet

151
2
Kazuma Satou
889
255
Ash Ketchum
400
258
Akatsuki
241
258
Akatsuki (LH)
408
2
Kazuma Satou
915
127
Kyon
478
127
Kyon
590
386

Momo Kawamoto

188
127
Kyon
651
130
Ochako Uraraka
429
130
Ochako Uraraka
590
383

Tamaki Kotatsu

265
------
63
Suruga Kanbaru
680
450

Rem Galeu

138
63
Suruga Kanbaru
681
194
Koutarou Tatsumi
455
194
Koutarou Tatsumi
334
319

Haru Onodera

273
63
Suruga Kanbaru
 787
66
Shouto Todoroki
 559
66
Shouto Todoroki
667
447

Hermes (DanMachi)

186
66
Shouto Todoroki
665
191
Ouzen
410
191
Ouzen
419
322
Aoba Sukukaze
314
Part 2
Round of 512
Round of 256
Round of 128
31
Hange Zoe
652
482

Watashi (Tatami)

187
31
Hange Zoe
768
226
Yuuko "Shamiko" Yoshida
353
226
Shamiko
287
287

Benimaru Shinmon

328
31
Hange Zoe
748
159
Tobio Kageyama
509
98
Teruki Hanazawa
522
415

Krillin

277
98
Teruki Hanazawa
460
159
Tobio Kageyama
521
159
Tobio Kageyama
495
354

Momo Chiyoda

241
-----
34
Madoka Kaname
584
479

Yuzuki Seo

193
34
Madoka Kaname
633
223
San
381
223
San
329
290

Chizuru Hishiro

343
34
Madoka Kaname
664
95
Kaori Miyazono
558
95
Kaori Miyazono
545
418
File:Rin shelter.png

Rin (Shelter)

174
95
Kaori Miyazono
479
162
Reina Kousaka
419
162
Reina Kousaka
450
351

Wen-li Yang

221
Group C Quadrant 2
Part 1
Round of 512
Round of 256
Round of 128
15
Eren Yeager
679
498

Moriko Morioka

190
15
Eren Yeager
826
242

Kaworu Nagisa

344
271
Nao Tomori
247
271
Nao Tomori
357
15
Eren Yeager
994
143
Brock
425
114
Inosuke Hashibira
516
399

Shiny Chariot

273
114
Inosuke Hashibira
532
143
Brock
548
143
Brock
445
370

Akitaru Obi

319
-----
50
Killua Zoldyck
608
463

Ena Saitou

203
50
Killua Zoldyck
700
207
Maki Oze
510
207
Maki Oze
299
306

Guild Girl

206
50
Killua Zoldyck
756
79
Gilgamesh
520
79
Gilgamesh
608
434

Mafuyu Hoshikawa

192
79
Gilgamesh
747
178
File:Chrome drs.png Chrome
268
178
File:Chrome drs.png Chrome (Dr. Stone)
408
335

Raphiel Shiraha Ainsworth

322
Part 2
Round of 512
Round of 256
Round of 128
18
Mikasa Ackerman
680
495

Jesus (Saint Oniisan)

188
18
Mikasa Ackerman
736
239
Shiroe
412
238
Shiroe
341
274

Yuuki Konno

298
18
Mikasa Ackerman
855
146
Kobayashi
496
111
Musashi Gouda
561
402
File:L beta.png

Lupusregina Beta

188
111
Musashi Gouda
451
146
Kobayashi
565
146
Kobayashi-san
519
367

Yumeko Jabami

268
-----
47
Taiga Aisaka
548
466
Komari Koshigaya
186
47
Taiga Aisaka
590
210
Fumino Furuhashi
386
210
Fumino Furuhashi
338
303

Yuki Sohma

268
47
Taiga Aisaka
739
82
Ryuk
519
82
Ryuk
445
431
Seiya Kanie
273
82
Ryuk
491
175
Hinata Miyake
488
175
Hinata Miyake
456
338

Sucy Manbavaran

231
Group C Quadrant 3
Part 1
Round of 512
Round of 256
Round of 128
7
Emilia
704
506

Haiji Kiyose

162
7
Emilia
783
250
Hina Amano
434
250
Hina Amano
264
263

Suika

288
7
Emilia
802
122
Faye Valentine
562
122
Faye Valentine
513
391

Keima Katsuragi

196
122
Faye Valentine
604
135
Jibril
421
135
Jibril
454
378
File:Akira f.png

Akira Fudou

277
-----
58
Misato Katsuragi
591
455

Karen Tendou

184
58
Misato Katsuragi
622
199
Akio Furukawa
383
199
Akio Furukawa
328
314

Hifumi Takimoto

273
58
Misato Katsuragi
750
186
Takagi
440
71
Nezuko Kamado
502
442
Rena Ryuuguu
332
71
Nezuko Kamado
497
186
Takagi
522
186
Takagi-san
428
327
File:Joey.png

Joey Wheeler

286
Part 2
Round of 512
Round of 256
Round of 128
26
Kamina
559
487
File:Kurama.png

Kurama

165
26
Kamina
702
231

Viktoriya I. S.

310
282
Kosaki Onodera
250
282
Kosaki Onodera
323
26
Kamina
801
103
Kyouko Sakura
405
103
Kyouko Sakura
467
410

Azusa Hamaoka

256
103
Kyouko Sakura
500
154
Suzaku Kururugi
486
154
Suzaku Kururugi
360
359

Johan Liebert

299
------
39
Gon Freecss
552
474

Yuutarou Katori

194
39
Gon Freecss
588
218
Aoi Miyamori
396
218
Aoi Miyamori
312
295

Shion (Tensura)

261
39
Gon Freecss
679
90
Tsumugi Kotobuki
537
90
Tsumugi Kotobuki
580
423

Yun Iijima

122
90
Tsumugi Kotobuki
589
167
Saki Nikaidou
297
167
Saki Nikaidou
416
346

Noelle Silva

223
Group C Quadrant 4
Part 1
Round of 512
Round of 256
Round of 128
10
Subaru Natsuki
715
503
Nico Yazawa
174
10
Subaru Natsuki
772
247
Chihaya Ayase
373
247
Chihaya Ayase
305
266

Nadeshiko Kagamihara

275
10
Subaru Natsuki
874
119
Houtarou Oreki
487
119
Houtarou Oreki
508
394

Hodaka Morishima

200
119
Houtarou Oreki
522
138
Akane Tsunemori
389
138
Akane Tsunemori
443
375
Konata Izumi
239
-----
55
Light Yagami
633
458

Miyako Hoshino

170
55
Light Yagami
763
202
Platelet Leader
398
202
Platelet Leader
287
311

Demiurge

299
55
Light Yagami
795
74
Shizuka Hiratsuka
544
74
Shizuka Hiratsuka
565
439

Yami Sukehiro

181
74
Shizuka Hiratsuka
714
183
Gen Asagiri
269
183
Gen Asagiri
450
330

Ranga (Tensura)

254
Part 2
Round of 512
Round of 256
Round of 128
23
Violet Evergarden
686
490

Altair

123
23
Violet Evergarden
737
234
Nagisa Furukawa
381
234
Nagisa Furukawa
255
279

Chisa Kotegawa

297
23
Violet Evergarden
886
104
Rei Ayanami
377
104
Rei Ayanami
527
407

Kokomi Teruhashi

195
104
Rei Ayanami
552
151
Kanna Kamui
460
151
Kanna Kamui
500
362

Tae Yamada

212
-----
42
Kaede Azusagawa
621
471
File:Galo.png

Galo Thymos

154
42
Kaede Azusagawa
597
215
Shinya Kougami
457
215
Shinya Kougami
455
298
Ushio Okazaki
240
42
Kaede Azusagawa
628
170
Guts
678
87
Nanachi
553
426
File:Shun.png

Shun Kaidou

191
87
Nanachi
423
170
Guts
518
170
Guts
498
343

Natsuki Nakagawa

269
Group D

[

]
Group D Quadrant 1
Part 1
Round of 512
Round of 256
Round of 128
3
Aqua
1057
510

Tetsuo Shima

256
3
Aqua
881
254
Sakura Minamoto
513
254
Sakura Minamoto
239
259
Renge Miyauchi
423
3
Aqua
932
131
Reg
419
126
Fubuki (OPM)
651
387

Saichi Sugimoto

371
126
Fubuki
432
131
Reg
600
131
Reg
826
382

Sword Maiden

289
--
62
Hisoka Morow
861
451
File:Exc soul.png

Excalibur (Soul Eater)

205
62
Hisoka Morow
624
195
Narumi Momose
479
195
Narumi Momose
377
318

Alucard

463
62
Hisoka Morow
583
67
Simon
574
67
Simon
768
446

Iori Nagase

286
67
Simon
622
190
Yoshifumi Nitta
331
190
Yoshifumi Nitta
513
323
Maka Albarn
431
Part 2
Round of 512
Round of 256
Round of 128
30
Hachiman Hikigaya
849
483
File:Mima.png

Mima Kirigoe

218
30
Hachiman Hikigaya
684
227
Accelerator
545
227
Accelerator
289
286

Shougo Makishima

433
30
Hachiman Hikigaya
843
99
Genos
423
99
Genos
745
414

Dandy

317
99
Genos
561
158
Riko
484
158
Riko (MiA)
630
355

Sousuke Aizen

390
--
35
Saber
918
478
File:Kasumi n.png

Kasumi Nomura

224
35
Saber
759
222
Jonathan Joestar
705
222
Jonathan Joestar
304
291

Milim Nava

362
35
Saber
896
94
Kei Shirogane
430
94
Kei Shirogane
819
419
Kagami Hiiragi
315
94
Kei Shirogane
538
163
Hinata Kawamoto
520
163
Hinata Kawamoto
534
350

Kyo Sohma

374
Group D Quadrant 2
Part 1
Round of 512
Round of 256
Round of 128
14
Reigen Arataka
1008
199
File:Klaus.png

Klaus von Reinherz

123
14
Reigen Arataka
887
243
Ichigo "015"
611
243
015
208
270

Phil (TPN)

457
14
Reigen Arataka
729
115
Rei Kiriyama
442
115
Rei Kiriyama
717
398

Yutaka "Peco" Hoshino

177
115
Rei Kiriyama
521
142
Tohru
429
142
Tohru (Dragon Maid)
741
371

Kenzo Tenma

327
--
51
L
890
462
File:Kenpachi.png

Kenpachi Zaraki

203
51
L
729
206
Chiyo Sakura
582
206
Chiyo Sakura
297
307

Narberal Gamma

358
51
L
678
78
Rider
569
78
Rider (Fate/Zero)
781
435

Leonardo Watch

238
78
Rider
693
179
Faris
357
179
Rumiho "Faris" Akiha
594
334
File:Shinpachi.png

Shinpachi Shimura

419
Part 2
Round of 512
Round of 256
Round of 128
19
Sakuta Azusagawa
964
494

Genjirou Tanigaki

156
19
Sakuta Azusagawa
751
238
Shinichi Izumi
481
238
Shinichi Izumi
291
275
Alice Zuberg
465
19
Sakuta Azusagawa
804
147
Yato
431
110
Izuku Midoriya
740
403
Kurumi Tokisaki
396
110
Izuku Midoriya
447
147
Yato
563
147
Yato
701
366

Kaho Hinata

285
--
46
Askeladd
811
467
Suzune Horikita
240
46
Askeladd
668
211
Ruiko Saten
517
211
Ruiko Saten
283
302

Diamond

413
46
Askeladd
696
83
Kurapika
425
83
Kurapika
690
430
Sougo Okita
284
83
Kurapika
620
174
James
384
174
James (Pokemon)
638
339

Shichika Yasuri

344
Group D Quadrant 3
Part 1
Round of 512
Round of 256
Round of 128
6
Yuu Ishigami
1035
507
File:Rachnera.png

Rachnera Arachnera

159
6
Yuu Ishigami
892
251
Kaede Kayano
501
251
Kaede Kayano
195
262
File:No face.png

No Face

450
6
Yuu Ishigami
868
134
Yuu Nishinoya
422
123
Sora (NGNL)
727
390

Tarou Kabakura

299
123
Sora
479
134
Yuu Nishinoya
514
134
Yuu Nishinoya
734
379
File:Goro.png Gorou "056"
278
--
59
Beatrice (Re:Zero)
914
454
File:Senpai magic.png

Senpai (Magical Senpai)

192
59
Beako
658
198
Nino Nakano
538
198
Nino Nakano
330
315

Hikari Takanashi

359
59
Beako
702
70
Eraserhead
561
70
Shouta "Eraserhead" Aizawa
774
443
Kiyotaka Ayanokouji
273
70
Eraserhead
556
187
Thors
426
187
Thors (Vinland)
600
326

Aru Honshou

364
Part 2
Round of 512
Round of 256
Round of 128
27
Saitama
972
486
Saeko Busujima
157
27
Saitama
757
230
Goku
533
230
Goku
307
283

Pain

421
27
Saitama
779
102
Azusa Nakano
498
102
Azusa Nakano
750
411

Wenge Kong

232
102
Azusa Nakano
542
155
Miku Nakano
371
155
Miku Nakano
624
358

Harunobu Nikaidou

349
--
38
Holo
896
475

Template:Misaki n

Misaki Nakahara
172
38
Holo
735
219
Edward (Cowboy Bebop)
556
219
Edward Wong
242
294
File:Haku.png

Haku

320
38
Holo
754
91
Dio Brando
467
91
Dio Brando
725
422

Sakura Yamauchi

272
91
Dio Brando
656
166
King
315
166
King (OPM)
510
347

Motoko "Major" Kusanagi

473
Group D Quadrant 4
Part 1
Round of 512
Round of 256
Round of 128
11
Erwin Smith
1045
502

Mary Saotome

157
11
Erwin Smith
909
246
Yuuko Aioi
456
267
Albedo
211
267
Albedo
501
11
Erwin Smith
932
139
Anzu
365
118
Satania
528
395

Ema Yasuhara

328
118
Satania
341
139
Anzu
491
139
Anzu (Hinamatsuri)
591
374

Touko Nanami

303
--
54
Mako Mankanshoku
745
459

Jacuzzi Splot

238
54
Mako M.
502
203
Mugen (Champloo)
528
203
Mugen
377
310
Isuzu Sento
346
54
Mako M.
479
75
Deishuu Kaiki
639
75
Deishuu Kaiki
675
138

Yukine

298
75
Deishuu Kaiki
568
182
Akari Kawamoto
314
182
Akari Kawamoto
496
331

Griffith

392
Part 2
Round of 512
Round of 256
Round of 128
22
Riza Hawkeye
992
491

Shiro (Senko-san)

176
22
Riza Hawkeye
692
235
Chitoge Kirisaki
410
278
Shiki Ryougi
304
278
Shiki Ryougi
466
22
Riza Hawkeye
943
107
Ruka Urushibara
373
107
Ruka Urushibara
721
406

Sakie Satou

283
107
Ruka Urushibara
518
150
Rin Shima
436
150
Rin Shima
564
363

Iris (Fire Force)

403
--
43
Iroha Isshiki
795
470

Aries Spring

208
43
Iroha Isshiki
676
214
Red Blood Cell AE3803
526
214
AE3803
287
299

Yuu Koito

367
43
Iroha Isshiki
729
86
Mumen Rider
566
86
Mumen Rider
860
427

Raku Ichijou

250
86
Mumen Rider
541
171
Itachi Uchiha
483
171
Itachi Uchiha
622
342
Mirai Kuriyama
410
Rounds 4-6 (Top 64 - Sweet 16)
[
]
Group A

[

]
Group A
Half 1
Round of 64
Round of 32
Sweet 16
1
Miyuki Shirogane
784
65
Asuka Langley Soryu
524
1
Miyuki Shirogane
885
32
Tanjirou Kamado
545
33
Winry Rockbell
543
33
Winry Rockbell
698
1
Miyuki Shirogane
777
16
Ryuuko Matoi
682
16
Ryuuko Matoi
646
80
Joseph Joestar
513
16
Ryuuko Matoi
801
17
Suzuha Amane
515
17
Suzuha Amane
722
81

Rio Futaba

508
Half 2
Round of 64
Round of 32
Sweet 16
8
Edward Elric
910
72
Komachi Hikigaya
354
8
Edward Elric
805
25
Tsubasa Hanekawa
608
25
Tsubasa Hanekawa
539
40
Yui Yuigahama
554
8
Edward Elric
804
9
Mai Sakurajima
700
9
Mai Sakurajima
821
56
Mayoi Hachikuji
406
9
Mai Sakurajima
800
24
Shouko Nishimiya
553
24
Shouko Nishimiya
654
41
Homura Akemi
589
Group B

[

]
Group B
Half 1
Round of 64
Round of 32
Sweet 16
4
Chika Fujiwara
716
61

Meme Oshino

664
4
Chika Fujiwara
946
29
Darkness
716
29
Darkness
564
93
Mitsuha Miyamizu
666
4
Chika Fujiwara
712
13
Krista Lenz
699
13
Krista Lenz
721
77
Satsuki Kiryuuin
603
13
Krista Lenz
760
20
Mayuri Shiina
724
20
Mayuri Shiina
680
45
Eru Chitanda
602
Half 2
Round of 64
Round of 32
Sweet 16
5
Megumin
729
69
Kiritsugu Emiya
633
5
Megumin
819
28
Alphonse Elric
855
28
Alphonse Elric
740
37

Senku Ishigami

450
5
Megumin
731
53
Shouya Ishida
679
12
Ai Hayasaka
678
53
Shouya Ishida
699
53
Shouya Ishida
744
44
C.C.
647
21
Ram
604
44
C.C.
720
Group C

[

]
Group C
Half 1
Round of 64
Round of 32
Sweet 16
2
Kazuma Satou
851
63
Suruga Kanbaru
565
2
Kazuma Satou
873
31
Hange Zoe
738
31
Hange Zoe
494
34
Madoka Kaname
673
2
Kazuma Satou
854
15
Eren Yeager
948
15
Eren Yeager
760
50
Killua Zoldyck
660
15
Eren Yeager
816
18
Mikasa Ackerman
476
18
Mikasa Ackerman
822
47
Taiga Aisaka
605
Half 2
Round of 64
Round of 32
Sweet 16
7
Emilia
806
58
Misato Katsuragi
621
7
Emilia
656
26
Kamina
716
26
Kamina
658
39

Gon Freecss

550
26
Kamina
720
10
Subaru Natsuki
974
10
Subaru Natsuki
800
55
Light Yagami
655
10
Subaru Natsuki
687
23
Violet Evergarden
631
23
Violet Evergarden
731
170
Guts
569
Group D

[

]
Group D
Half 1
Round of 64
Round of 32
Sweet 16
3
Aqua
794
62
Hisoka Morow
566
3
Aqua
662
30
Hachiman Hikigaya
667
30
Hachiman Hikigaya
717
35
Saber
616
30
Hachiman Hikigaya
773
14
Reigen Arataka
920
14
Reigen Arataka
790
51

L

528
14
Reigen Arataka
665
46
Askeladd
600
19
Sakuta Azusagawa
598
46
Askeladd
704
Half 2
Round of 64
Round of 32
Sweet 16
6
Yuu Ishigami
958
59

Beatrice (Re:Zero)

382
6
Yuu Ishigami
664
27
Saitama
565
38
Holo
728
38
Holo
743
38
Holo
805
11
Erwin Smith
953
11
Erwin Smith
835
75

Deishuu Kaiki

488
11
Erwin Smith
908
22
Riza Hawkeye
505
22
Riza Hawkeye
791
43
Iroha Isshiki
531
Elite Eight
[
]
Incidents
[
]
Round 3 group A, Outside interference. Thread link here
External Links
[
]

   #s3gt_translate_tooltip_mini { display: none !important; }