The Quarterfinals of Anime Saimoe Tournament 2010 marks the first time in the tournament that the characters are engaged in one-on-one competition. The eight winners of their respective blocks were drawn randomly. There are four returning quarterfinalists in this year's draw: Shana (2006), Nagi Sanzenin (2007) Koromo Amae (2009), and Nodoka Haramura (2009).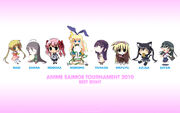 Quarterfinal 1: Nagi Sanzenin >Mafuyu Shiina (721-531) - Match Graph
Quarterfinal 2: Koromo Amae > Ruiko Saten (931-825) - Match Graph
Quarterfinal 3: Nodoka Haramura > Shana (946-890) - Match Graph
Quarterfinal 4: Azusa Nakano > Aoi Yamada (961-627) - Match Graph
Community content is available under
CC-BY-SA
unless otherwise noted.