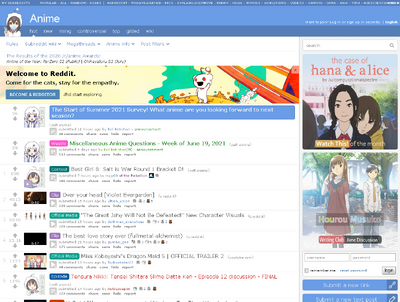 The r/anime subreddit is a board of Reddit, an American news aggregator, social media, and forum website. The subreddit primarily discusses Japanese animation and related content. As of May 2021, r/anime has over 2 million subscribers.
Overview
[
]
Events
[
]
In the context of this wiki, r/anime organizes year-round popularity contests which are hosted by its users, and conducted through the AnimeBracket website. They are as follows:
Major Character Contests:
Best Girl - Held every June. This is r/anime's first, biggest, and saltiest event.

Best Guy

- Males only. Held during the Winter months (February-March).

Best Character

- Mixed-gender contest. Held during the Fall months (October-December).

Other Events:
Seasonal Salt

- A series of contests meant to decide the "best girl" of each anime season. Started in Summer 2017. From 2018 onwards, a Best Girl of [Year] tournament will be contested between each season's elite eight.

Best Couples / Ships

- Also known as Salty Sea, this is the resident shipping tournament.
Best OP - Best opening song.
Best ED - Best ending song.

Special Events:
Best of the Best - r/anime's version of Tournament of Champions. The 1st edition involved all semi-finalists of previous major character contests at the time, while the 2nd edition was restricted to champions only.
Favorite Anime - Self-explanatory.
12-Hour Best Girl - Host messed up the final match, so it's held in Strawpoll instead.
24-Hour Best Girl - Celebration of r/anime's 1,000,000 subscribers in May 2019.
24-Hour Worst (?) Girl - The name switched from "Best" to "Worst" as celebration of 2020 April Fools event.
Format
[
]
Voting policy
Since all r/anime contests are held in AnimeBracket, a voter is required to register / login their reddit account in order to participate.
To prevent sockpuppets, all accounts must be at least 2 months old.
Voters must answer a ReCAPTCHA before they can submit their votes.

Nominations
Lasts around 2-4 days
Enter name, anime, and image link (must be from MAL or AniList, otherwise it is rejected.)
No NSFW images (graphic violence and explicit nudity)
Entries which debuted in a certain period of time may NOT be allowed (generally one year for characters)
Previous champions are NOT allowed.
Additional restrictions may be present depending on the contest.

Eliminations
All nominees are split into multiple groups depending on number
Each group lasts 1 day
Approval voting format
Contestants will advance to the main bracket based on adjusted votes --- the number of votes relative to the amount of voters who participated in the contestant's respective round.

Main Bracket
Single-elimination bracket
Each round may be split into 2 or 4 groups
Voting lasts 1 day
Results are revealed immediately after voting ends. Voting for the next group starts at the same time.
Quarter-finals and onward last one day each
AnimeBracket has no third-place matches; if one is even held, it will be on a different polling website.
Salt of Fame
[
]
Major Character Contests
[
]
A dagger † denotes that the player would go on to win the following Best Character contest, banning them from future Best Girl / Guy Contests.
Best Girl
Best Girl Final Four
Best Girl 1 (2014)
Winner
Runner-up
Semi-finalists
Kurisu Makise
Holo
Hitagi Senjougahara
Himeko Inaba
Steins;Gate
Spice & Wolf
Monogatari
Kokoro Connect
Best Girl 2 - The Salt Will (NOT) Stop Coming !!! (2015)
Winner
Runner-up
Semi-finalists
Yukino Yukinoshita
Saber
Hitagi Senjougahara
Yui Yuigahama
Oregairu
Fate/stay night
Monogatari
Oregairu
Best Girl 3 - Saltdust Crusaders (2016)
Winner
Runner-up
Semi-finalists
Mikoto Misaka
Megumi Tadokoro
Hitagi Senjougahara †
Holo
Raildex
Shokugeki no Soma
Monogatari
Spice & Wolf
Best Girl 4 - A Certain Salty Railgun (2017)
Winner
Runner-up
Semi-finalists
Rin Tohsaka
Yui Yuigahama
Ryuuko Matoi
Shinobu Oshino †
Fate/stay night
Oregairu
Kill la Kill
Monogatari
Best Girl 5 - Legend of the Galactic Waifu (2018)
Winner
Runner-up
Semi-finalists
Rem
Aqua
Ochako Uraraka
Holo
Re:Zero
Konosuba
My Hero Academia
Spice & Wolf
Best Girl 6 - Starting Salt in Another Contest (2019)
Winner
Runner-up
3rd
4th
Asuna Yuuki
Winry Rockbell
Aqua
Mikasa Ackerman
Sword Art Online
Fullmetal Alchemist
Konosuba
Attack on Titan
Best Girl 7 - Salt Art Online: Alkalinization (2020)
Winner
Runner-up
3rd
4th
Kaguya Shinomiya
Mai Sakurajima
Ai Hayasaka
Holo
Kaguya-sama
Bunny Girl Senpai
Kaguya-sama
Spice & Wolf
Best Girl 8 - Salt is War (2021)
Winner
Runner-up
3rd
4th
Mai Sakurajima
Shouko Nishimiya
Holo
Aqua
Bunny Girl Senpai
A Silent Voice
Spice & Wolf
Konosuba
Best Girl 9 - TBD (2022)
Winner
Runner-up
3rd
4th

Best Girl X

- TBD (2023)
Winner
Runner-up
3rd
4th

Best Guy
Best Guy Final Four

Best Guy 1

(2015)
Winner
Runner-up
Semi-finalists
Lelouch Lamperouge

Kamina

Rintarou Okabe

Kiritsugu Emiya

Code Geass
Gurren Lagann
Steins;Gate
Fate/Zero

Best Guy 2

(2016)
Winner
Runner-up
Semi-finalists
Koyomi Araragi
Rintarou Okabe

Roy Mustang

†
Kiritsugu Emiya
Monogatari
Steins;Gate
Fullmetal Alchemist
Fate/Zero

Best Guy 3

- Shiomonogatari (2017)
Winner
Runner-up
Semi-finalists
Spike Spiegel
Rintarou Okabe
Gintoki Sakata

Kazuma Satou

Cowboy Bebop
Steins;Gate
Gintama
Konosuba

Best Guy 4

- You're Gonna Carry That Salt (2018)
Winner
Runner-up
Semi-finalists
Koro-sensei
Edward Elric
Rintarou Okabe †
Kazuma Satou
Assassination Classroom
Fullmetal Alchemist
Steins;Gate
Konosuba

Best Guy 5

- Hello, Salty Star! (2019)
Winner
Runner-up
Semi-finalists
Shigeo Kageyama
Edward Elric

Killua Zoldyck

Kazuma Satou
Mob Psycho 100
Fullmetal Alchemist
Hunter x Hunter
Konosuba

Best Guy 6

- Salt Psycho 100 (2020)
Winner
Runner-up
3rd
4th
Levi Ackerman
Saitama
Edward Elric †
All Might
Attack on Titan
One Punch Man
Fullmetal Alchemist
My Hero Academia
Best Guy 7 - Attack on Salt (2021)
Winner
Runner-up
Semi-finalists
Miyuki Shirogane
Yuu Ishigami
Subaru Natsuki
Reigen Arataka
Kaguya-sama
Kaguya-sama
Re:Zero
Mob Psycho 100

Best Guy 8

- TBD (2022)
Winner
Runner-up
3rd
4th

Best Character
Best Character Final Four

/r/anime's Best Anime Character

(2015)
Winner
Runner-up
Semi-finalists

Roy Mustang

Lelouch Lamperouge
Kurisu Makise
Rider (Iskandar)
Fullmetal Alchemist
Code Geass
Steins;Gate
Fate/Zero

Best Character 2

- Of Kings and Salthood (2016)
Winner
Runner-up
Semi-finalists
Hitagi Senjougahara
Kurisu Makise
Spike Spiegel
Edward Elric
Monogatari
Steins;Gate
Cowboy Bebop
Fullmetal Alchemist

Best Character 3

- 3-gatsu no Salt!!! (2017)
Winner
Runner-up
Semi-finalists
Shinobu Oshino
Rintarou Okabe
Megumin
Edward Elric
Monogatari
Steins;Gate
Konosuba
Fullmetal Alchemist

Best Character 4

- Salt-Under-Blade (2018)
Winner
Runner-up
Semi-finalists
Rintarou Okabe
Megumin
Ryuuko Matoi

Kazuma Satou

Steins;Gate
Konosuba
Kill la Kill
Konosuba
Best Character 5 - Salts;Gate (2020)
Winner
Runner-up
Semi-finalists
Edward Elric
Eren Yeager
Megumin
Erwin Smith
Fullmetal Alchemist
Attack on Titan
Konosuba
Attack on Titan

Best Character 6

- TBD (2021)
Winner
Runner-up
3rd
4th
Other Events
[
]
Seasonal Salt
Seasonal Salt Winners

Seasonal Salt 2017

(Winner: Not held)
Not held
Not held
Summer
Fall
--
--

Yuki Minagawa

Moriko Morioka

--
--
Tsurezure Children
Net-juu no Susume

Seasonal Salt 2018

(Winner: Mai Sakurajima)
Winter
Spring
Summer
Fall
Zero Two

Anzu

Chisa Kotegawa

Mai Sakurajima
Darling in the Franxx
Hinamatsuri
Grand Blue
Bunny Girl Senpai

Seasonal Salt 2019

(Winner: Kaguya Shinomiya)
Winter
Spring
Summer
Fall
Kaguya Shinomiya

Hitori Bocchi

Shinobu Kochou

Ristarte

Kaguya-sama
Hitoribocchi
Kimetsu no Yaiba
Cautious Hero
Seasonal Salt 2020 (Winner: Tsukasa Tsukuyomi - Tonikaku Kawaii)
Winter
Spring
Summer
Fall

Kaede "Maple" Honjou

Miko Iino

Chizuru Ichinose
Nobara Kugisaki
Bofuri
Kaguya-sama
Rental Girlfriend
Jujutsu Kaisen
Seasonal Salt 2021 (Winner: TBD)
Winter
Spring
Summer
Fall
Kyouko Hori
Vivy
TBD
TBD
Horimiya
Vivy: Fluorite Eye's Song

Best Couples / Ships

Best OP
r/anime's Best Openings
#
Winner
Artist
Series
Final Date
Bracket
Creditless Video / Full Audio
I
Again
Yui
Fullmetal Alchemist: Brotherhood (OP1)
2014-08-13
Challonge
Video (my mixtape)

II
Hacking to the Gate
Kanako Itou
Steins;Gate (2011)
???
AB Link
Video (Ep. 24-25 ver.)

III
Unravel
Toru Kitajima
Tokyo Ghoul (OP1)
2015-06-07
Link
Video

IV
Flyers
BRADIO
Death Parade
2016-03-28
Link
Video

V
A Cruel Angel's Thesis
Yoko Takahashi
Evangelion
2017-04-18
Link
Video

VI
Tank!
Seatbelts
Cowboy Bebop
2018-03-21
Link
Video

VII
Renai Circulation
Kana Hanazawa
Bakemonogatari (OP4)
2019-04-19
Link
Video
VIII
Guren no Yumiya
Linked Horizon
Attack on Titan (S1 OP1)
2020-04-13
Link
Video

IX
99
Mob Choir
Mob Psycho 100 (S1)
2021-06-06
Link
Video

X
TBD
TBD

Best ED
r/anime's Best Endings
#
Winner
Artist
Series
Final Date
Bracket
Creditless Video / Full Audio
I
Wareta Ringo
Risa Taneda
Shinsekai yori (ED1)
2014-10-10
Pastebin
Video

II
Kimi no Shiranai Monogatari
Supercell
Bakemonogatari
2016-09-26
AB Link
Video

III
Don't say "lazy"
Houkago Tea Time
K-On! (S1)
2017-09-16
Link
Video

IV
NO, Thank You!
Houkago Tea Time
K-On! (S2 ED2)
2018-10-04
Link
Video

V
Listen!!!
Houkago Tea Time
K-On! (S2 ED1)
2019-09-26
Link
Video

VI
Magia
Kalafina
Madoka Magica (ED2)
2021-02-05
Link
Video

VII
TBD
TBD
TBD
TBD
Link
Special Events
[
]
r/anime's other contests
#
Winner
Final Date
Host
Bracket
Best of the Best I
Kurisu Makise
2017-04-29
ShaKing807
Link
Best of the Best II
Rintarou Okabe
2020-04-07
ShaKing807
Link
Favorite Anime I
Fullmetal Alchemist: Brotherhood
2015-01-28
MissyPie
Link
Favorite Anime II
Steins;Gate
2019-06-09
mpp00, FetchFrosh
Link
12-Hour Best Girl
Kurisu Makise (178-162 final result)
2015-09-26
NutOfDeath
AB Link
Strawpoll
24-Hour Best Girl
Mai Sakurajima
2019-05-22
AnimeMod
Link
24-Hour Worst (?) Girl
Homura Akemi
2020-04-01
AnimeMod
Link
Metagame
[
]
External links
[
]